La Loi du 10 février 2020 relative à la lutte contre le gaspillage et à l'économie circulaire (Ci-après la « Loi AGEC ») entera en vigueur au 1er janvier 2022.
A quoi s'attendre?
Plusieurs mesures phares sont en effet à prendre en compte dans les secteurs de l'économie dits traditionnels : l'interdiction du suremballage des fruits et légumes frais ainsi que des jouets en plastique proposés gratuitement dans les menus pour enfants ; ou encore la fin de l'emballage sous plastique des publications de presse et publicités.
Comme évoqué au sein de notre précédente présentation des conséquences de la Loi AGEC, le secteur du numérique est également particulièrement touché et implique de prendre en compte de nombreuses obligations nouvelles.
L'occasion de revenir sur plusieurs d'entre elles ; sources de nombreux bouleversements pour les acteurs du digital allant des FAI aux acteurs du e-commerce, des plateformes numériques aux marketplaces.
Renforcement de l'information des consommateurs
À partir du 1erjanvier 2022, les fournisseurs d'accès à internet et les opérateurs mobiles devront informer leurs abonnés des quantités de données qu'ils consomment en leur indiquant l'équivalent des émissions à gaz à effet correspondantes (Article 6-I, 1.bis de la Loi pour la Confiance dans l'Économie Numérique du 21 juin 2004).
L'obligation d'informer, à la charge de la personne mettant un produit sur le marché, sur les substances présentant des propriétés avérées ou présumées de perturbateur endocriniencontenues dans ce produit.
Cette information doit être accessible sous un format ouvert, par voie électronique : l'objectif est de permettre à des plateformes collaboratives d'exploiter ces informations et de mieux informer le consommateur  (L. 5232-5 du Code de la santé publique).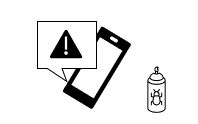 L'information sur la garantie de conformitéest renforcée :  elle devra figurer également sur le document de facturation (renseignements sur l'existence et la durée (2 ans)) pour certains types de biens dont la liste a été précisée par un décret du 18 mai 2021  : appareils électroménagers, équipements informatiques et téléphoniques, consoles de jeux vidéo, éléments d'ameublement.
Les producteurs et importateurs de produitsgénérateurs de déchets devront informer les consommateurs sur les qualités et caractéristiques environnementales de ces produits (notamment, l'incorporation de matière recyclée, l'emploi de ressources renouvelables, la durabilité et la réparabilité, etc.) tandis que certaines mentions sur les emballages seront prohibées.
Les producteurs et importateurs devront également mettre ces données à disposition du public par voie électronique.
L'article L.111-4 du Code de la consommation sera également modifié pour intégrer une obligation d'information du fabricant ou importateur de biens meubles à l'égard du vendeur concernant la disponibilité des pièces détachées et la durée de disponibilité.
Des nouvelles contraintes en lien au réemploi et à la réutilisation des produits
La notion de producteur prend ici une nouvelle dimension. Plusieurs contraintes sont en effet introduites par ce texte majeur :
L'interdiction d'éliminer les produits non alimentaires :  au 1erjanvier 2022 (article 3 du Décret du 28 décembre 2020 relatif à l'interdiction de destruction des invendus non alimentaires), extension de l'interdiction déjà en vigueur pour les produits alimentaires aux produits couverts par une filière « Responsabilité élargie du producteur » (REP) : à savoir les produits d'hygiène quotidienne ; les vêtements et chaussures ; les produits électroniques ; les livres ; l'électroménager.
Tout type d'acteurs seront visés : producteurs, distributeurs et plateformes en ligne, lorsqu'elles détiennent des stocks.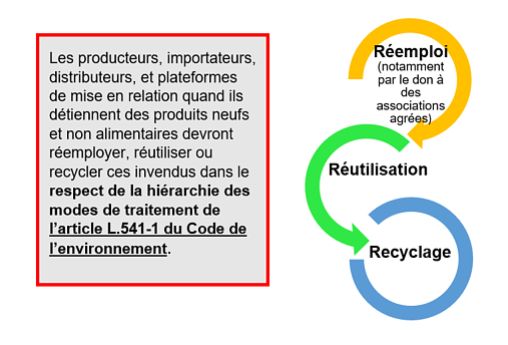 A compter du 1er janvier 2022, la durée de la garantie légale de conformité d'un produit sera en outre allongée en cas de réparation du bien ou renouvelée en cas de remplacement du bien.
Une responsabilité élargie des producteurs
Élargissement des acteurs concernés
La responsabilité élargie des producteurs est un concept introduit par la Directive 2008/98/CE relative aux déchets selon lequel les producteurs de produits producteurs de déchets sont responsables de la gestion de ces déchets.
Depuis l'introduction de ce concept, les acteurs concernés par la responsabilité élargie sont de plus en plus nombreux : en effet :
Par « producteur», la loi entend « toute personne physique ou morale qui élabore, fabrique, manipule, traite, vend ou importe des produits générateurs de déchets ou des éléments et matériaux entrant dans leur fabrication » ( 541-10 du Code de l'environnement depuis la Loi AGEC).
Les secteurs d'activités concernéssont de plus en plus nombreux puisque la liste à l'article  541-10-1 du Code de l'environnement prévoit une entrée en vigueur différée par secteur.
Au 1er  janvier 2022, aux produits déjà concernés comme les équipements électriques et électroniques, les piles ou les médicaments, viendront en outre s'ajouter, par exemple, les jouets, les éléments de décoration textile ou encore les articles de sport et de loisirs.
Enfin, au 1er<>janvier 2022, les personnes physiques ou morales qui facilitent, « par l'utilisation d'une interface électronique telle qu'une place de marché, une plateforme, un portail ou un dispositif similaire, les ventes à distance ou la livraison de produits relevant du principe de responsabilité élargie du producteur pour le compte d'un tiers » seront elles aussi tenues de pourvoir ou contribuer à la prévention ou à la gestion des déchets qui en proviennent (futur article L. 541-10-9 du Code de l'environnement).
A ce titre, une place de marché pourra être tenue de certaines des obligations applicables aux producteurs, à moins qu'elle ne justifie que le tiers pour lequel elle facilite la vente à distance ou la livraison (donc le vendeur) a déjà rempli ces obligations.
Rappel sur la responsabilité élargie des producteurs
La responsabilité élargie des producteurs implique :

La mise en place collective d'éco-organismes  auxquels les producteurs versent une contribution financière pour assurer leur mission de gestion des déchets (ou la mise en place d'un système individuel de collecte de traitement par producteur) ;
La reprise sans frais par le distributeur (ou par un tiers pour son compte)  des produits usagés dont l'utilisateur final se défait, dans la limite de produits de nature et de dimensions équivalentes à ceux qui sont proposés à la vente par le distributeur.
Cette obligation s'applique aux distributeurs selon certaines conditions de seuils de surface de vente ou de chiffre d'affaires, et uniquement pour certains produits (par exemple, les équipements électriques et électroniques, et, à partir du 1er janvier 2022, les éléments d'ameublement).

À compter du 1er janvier 2022, les producteurs soumis au principe de responsabilité élargie du producteur devront s'inscrire auprès de l'Agence de l'environnement et de la maîtrise de l'énergie (ADEME) qui leur délivrera un identifiant unique (L. 541-10-13 du Code de l'environnement).
Le producteur est identifié, pour chaque catégorie de produits, selon les articles réglementaires du Code de l'environnement.
Les places de marché devront obtenir un identifiant en tant que producteur pour les produits qu'elles mettent sur le marché sous leur propre marque ou pour les produits mis sur le marché pour des tiers ne détenant pas d'identifiant.
Cet identifiant unique devra être communiqué par les vendeurs et les producteurs aux acheteurs.
Le producteur enregistré auprès de l'ADEME devra aussi, chaque année, transmettre à celle-ci des justificatifs relatifs à la conformité de ses activités au regard de la Loi AGEC et sur les produits mis sur le marché.
En conclusion
Au 1er janvier 2022, un nouveau volet de la Loi AGEC va entrer en vigueur.
De nombreuses dispositions s'impose aux sites e-commerce, et aux places de marchés.
Plusieurs actions sont à prendre et seront déterminées en fonction des spécificités des acteurs et du secteur concerné :
Audit Juridique du site ou de la plateforme
Consolidation des fiches produits au regard des nouvelles contraintes d'information ;
Mise à jour des conditions générales de vente (sites e-commerce)
Renforcement des conditions générales de services (marketplaces) concernant les obligations en matière de vente de produits générateurs de déchets ;
Adaptation des politiques internes de l'entreprise dans une logique globale d'ecology by design.
La conformité à la Loi AGEC des acteurs du numérique s'inscrit non seulement dans le cadre d'une obligation légale mais aussi dans une démarche de responsabilité sociétale des entreprises (RSE). Associer une communication maitrisée et pertinente à ces différentes mesures ne manquera pas de renforcer la confiance des consommateurs sensibilisés aux sujets environnementaux.
The content of this article is intended to provide a general guide to the subject matter. Specialist advice should be sought about your specific circumstances.