Arbeitnehmer haben bald Anspruch auf zwei neue Sonderurlaube und können flexible Arbeitsmodelle beantragen, um eine bessere Vereinbarkeit von Berufs- und Privatleben zu erreichen. Gleichgeschlechtliche Paare können bei der Geburt eines Kindes einen zehntägigen Urlaub in Anspruch nehmen.
Zwei neue Gesetze zur Änderung des luxemburgischen Arbeitsgesetzbuches bezüglich Sonderurlaubs und flexibler Arbeitsmodelle für Arbeitnehmer werden in Kürze in Kraft treten. Die Gesetzentwürfe Nr. 8016_ und Nr. 8017_ wurden am 14. Juli 2023 vom Staatsrat von der zweiten Verfassungsabstimmung ausgenommen und werden in Kürze im Memorial veröffentlicht. Sie setzen die Richtlinie (EU) 2019/1158 über die Vereinbarkeit von Berufs- und Privatleben für Eltern und pflegende Angehörige um.1
Die im Folgenden zusammengefassten künftigen Gesetze schaffen neue Rechte für Arbeitnehmer, die mit neuen Pflichten für Arbeitgeber einhergehen, und ändern einige bestehende Bestimmungen, um sie klarer zu gestalten.
1. Neue Sonderurlaube
Zwei neue Arten von Sonderurlaub werden in das Arbeitsgesetzbuch aufgenommen.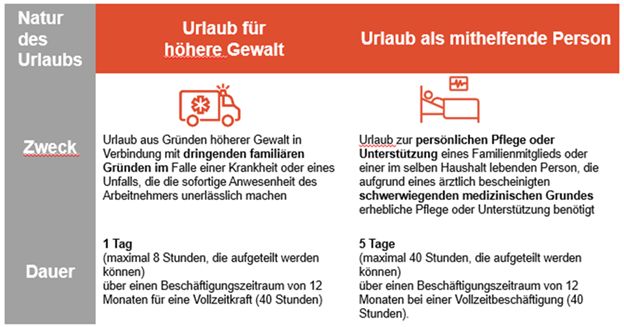 Eine Reihe von Bedingungen muss erfüllt sein, damit ein Arbeitnehmer diesen Urlaub in Anspruch nehmen kann. Außerdem muss er den Arbeitgeber oder einen Vertreter des Arbeitgebers spätestens am Tag der Abwesenheit persönlich oder über eine Mittelsperson mündlich oder schriftlich benachrichtigen.
Beide Urlaube werden vom luxemburgischen Staat in Höhe von 50 % der vom Arbeitgeber gezahlten Löhne übernommen, wobei die Grenze beim Fünffachen des sozialen Mindestlohns für unqualifizierte Arbeitnehmer liegt (d. h. EUR 12.541,20, Index 921,40). Wenn der Arbeitnehmer teilzeitbeschäftigt ist, wird die Grenze proportional entsprechend der Arbeitszeit angepasst.
Auch Beamte können diesen Urlaub in Anspruch nehmen.
2. Urlaub bei Geburt
Der außerordentliche Geburtsurlaub (sog. "Vaterschaftsurlaub") wird auf Personen ausgeweitet, die als "gleichwertiger zweiter Elternteil" anerkannt sind.
Ziel ist es, gleichgeschlechtlichen Paaren bei der Geburt eines Kindes (außer im Adoptionsverfahren) einen Urlaub von 10 Tagen (80 Stunden, die aufgeteilt werden können) zu ermöglichen. Für Arbeitnehmer, deren Wochenarbeitszeit weniger als 40 Stunden beträgt, die Teilzeit arbeiten oder mehrere Arbeitgeber haben, werden diese Urlaubsstunden im Verhältnis zu der im Tarifvertrag oder im Arbeitsvertrag festgelegten Wochenarbeitszeit festgelegt.
Der Urlaub ist innerhalb von zwei Monaten nach der Geburt des Kindes zu nehmen.2
Mit dem neuen Gesetz haben Eltern auch Anspruch auf mehr Tage Geburtsurlaub bei Mehrlingsgeburten. Der Vater von Zwillingen hat beispielsweise Anspruch auf 20 Tage Geburtsurlaub.
Der Arbeitgeber muss mit einer Ankündigungsfrist von zwei Monaten über die voraussichtlichen Termine informiert werden, an denen der Arbeitnehmer den Urlaub nehmen will. Es wurde jedoch klargestellt, dass die Frist nicht gilt, wenn die Entbindung zwei Monate vor dem Stichtag stattfindet. Der Gesetzgeber hat auch festgelegt, dass der Urlaub, wenn er nicht innerhalb der vorgeschriebenen Frist angekündigt wird, auf einmal und unmittelbar nach der Geburt des Kindes genommen werden muss, es sei denn, Arbeitgeber und Arbeitnehmer einigen sich auf eine flexible Lösung, die es dem Arbeitnehmer ermöglicht, den Urlaub ganz oder in Teilen zu einem späteren Zeitpunkt zu nehmen (wobei die Bedürfnisse des Arbeitnehmers und die des Arbeitgebers so weit wie möglich berücksichtigt werden).
Dieser Urlaub wird ab der 17. Urlaubsstunde bis zur Grenze des Fünffachen des sozialen Mindestlohns für ungelernte Arbeitnehmer vom Staat getragen. Wenn der Arbeitnehmer teilzeitbeschäftigt ist, wird die Grenze proportional entsprechend der Arbeitszeit angepasst.
Dieser Urlaub steht Selbstständigen und Beamten offen.
3. Flexible Arbeitsformen
Der Begriff der "flexiblen Arbeitsmodelle" wird in das Arbeitsgesetzbuch aufgenommen. Es handelt sich um die Möglichkeit für den Arbeitnehmer, seine Arbeitsregelungen durch flexible Arbeitszeiten, Arbeitszeitverkürzung oder Homeoffice für einen bestimmten Zeitraum anzupassen, der ein Jahr nicht überschreiten darf.
Der Arbeitnehmer muss bestimmte Bedingungen erfüllen, um Anspruch darauf zu haben:
| | |
| --- | --- |
| | eine ununterbrochene Dienstzeit von mindestens sechs Monaten bei demselben Arbeitgeber nachweisen; und |
| | Elternteil eines Kindes sein, das das neunte Lebensjahr noch nicht vollendet hat; oder |
| | persönliche Pflege oder Hilfe für ein Familienmitglied oder eine Person, die im selben Haushalt lebt und aufgrund eines ärztlich bescheinigten schwerwiegenden medizinischen Grundes erhebliche Pflege oder Hilfe benötigt, leisten. |

Auf den Arbeitgeber kommen einige Verpflichtungen zu. Beispielsweise ist er verpflichtet, den Antrag zu prüfen und innerhalb eines Monats zu beantworten. Eine Ablehnung oder Verschiebung des Urlaubs muss schriftlich begründet und per Einschreiben mit Rückschein versandt werden.
Der Arbeitnehmer kann vor Ablauf des vereinbarten Zeitraums die Rückkehr zur ursprünglichen Arbeitsregelung beantragen, sobald eine Änderung der Umstände dies rechtfertigt. Der Arbeitgeber muss den Antrag des Arbeitnehmers innerhalb eines Monats beantworten und dabei seine eigenen Bedürfnisse und die des Arbeitnehmers berücksichtigen.
4. Sanktionen
Ein Arbeitgeber, der einem Arbeitnehmer einen gesetzlich vorgeschriebenen Sonderurlaub verweigert, kann mit einer Geldstrafe von 251 EUR bis 5.000 EUR belegt werden (der Höchstbetrag wird für juristische Personen verdoppelt).
Entschädigungen, die der Staat bei der Erstattung von außerordentlichem Urlaub aufgrund falscher oder fehlerhafter Angaben zu Unrecht gewährt hat, sind zurückzuerstatten.
Ein Arbeitgeber, der seinen Verpflichtungen nicht nachkommt, wenn ein Arbeitnehmer eine flexible Arbeitsregelung beantragt, muss mit einer Geldstrafe von 251 EUR bis 2.500 EUR rechnen (bei juristischen Personen wird der Höchstbetrag verdoppelt). Im Falle eines erneuten Verstoßes innerhalb von zwei Jahren wird der Arbeitgeber mit dem doppelten Betrag bestraft.
5. Verbot von Vergeltungsmaßnahmen
Arbeitnehmer, die Sonderurlaub oder flexible Arbeitsmodelle beantragt oder in Anspruch genommen haben, dürfen nicht wegen ihres Antrags auf Gewährung eines dieser Rechte oder wegen der Inanspruchnahme eines dieser Rechte Repressalien oder einer weniger günstigen Behandlung ausgesetzt werden. Jede Kündigung des Arbeitsvertrags durch den Arbeitgeber mit der Begründung, dass der Arbeitnehmer einen Sonderurlaub oder mehrere flexible Arbeitsformen beantragt hat, ist nichtig und unwirksam. Den betroffenen Arbeitnehmern steht ein beschleunigtes Verfahren vor den Arbeitsgerichten zur Verfügung, um ihre Rechte geltend zu machen.
Während der Dauer des Sonderurlaubs und während des gesamten Zeitraums, für den flexible Arbeitsmodelle vereinbart wurden, ist der Arbeitgeber auch verpflichtet, den Arbeitsplatz des Arbeitnehmers zu erhalten oder, falls dies nicht möglich ist, einen ähnlichen Arbeitsplatz zu sichern, der den Qualifikationen des Arbeitnehmers entspricht und mindestens den gleichen Lohn bietet.
Footnotes
1. Richtlinie (EU) 2019/1158 des Europäischen Parlaments und des Rates vom 20. Juni 2019 über die Vereinbarkeit von Berufs- und Privatleben für Eltern und pflegende Angehörige und zur Aufhebung der Richtlinie 2010/18/EU des Rates.
2. Diese neuen Regeln bezüglich der Frist für die Inanspruchnahme des Urlaubs gelten auch für den Adoptionsurlaub .
The content of this article is intended to provide a general guide to the subject matter. Specialist advice should be sought about your specific circumstances.