The new Hungarian Company Gateway" system entails obligations for all Hungarian business entities: we will explain the main features of this new state-run electronic interface, provide you with an overview of the relevant tasks and deadlines (including the registration obligation until 30 August 2017) and a run-through of the registration procedure.
1. What is the Company Gateway?
The Company Gateway is a free, Hungarian state-run and mandatory (!) electronic interface for all business entities. It is based on the existing Hungarian model of client gateway established for private individuals. Business entities are obliged – in certain specific cases - to communicate with certain state and other entities (for example public utility service providers) in an electronic manner via this Company Gateway as of 1 January 2018. At the same time, it is a statutory obligation to complete the registration already by 30 August 2017.
2. What is the purpose of the Company Gateway?
The Company Gateway is a service providing an integrated electronic surface, which:
- enables all authorized persons acting on behalf of the respective business entity to gain access to the official correspondence of the business entity in one platform. Following the registration, the receipt of incoming messages to the Company Gateway may be linked to access rights, therefore certain messages will be available for employees or agents having the appropriate authority. The registration of users with rights for electronic communication is expected to be available from 1 November 2017;
- allows the storage of documents up to a total aggregate amount of 300 MB (as expected: from 1 December 2017) and will also enable the receipt of incoming messages irrespective of the hosting space's utilization;
- makes it possible for business entities to register their Company Gateway e-mail address used in the course of the registration to the Disposition Register. The Disposition Register will keep various records of the business entities' dispositions related to e-communication (e.g. the identification and contact modes). The Company Gateway address will function as the official electronic contact of business entities, which may be requested by third parties to initiate their own correspondence with the given business entities.
The exact parameters for the operation of the Company Gateway are still not in place; it is nevertheless clear that all business entities should seriously consider using this new method of communication as the Hungarian Government's aim is to gradually increase the number of state entities involved.
3. Registration and other deadlines
Business entities shall register on the Company Gateway service until 30 August 2017. The registration may be completed at cegkapu.gov.hu. (The website is currently available only in Hungarian.) The most important – currently available – deadlines are summarized on the chart below.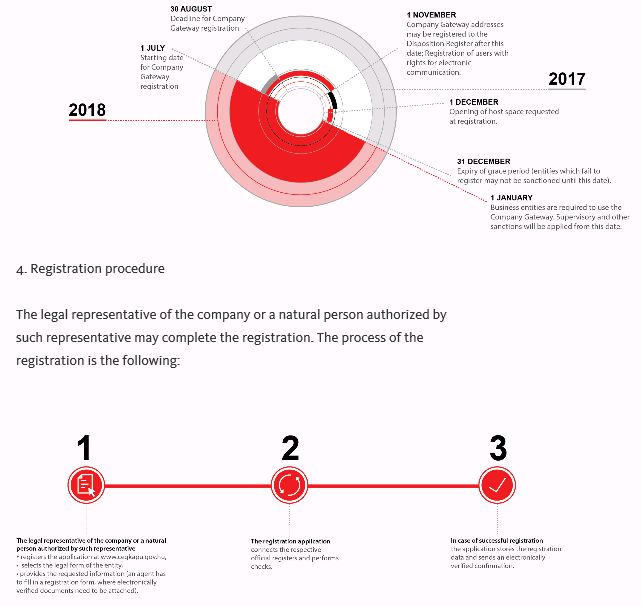 The content of this article is intended to provide a general guide to the subject matter. Specialist advice should be sought about your specific circumstances.