From our vantage point as advisers to many of the world's top private equity houses, broad market forces flow through to our instructions, and ultimately drive many of the terms of the funds we advise.
In this series we take a look at what we have been seeing in the investment funds world. Part five will focus on private equity funds.
Fund Strategies
The credit and direct-lending fund sectors remain strong. These funds continue to offer alternative lending solutions to those of traditional lenders, which are typically subject to greater regulation and consequently may struggle to offer flexible solutions to more bespoke borrower-side requirements.
Despite the significant dry powder in the market available to leveraged buy-out funds raised in 2015 and 2016, 2017 has seen continuing fundraising activity in this space. Infrastructure and the real estate market also continue to attract significant amounts of capital, with real estate in Asia attracting particularly strong interest. Energy by contrast has dipped, reflecting prolonged lower oil prices and general uncertainty within the sector.
Industry Sector 2017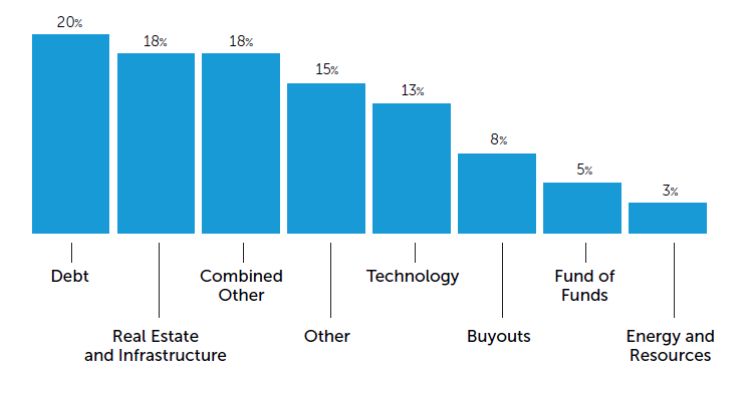 Venture capital funds focussing on technology have remained active. However, if the recent wave continues, there is a strong expectation that the 2018 data will be dominated by initial coin offerings, cryptocurrencies and other fintech strategies. There are various legal and regulatory issues regarding initial coin and token offerings still to be overcome, not least with respect to anti money laundering rules and valuation issues. Walkers is working alongside the Cayman Islands Monetary Authority and other stakeholders to help create a sensible regulatory framework to accommodate these new asset classes and strategies. The structure of such framework, which will be on the fault line between the non-traditional practices associated with these innovative strategies and the need to maintain the robust regulatory environment present in Cayman that is crucial to its institutional success, will be at the centre of this process over the course of the next twelve months
The content of this article is intended to provide a general guide to the subject matter. Specialist advice should be sought about your specific circumstances.