ASIC has cancelled or suspended more than 6 AFS Licensees in recent weeks for not meeting their compliance obligations. These cases highlight the importance of complying with ASIC's regulations to ensure you are not being penalised for overlooking your obligations.
Key Takeaways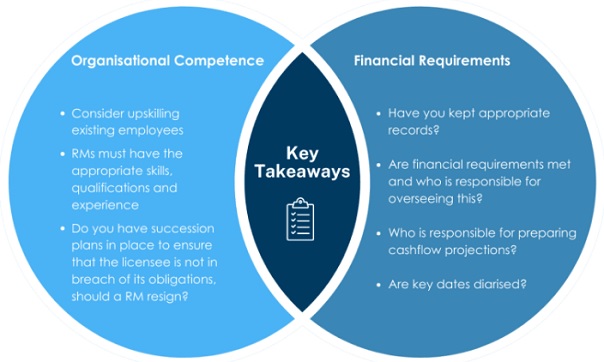 Organisational competence:
All AFS Licensees should ensure they have Responsible Managers who have the appropriate skills, qualifications and experience which cover each authorisation on their AFS Licence;
Succession plans should be put in place to ensure that in the event of the resignation of a Responsible Manager, the AFS Licensee is not in breach of the organisational competence obligations;
Consider upskilling existing employees for the purposes of appointing additional Responsible Managers and/or implementing succession plans.
Financial Requirements:
AFS Licensees should review their procedures for meeting their financial obligations:
Who is responsible for preparing cashflow projections?
Are financial requirements met and who is responsible for ensuring appropriate funds are held at all times?
Are key dates diarised?
Have you kept appropriate records to ensure compliance?
Have all necessary forms and reports been lodged with ASIC?
Failure to maintain Organisational Competence
On March 13, 2023, ASIC suspended the AFS Licence of Lendfin Private Pty Ltd (Lendfin) until 1 March 2024. Lendfin was authorised to deal in interests in managed investment schemes to wholesale clients as well as provide general advice and dealing services in basic deposit products. However, ASIC found that Lendfin failed to maintain the required organisational competence to provide the financial services they were authorised to provide and failed to meet their financial reporting obligations. If these breaches are not remedied by the end of the suspension period, ASIC may take further action, including the cancellation of the licence.
Similarly, on 6 April 2023, ASIC cancelled the AFS Licence of Starfish Financial Services Pty Ltd (Starfish). Starfish was licenced to deal in managed investment schemes to wholesale clients, however like Lendfin, they also failed to maintain the required organisational competence to provide the financial services covered by their AFSL and failed to meet their financial reporting obligations. Starfish is permitted to provide financial services to wind up the existing fund until 30 April 2023, after which date, they must cease providing financial services.
Organisational Competence is one of the general obligations under s912A(1) of the Corporations Act 2001 (Cth). AFS licensees must be able to demonstrate their compliance with this obligation at all times. A licensee's compliance with this obligation is determined by assessing the knowledge and skills of the Responsible Managers who are appointed to the AFS License. The compliance obligations will depend on the nature, scale and complexity of the business, but at a minimum, all Responsible Managers must:
be directly responsible for significant day-to-day decisions about the provision of your financial services,
have appropriate knowledge and skills for each of the AFS Licence's services and products, and
meet one of the five options for demonstrating appropriate knowledge and skills.
If you are concerned that your Responsible Managers, may not meet these requirements, please contact us for further guidance.
Failure to meet Financial Reporting Obligations
In a similar way to the above entities, two more AFS licensees had their licences cancelled or suspended for failing to meet their financial reporting obligations. On 13 March 2023, ASIC cancelled the AFS Licence of Capital Capital Pty Ltd (Capital Capital).
In November 2022, ASIC suspended the licence of Gigi Investment Group Pty Ltd (Gigi Investment) for three months for failing to:
lodge their financial reports and audit reports for the 2021 financial year,
pay their ASIC industry funding levies, and
maintain their AFCA membership.
Although ASIC may suspend a licence, there is still an opportunity to rectify any breaches and recommence providing financial services. During the suspension period, Gigi Investment was able to demonstrate that they could meet their obligations as an AFS licensee and would be able to recommence providing financial services. Due to their rectification of these breaches, the suspension ceased on 13 February 2023.
All AFS licensees are required to comply with the financial reporting requirements, including lodging annual audit documents, maintaining the appropriate financial resources on an ongoing basis and paying the ASIC Industry Funding Levy. To discuss your financial requirements, please contact us.