As part of its ongoing efforts to protect vulnerable consumers, ASIC is alerting credit providers and debt management firms that it intends to take robust and specific enforcement action against firms that engage in predatory lending, high-cost credit and misconduct that adversely impacts consumers experiencing financial hardship.
According to ASIC's Deputy Chair, Sarah Court, 'credit providers and debt management firms that look to take advantage of vulnerable consumers are in our sights and we expect further action in the coming months against operators in this area.'
Ms Court emphasised that ASIC's efforts to address predatory lending extend beyond court actions and that credit providers and debt management firms should expect that ASIC will utilise its full range of powers to protect consumers seeking credit.
Key Takeaways
Credit providers and debt management firms should ensure they are appropriately licensed to engage in credit activities or provide debt management services;
Credit providers should review their internal processes and structuring to ensure consumers do not suffer harm in obtaining credit, especially where financially vulnerable consumers are involved; and
Compliance policies and procedures should be reviewed regularly to ensure they are compliant.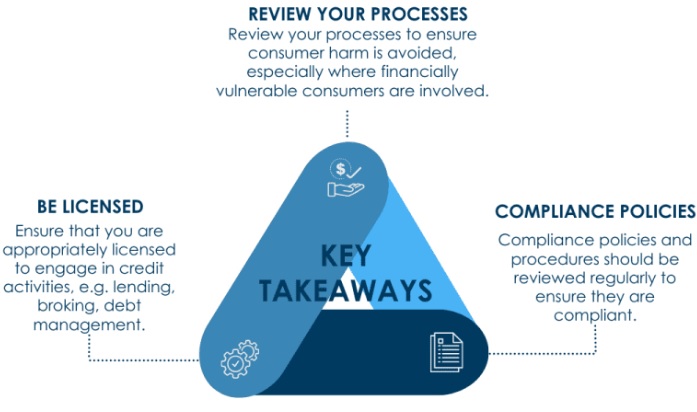 Addressing breaches of the National Credit Act

ANZ Banking Group
ANZ Banking Group was recently the subject of a federal court case brought by ASIC, resulting in a $10 million penalty for breaching the National Consumer Credit Protection Act (Cth) 2009 (National Credit Act) through its Home Loan Introducer Program.
According to the court's findings, ANZ was found to have breached the National Credit Act by accepting information and documents supporting 50 home loan applications from third parties who were not licensed to engage in credit activities. Additionally, the court determined that ANZ had inadequate processes in place within its Home Loan Introducer Program between November 2015 and March 2018, which led to non-compliance and a failure to ensure that its representatives adhered to the National Credit Act.
ANZ acknowledged these breaches and has committed to conducting a thorough review of its policies and procedures concerning the Introducer Program.
Membo and ClearLoans
The Federal Court ruled in early 2023 that Membo Finance Pty Ltd (Membo) and its sole credit representative, Richmond Group Financial Services Pty Ltd (trading as ClearLoans), must pay penalties exceeding $6 million. The companies were found to have breached the National Credit Act by failing to act efficiently, honestly and fairly when dealing with financial hardship requests from consumers, in addition to other instances of misconduct.
As part of the court's orders, Membo and ClearLoans were required to cease several enforcement proceedings against borrowers and guarantors. Both companies admitted to the misconduct, agreed to injunctions and accepted the specified penalty amounts and ASIC's costs.
Layaway
In June 2023, the Federal Court ordered Layaway Depot Pty Ltd (Layaway) pay a penalty of $375,000 for charging excessively high interest rates on 70 loans taken out by consumers to buy electronic goods including mobile phones, televisions and speakers. The payments made by these consumers for the electronic goods amounted to nearly five times their market value. Layaway specifically targets financially vulnerable individuals who might lack access to conventional credit options.
Additionally, the Court also ordered an injunction permanently preventing Layaway from engaging in credit activities and entering into credit contracts that carry an annual cost rate surpassing 48%.
Green County and Max Funding
In March 2023, ASIC initiated legal proceedings against Green County Pty Ltd and Max Funding Pty Ltd for alleged breaches of the National Credit Act, including engaging in unlicensed credit activity.
According to ASIC's allegations, Green County and Max Funding failed to conduct reasonable inquiries regarding the purpose of loans, resulting in Green County providing personal loans to certain borrowers. ASIC further asserted that neither Green County nor Max Funding were licensed to offer personal loans or act as intermediaries. As a consequence, affected consumers were deprived of essential protections outlined in the National Credit Code (Schedule 1 to the National Credit Act) and were charged higher loan fees than legally permissible.
Cigno and BHF Solutions
ASIC is seeking various orders from the court, including declarations, pecuniary penalties, injunctions, disqualification orders, and other relevant remedies.
In July 2023, ASIC achieved success in its legal action against both Cigno Pty Ltd (Cigno) and BHF Solutions Pty Ltd (BHF Solutions), as determined by the Federal Court. The court ruled that both companies engaged in credit activities without holding an Australian Credit License.
Neither Cigno nor BHF Solutions have ever held, nor currently hold, an Australian Credit Licence. Both entities employed a lending model that purportedly relied on an exemption within the National Credit Code, asserting that they were not captured by the Australian Credit Licence regime. While BHF Solutions, the lender, issued loans and imposed fees as part of a credit agreement with consumers, Cigno, through a services agreement, imposed separate high charges (including the 'financial supply fee') for facilitating and managing the credit process. The cumulative charges exceeded the specified maximum allowable amount to remain exempt from holding an Australian Credit Licence.
ASIC obtained permanent injunctions against Cigno and BHF Solutions, prohibiting them from operating this specific lending model or collecting payments and fees from consumers for loans provided under this model. Karen Chester, ASIC Deputy Chair, said "ASIC took this case to stop a harmful lending model, one which circumvented Australian credit laws and regulations and charged excessive fees and charges to many vulnerable consumers ."
Background
The information about these enforcement action is taken from ASIC's Enforcement and Regulatory Update for the first quarter of 2023. The report emphasises ASIC's success in securing civil penalties exceeding $30 million and provides details regarding the commencement and completion of court proceedings against credit providers during the quarter.
Further reading
REP 764 ASIC enforcement and regulatory update: January to March 2023
23-055MR ASIC commences court proceedings against Green County and others over alleged unlicensed credit activity (9 March 2023)
23-059MR ANZ penalised $10 million over non- compliant Home Loan Introducer Program (10 March 2023)
23-037MR ClearLoans penalised $6 million for financial hardship misconduct and other Credit Act breaches during COVID-19
(23 February 2023)
(23-139MR) Layaway penalised $375,000 for providing high-cost credit and unlicensed credit activity (2 June 2023)
(23-188MR) Cigno and BHF Solutions found to have engaged in unlicensed conduct (14 July 2023)