Lithium is one of the fastest-growing high-tech metals and plays a vital role in emerging industries. Since 2020, flourishing sales of new electric vehicles (BEV, PHEV) and government policy stimulations have led to an unprecedented demand shock in the global market.
In this article, we look at the lithium industry chain, the distribution of lithium sources both globally and in China, the application of lithium sources demands as well as the status quo of the sustainability of lithium mining exploration.
Lithium industry chain
Lithium is a powdery white metal used in many rechargeable batteries that power electric vehicles (EVs) and that store electricity generated through renewable resources. The lithium industry value chain can be divided into upstream, middle stream and downstream. Lithium is generally extracted from one of two sources: brines and hard rock. Hard rocks such as spodumene and lepidolite are common sources of lithium.
However, according to BNP bank, brines are making up 59%1 of economic lithium resources today. Mined materials are processed from raw materials to capture lithium compounds. The lithium salt is processed into lithium carbonate, which is refined into lithium hydroxide. These lithium precursors, including lithium hexafluorophosphate, are ingredients in key cell parts: anodes, cathodes, and electrolytes to make battery cells. Then battery cells store electricity for power grids and are integrated into rechargeable battery packs for EVs.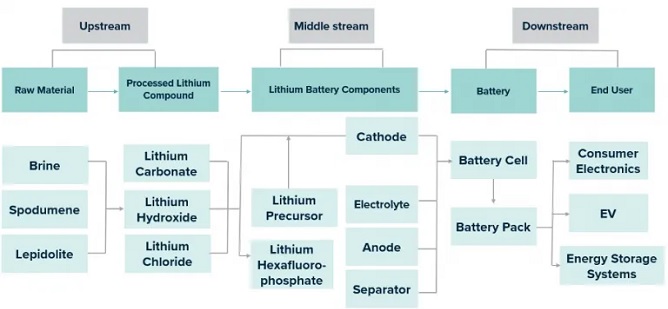 Source: Deutsche Bank, Acclime Insights
Distribution of lithium sources
Global
The global lithium resources are rich, but the distribution is not balanced, as nearly 98.43% of lithium mines are concentrated in Bolivia, Chile, Australia, Argentina, the United States and China. According to USGS2, the currently identified lithium resources are 89 million tons. (Identified resources are defined as "Resources for which location, grade, quality, and quantity are known or estimated from specific geologic evidence."). Bolivia has the largest lithium reserve worldwide by a large margin, amounting to 21 million metric tons, nearly one-fifth of the global reserves. Although home to some of the world's largest lithium reserves, Bolivia has been struggling to accelerate lithium industrialisation for many years. Argentina comes in second, with reserves estimated at 19.3 million metric tons in 2021 while Chile has the third-largest lithium reserve of 9.8 million metric tons.
To be specific, the world's lithium brine resources are mainly located in the "Lithium Triangle" plateau region of Chile, Argentina and Bolivia in South America and dry areas in the western United States and western China, while the world's lithium hard rock resources are mainly located in Australia, China, Zimbabwe, Portugal, Brazil, Canada, Russia, and other countries. Five mineral operations in Australia, two brine operations each in Argentina and Chile, and two brine and one mineral operation in China accounted for the majority of world lithium production.
China
In recent years, China has mainly relied on imports to meet domestic requirements for lithium carbonate products although China is one of the countries rich in lithium source reserves. This is because China's lithium resources are characterised by a scattered distribution and inferior quality3. According to the statistics published by USGS, China has a lithium reserve of 5.4 metric tonnes, accounting for an estimated 13% of the total lithium reserve globally.
Lithium brines possess 85% of the total industrial lithium reserves in China4. The salt lakes are mainly distributed in northwestern China regions such as Tibet, Xinjiang, Qinghai, and Inner Mongolia, and brine types are mainly carbonate types and sulphate types. The carbonate lithium resources are mainly concentrated in Zabuye Salt Lake in the west of Tibet and the Dongtai and Xitai Ji Nai'er Lake in Qinghai.
The sulfate lithium resources are mainly distributed in the Chaidamu Basin and the north of Tibet. The quality of Tibet Salt Lake in China is higher than that in Qinghai, with the remarkable characteristic of the high content of lithium resources and low Mg/Li value of brine5. However, due to geographical constraints and inadequate infrastructure, Tibet's Salt Lake lithium extraction is not fully developed.
Spodumene is mainly distributed in Sichuan, Xinjiang, and Henan, and lepidolite is mainly distributed in Jiangxi and Hunan, accounting for less than 20% of the lithium reserves.
The application of lithium resource demand in China
Lithium has many uses, the most prominent being in batteries for laptops, cell phones, and electric and hybrid vehicles. In 2021, batteries were the largest end-usage of lithium worldwide by far. This application accounted for 71 percent of lithium consumption, while use in ceramics and glass for strength and resistance to temperature change made up another 14 percent6. Lithium is also used in heat-resistant greases and lubricants, polymer production, casting mould powders and air treatment. Moreover, lithium is even used in certain psychiatric medications and dental ceramics.
Lithium consumption for batteries has increased significantly in the past few years because rechargeable lithium batteries are used extensively in the emerging market for portable electronic devices and are increasingly used in electric vehicles, electric devices, power tools, and grid storage applications.
Lithium-ion batteries offer unique advantages over their alternative lithium and other elemental chemicals. It offers the highest energy density in the rechargeable battery market, and it is easy to use, relatively low maintenance and has a long shelf life. Increases in battery demand will continue to be a strong driver of lithium consumption, as lithium-ion battery technology is used extensively in the production of electric vehicles.
By now, there are six basic lithium battery chemistries, and each has its own characteristics. The table below lists different types of lithium batteries and compares the advantages and disadvantages as well as typical applications: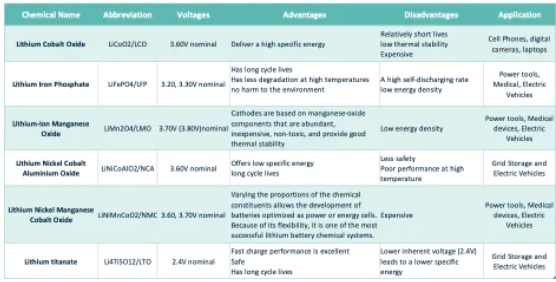 Source: TechiSci Research, Chuancai Securities, Acclime Insight
According to the International Energy Agency (IEA) 7, global EV sales doubled in 2021 to a new record of 6.6 million and have kept rising strongly in 2022. To be specific, the increase in EV sales was primarily led by China, which accounted for half of the market share. The incrementation in China owing to supportive government policies and public spending on subsidies and incentives, coupled with the presence of market players in the country, is expected to drive the demand for lithium-ion batteries in China in the next decade. According to a report by Grand View Research8, lithium-ion battery is expected to reach USD 182.53 billion by 2030.
It is expected that the lithium-ion battery expands at a CAGR of 18.1 percent from 2022 to 2030. According to SNE Research9, a South Korean market research institution, the total battery energy requirement for electric vehicles (EVs) reached 202 GWh worldwide in the first half year of 2022. Among suppliers, Contemporary Amperex Technology Co., Ltd. (CATL) was the leading supplier globally, with a total capacity of 69 GWh, or a market share of 34.8 percent in H1 2022. BYD has also overtaken South Korea's LG as the world's second-biggest producer of EV batteries, with a market share of 11.9%.
Bloomberg NEF has ranked China No.1 in raw material, cell & component, and demand of the lithium-ion battery supply chain for three consecutive years since 202010. Not only lithium, but China also controls over 50% of battery–grade metals refining capacity across all key materials and Chinese companies such as Jiangxi Ganfeng Lithium Co., and Tianqi Lithium Co, have invested heavily in mining assets globally.
Is lithium a "green" alternative?
Over the last ten years, the lithium-ion battery has been an enabling technology for mobile electronics to play a vital role in the world's decarbonisation and reduction of greenhouse gases (GHG). Lithium is crucial for the transition to renewables but mining itself has been environmentally costly.
The production of lithium from mineral resources such as spodumene is energy intensive. It requires a lot of energy that releases significant amounts of greenhouse gas emissions and produces toxic waste streams typically containing surfactants, organic extractants and solvents. For example, each ton of hard rock lithium refined produces 15 tonnes of CO211. The lithium brine extraction process not only uses a lot of water – approximately 469 cubic meters per tonne of lithium but causes water contamination and toxic waste.
To make the supply chain more sustainable, solutions are emerging worldwide. Currently, geothermal brine is a popular, concentrated saline solution that has circulated through hot rocks and becomes enriched with elements such as lithium, boron, and potassium. The energy-intensive process of extracting lithium from solid rock is powered by naturally occurring geothermal energy, which releases zero CO2 emissions at a lower cost compared with traditional mining methods12.
Launched in 2019, the EuGeLi (European Geothermal Lithium Brine) project has successfully produced the first kilograms of battery-grade lithium carbonate from European geothermal water by the end of 2021. Their next step is commercialising the production of lithium on an industrial scale13. Another German-Australian company, Vulcan Energy Resources is also aiming to produce both renewable geothermal energy and lithium hydroxide for electric vehicle batteries from the same deep brine source in the Upper Rhine Valley in Germany14. The US also owns a geothermal lithium brine resource in the Salton Sea in Southern California.
Ganfeng Lithium Group., a China-based company principally engaged in the research, development, production, and sales of deeply processed lithium products has also gone far in the practice of a greener supply chain. The vice chairman of Ganfeng Lithium introduced the sustainable cases of Ganfeng in a "Green Supply Chain Forum" in 2021.15 In its lithium salt lake project in Argentina, sunlight evaporation is used as the main process, while photovoltaic power is used for the rest of the process in order to make the mining process green. Meanwhile, to protect the local ecological balance, Ganfeng has set up a biodiversity reserve around the Mariana project, where night-time lighting is strictly prohibited, and noise is avoided.
Besides, the recycling of lithium materials is another important practice of Ganfeng Group. It established Ganfeng Recycle in 2016. As of 2020, Ganfeng's decommissioned lithium battery dismantling and comprehensive metal recycling project has reached a recycling capacity of 34,000 tons, with a lithium recovery rate of over 90% and a total nickel-cobalt-manganese recovery rate reached 98%.
It believes that lithium is the solution to the decarbonising transportation industry, yo. For example, to reduce energy consumption, production plants can use a rooftop photovoltaic (PV) system to generate electricity instead of thermal power generation. It is also important to install continuous monitoring equipment to ensure that exhaust gases meet local standards. To make the best use of resources, a water recycling system can be built to reuse water resources while achieving zero discharge of wastewater.
Opportunities for foreign investors
China will boost foreign investment, with the manufacturing industry as a priority, although some factors brought about by the complex external environment, putting a dent in the confidence of foreign investors.16 According to the Ministry of Commerce, from January to August 2022, the actual use of foreign direct investment (FDI) into the Chinese mainland increased 16.4 percent from the same period the previous year to CNY 892.74 billion17.
According to the Announcement on Issues Concerning the Implementation of the Catalogue of Industries for Encouraging Foreign Investment (2022 Version)18, In this Draft for Public Comments, it is clearly stated that foreign companies are encouraged to invest in quality power batteries and their related products in China. The government covers everything from upstream materials to the production and preparation of lithium batteries, to the recycling of lithium batteries.
Currently, China's power cell whitelist mechanism has accepted Korean companies. LG Chem, South Korea's top battery maker, has set up a joint venture with Veken Technology to produce and sell lithium-ion batteries in October 2019. Samsung SDI invested additional funds into Xi'an's facilities to ramp up the capacity of its EV battery plant. As China's efforts to further encourage foreign investment, it is believed that the themes listed above may evolve and new investment opportunities could also emerge.
Footnotes
1 Lithium – For Harnessing Renewable Energy
2 USGS.gov, mcs 2021
3 Improving China's Global Lithium Resource Development Capacity, frontiers, 2022-06-17
4 Lithium Resources Industrialization of Salt Lakes in China: A Case Study of the Xitaijinaier Salt Lake and the Zabuye Salt Lake, ACTA Geoscientica Sinica, 2010-02
5 Decryption of China's four major salt lakes, five major refining technical routes, SMM, 2018-11-30
6 Ibid.
7 Global EV Outlook 2022, IEA, 2022-05-23
8 Lithium-ion battery market size worth $182.53 billion by 2030: Grand View Research, Inc., 2022-06-07
9 2022 1H Global EV & Battery Performance Review, 2022-07-18
10 Race to net zero: Pressures of the battery boom in five charts, Bloomberg, 2022-07-15
11 What you need to know about lithium, BNP PARIBAS, 2021-07-30
12 Greener lithium mining: Lithium is crucial for greening transportation and energy networks. Canadian Mining Journal, 2022-04-18
13 EUGELI Project: Extracting European Lithium for Future Electric Vehicle Batteries, eramet.com
14 Vulcan Energy Resources Corporate Presentation, 2022-04
15 赣锋锂业出席绿色供应链论坛, 分享锂行业的碳中和实践, Ganfeng Lithium, 2021-07-06
16 China mulls measures to further boost foreign investment, China Daily, 2022-09-19
17 Ibid.
18 The Catalogue of Industries for Encouraging Foreign Investment (2022 Version)