"There are many things from which I might have derived good, by which I have not profited, I dare say,' returned the nephew. 'Christmas among the rest. But I am sure I have always thought of Christmas time, when it has come round—apart from the veneration due to its sacred name and origin, if anything belonging to it can be apart from that—as a good time; a kind, forgiving, charitable, pleasant time; the only time I know of, in the long calendar of the year, when men and women seem by one consent to open their shut-up hearts freely, and to think of people below them as if they really were fellow-passengers to the grave, and not another race of creatures bound on other journeys. And therefore, uncle, though it has never put a scrap of gold or silver in my pocket, I believe that it has done me good, and will do me good; and I say, God bless it!" A Christmas Carol, Charles Dickens
As 2020 ends and the festive season is dampened by a growing number of COVID-19 infections, one might say "Bah Humbug" to an unforgettable year that one might wish to forget. What does 2021 hold for the world beyond COVID-19 and the future of the US-China relationship? Will the Ghost of Christmas Yet to Come be "dark and mysterious", "faceless" and present "the unknown, and the fear inherent" or can the world come together again for a better Christmas in 2021?
China Pulls Back From The World?
"China pulls back from the world: rethinking Xi's 'project of the century'", indicates the demise of the Belt and Road Initiative (BRI), wrote the Financial Times on December 11, 2020. The writer emphasized the debt crisis the BRI's participants are likely to face, Sino-US tensions and COVID-19, and predicted the result would be a reduction in overseas investments and the BRI's downfall. Admittedly, BRI projects carry risks inherent to large-scale infrastructure projects, as the World Bank notes on its BRI portal. Cancelled and scaled-down projects receive a lot of coverage in the media, but they represent only a very small proportion of the overall number.
Continued BRI Projects During Covid-19
Global cooperation is impossible without risks, and China and BRI participants need a better risk management system. The BRI's future should be about quality, efficiency and regulatory transparency. Amid 2020's unprecedented difficulties, outbound direct investment under the BRI reached CNY 98 billion from January to October 2020, which represents an increase of 3.6% from the same period last year. Some BRI projects have shown great resilience and are supporting the fight against the pandemic's unprecedented challenges. For example, the China-EU train presents a "life-saving" channel to transport much-needed medical and protective materials to some European countries and help maintain and stabilize the normal functioning of industrial supply chains, as reported by the European Silk Road Summit hosted by the Promedia Group in the Netherlands.
BRI 2.0 Reset And Restart – Green And Clean
High quality, transparency and efficiency have become the key focus of the BRI; quality development will be the focal point in its next chapter. During the second Belt and Road Forum for International Cooperation in Beijing, where BRI 2.0 was first announced, President Xi spoke of key points such as pursuing open, green and clean cooperation, improving people's lives and promoting sustainable development. China has already introduced multiple guidelines to increase and manage green energy projects, such as the "Guidance on Promoting Green Belt and Road" and "Belt and Road Ecological and Environmental Cooperation Plan".
China's foreign direct investment and projects in power generation overseas have increased in recent years and involve a significant portion of renewable energy projects such as wind, biomass, and hydropower, as reported in Boston University Global Development Policy Center's China's Global Power Database. It has also further increased its non-fossil fuel related energy investments in 2020, including the Dasu Hydropower Project, a USD 1.93 billion investment in Pakistan and the Dau Tieng solar power project, a USD 310 million investment in Vietnam.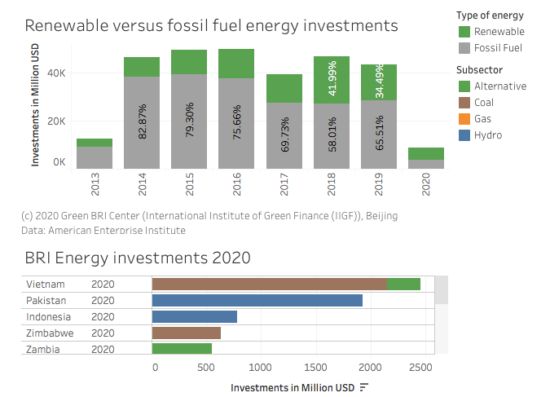 (Source: Brief: Investments in the Chinese Belt and Road Initiative (BRI) in 2020 during the Covid-19 pandemic, published on the Green Belt and Road Initiative Center database)
The focus on sustainability and green energy in BRI 2.0 demonstrate a more selective and forward-looking approach to the long term development of the Initiative. Quality investment in green energy and relevant sectors can be expected in the future. Despite differing media coverage and international caution, BRI 2.0 offers possibilities for new partnerships and sustainable projects. We are here to see whether a new chapter of BRI can deliver higher standards of project sustainability and governance, as well as mutually beneficial partnerships.
Merry Xmas and looking forward to a green and clean Christmas Yet to Come!
Reference
BRI at a Glance, World Bank, available at https://www.worldbank.org/en/topic/regional-integration/brief/belt-and-road-initiative#01
The Belt and Road Initiative: Reshaping Economic Geography in Central Asia?, Bird, Julia Helen; Lebrand, Mathilde Sylvie Maria; Venables, Anthony J.; April 2019, https://documents.worldbank.org/en/publication/documents-reports/documentdetail/836301554729486900/the-belt-and-road-initiative-reshaping-economic-geography-in-central-asia
China-Europe Railway Express has played an important and irreplaceable role, YC News, November 2020, https://ycnews.com/china-europe-railway-express-has-played-an-important-and-irreplaceable-role/
Joint Statement of the High-level Video Conference on Belt and Road International Cooperation: Combating COVID-19 with Solidarity, Ministry of Foreign Affairs of the PRC, June 2020, https://eng.yidaiyilu.gov.cn/qwyw/rdxw/132547.htm
Belt and Road Economics: Opportunities and Risks of Transport Corridors, OECD, June 2019, https://www.worldbank.org/en/topic/regional-integration/publication/belt-and-road-economics-opportunities-and-risks-of-transport-corridors
China's investment and cooperation with countries along the "Belt and Road" from January to October 2020, Go Global public service platform, Department of Foreign Investment and Economic Cooperation, Ministry of Commerce of the People's Republic of China, https://translate.google.com/?hl=zh-CN&sl=zh-CN&tl=en&text=%E8%B5%B0%E5%87%BA%E5%8E%BB%E5%85%AC%E5%85%B1%E6%9C%8D%E5%8A%A1%E5%B9%B3%E5%8F%B0&op=translate
Brief: Investments in the Chinese Belt and Road Initiative (BRI) in 2020 during the Covid-19 pandemic, Christoph NEDOPIL WANG, July 2020, https://green-bri.org/investment-report-belt-and-road-initiative-bri-2020-covid19
8.Global Development Policy Center's "China's Global Power Database, Boston University, https://www.bu.edu/cgp/
Belt and Road, the view from China, CMS Legal and Tiantong Law Firm, 2020 https://cms.law/en/int/publication/belt-and-road-initiative/bri-view-from-china
Originally Published by Mayer Brown, December 2020
Visit us at www.mayerbrown.com
Mayer Brown is a global legal services organization comprising legal practices that are separate entities (the Mayer Brown Practices). The Mayer Brown Practices are: Mayer Brown LLP, a limited liability partnership established in the United States; Mayer Brown International LLP, a limited liability partnership incorporated in England and Wales; Mayer Brown JSM, a Hong Kong partnership, and its associated entities in Asia; and Tauil & Chequer Advogados, a Brazilian law partnership with which Mayer Brown is associated. "Mayer Brown" and the Mayer Brown logo are the trademarks of the Mayer Brown Practices in their respective jurisdictions.
© Copyright 2020. The Mayer Brown Practices. All rights reserved.
This article provides information and comments on legal issues and developments of interest. The foregoing is not a comprehensive treatment of the subject matter covered and is not intended to provide legal advice. Readers should seek specific legal advice before taking any action with respect to the matters discussed herein. Please also read the JSM legal publications Disclaimer.