Lewis Brisbois has the deepest bench of renowned trial attorneys in the country. Although we always do our best to resolve matters for clients without the need for a trial, when the circumstances require it, Lewis Brisbois has the knowledge, experience, and nationwide resources to successfully handle any trial across the country.
This newsletter highlights our recent trial victories. As you'll see, these victories run the gamut of legal practice areas, from general liability matters to age discrimination suits, from maritime law to medical malpractice. And with favorable trial outcomes all across the country, our clients can be assured that no matter where they need trial assistance, Lewis Brisbois can help.
Read on for spotlights on two of our senior trial attorneys, a roundup of our recent trial wins, and information on our growing number of ABOTA members.
You can read more on our National Trial Practice page or in our National Trial Practice brochure.
ATTORNEY SPOTLIGHTS
Walters-Hinds, Partner, New York
Alecia Walters-Hinds is a partner in our New York office. She specializes in the handling of high exposure and catastrophic injuries, and handles wrongful deaths, construction, labor law, dram shop, premises, and motor vehicle (personal and commercial) claims.
Ms. Walters-Hinds has tried over 100 cases and taken over 50 verdicts. She began her career at the New York City Law Department Corporation Counsel, and then went to one of the largest insurance defense firms in New York. She has successfully handled many high exposure cases resulting in favorable verdicts or favorable resolutions through mediation or during trial. Her results include defense verdicts throughout New York, including Brooklyn and the Bronx.
Ms. Walters-Hinds is currently the president of the New York City Chapter of American Board of Trial Advocates (ABOTA).
Read more about Ms. Walters-Hinds' experience here.
Dana A. Fox, Partner, Los Angeles
Dana Alden Fox is a senior partner in our Los Angeles office and co-chair of the firm's General Liability Practice. As a result of his repeated retention in the most difficult, high exposure cases in California and his being admitted in Colorado, Mr. Fox has become one of the most heralded trial attorneys in the country, consistently obtaining results not thought possible for his clients, including multiple defense jury verdicts in prominent cases.
Mr. Fox, who is a Fellow in the American College of Trial Lawyers and holds the elevated rank of Advocate with The American Board of Trial Advocates (ABOTA), has developed a reputation as the "go-to" attorney in high profile, high exposure catastrophic accident, police use of force, premises and product liability, public entity, and general liability cases. Mr. Fox was named one of the top 100 attorneys in California by the Los Angeles Daily Journal.
Read more about Mr. Fox's experience here.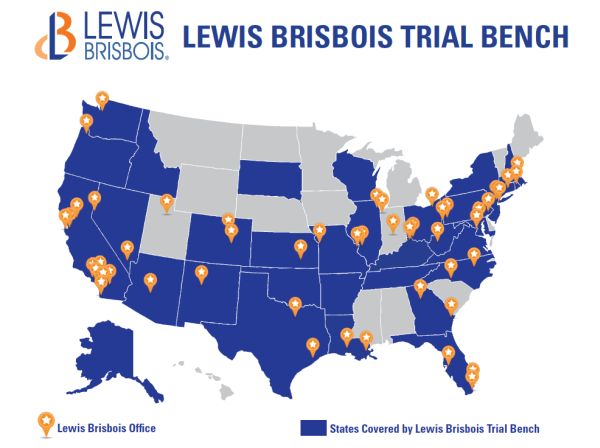 OUR ABOTA TEAM MEMBERS
Our ABOTA Team Members
ABOTA is a national association of experienced trial lawyers and judges dedicated to promoting civility in the courtroom and preserving the 7th Amendment right to trial by jury.
Lewis Brisbois has over 40 trial attorneys who have been inducted into this invitation-only organization, including five in its New York office. View the full list of Lewis Brisbois' ABOTA members here.
Click on the map above to view our National Trial Practice brochure.
RECENT TRIAL WINS
California Team Secures Unanimous Defense Verdict in High-Exposure Elder Abuse and Neglect Case
A California trial team led by Los Angeles Partner George E. Nowotny and Sacramento Partner Kim M. Wells recently secured a unanimous defense verdict for our client, Vohra Wound Physicians of California, PC, which provides consultant medical services to residents in skilled nursing facilities, in a multi-million dollar elder neglect and physical abuse case which was heard in Sacramento County Superior Court. The matter involved an 88-year old woman who incurred an ankle fracture, subsequently sustaining several pressure wounds to her left leg, and ultimately requiring a below-the-knee amputation.
The plaintiff argued that the alleged neglect and abuse resulted in her total disability. She also alleged that our client had performed unnecessary procedures on her in order to defraud Medicare and increase their profits all at the plaintiff's expense. The plaintiff's counsel, a high-profile California elder law attorney, sought past and future medical expenses in excess of $2.6 million dollars, as well as "significant" general damages. The plaintiff made a pre-trial demand of $13 million. Our client refused to consent to any settlement.
A key aspect of the case turned on the definition of "caretaker" and "custodial care" as set forth in California's Elder and Dependent Adult Civil Protection Act (EADACPA), and particularly its application to physicians and medical practice groups. At trial, we argued that in addition to a lack of causation, the provider and its physicians were not in a substantial caretaking or custodial relationship with plaintiff that involved ongoing responsibility for provision of basic needs. After a 10-week trial and two and a half days of deliberation, the jury returned a unanimous 12-0 verdict in favor of our client on both the elder abuse claim and the "caretaker"/"custodial care" aspect of the elder neglect claim.
"This case involved an essential element of the Elder Abuse Act," said Mr. Nowotny. "This is a very important result not just for our client, but for the entire California medical community in the ongoing effort to prevent the overreaching application of this law and its enhanced remedies in cases that, at best, may only be questionable medical negligence matters."
Mr. Nowotny and Ms. Wells were assisted by Sacramento Associate Christopher Choi. This is the third defense verdict secured by or with the assistance of the Sacramento trial team in recent months.
Las Vegas Office Secures Defense Verdict in High-Profile Matter
Las Vegas Partner Laureen P. Frister was the second chair in a high-profile trial involving retired Senator Harry Reid, who brought suit after he claimed to have lost his vision in one eye when a latex resistance band slipped out of his hands and he fell against a bathroom countertop.
Lewis Brisbois was retained to act as local counsel, and Laureen took on the work of pre-trial motions, trial briefs, cross-examination outlines, jury instructions, verdict forms, and more, as well as handling the trial logistics for lead counsel from Baker Hostetler. The initial and continuing demand was eight figures. On the eve of trial, it remained in the low seven figures. The two-week trial was broadcast and live-streamed by NBC, The CW, and the Las Vegas Review-Journal, and was covered extensively in the national and local press. Laureen conducted several witness cross-examinations and was present at counsel table throughout.
At the end of the trial, the jury returned a unanimous defense verdict against Senator Reid and his wife. The jury foreperson stated that it took the jury just one minute to conclude that the resistance band used by Senator Reid in his accident was not manufactured by the defendants.
Kentucky Team Achieves Unanimous Defense Verdict in Wrongful Death Claim
Fort Wright Managing Partner Judd Uhl and Associate R. Morgan Salisbury achieved a unanimous defense verdict in an $11.7 million wrongful death claim in Oldham County, Kentucky, near Louisville. The plaintiff had sustained a fatal head injury following a bicycle accident in a road construction zone. The plaintiff blamed our client for "over milling" the road to an inappropriate depth, leaving what the plaintiff called a severe bump.
After nearly two weeks of trial, including testimony from 15 witnesses and four experts, the jury found no wrongdoing and agreed with our client that the original milling had deteriorated due to heavy rain and traffic, resulting in the bump on the day of the accident six days later. No appeals are expected.
New York Team Secures Defense Verdict in Ambulance Collision Case
New York Partners James T. Whalen, Jr. and Kevin Zimmerman obtained a defense verdict in the Bronx with a jury finding that both plaintiffs failed to meet New York's serious injury threshold despite both undergoing multiple surgeries. The plaintiffs were both passengers in the co-defendant's vehicle, which was allegedly sideswiped by our client's ambulance. Both plaintiffs received treatment to the neck and back for bulges and herniations, and also underwent an arthroscopic knee surgery following the accident.
At trial, one of the plaintiffs conceded he made no complaints regarding his knees at his first physical therapy provider for more than four weeks. He also testified that he had not seen his operating doctor since 2013, except for a visit in 2018. The other plaintiff conceded that both vehicles were moving slowly at the point of impact. She acknowledged that she had not seen a doctor for five years before a October 2018 visit. She also confirmed that the physical therapy office she and the other plaintiff attended was across the street from her attorney's office. Further, we successfully cross-examined the plaintiffs' treating orthopedist, questioning him about his website where he appeared to solicit personal injury attorneys. Further, the orthopedist conceded that he did not know any of the details regarding the accident, including whether the plaintiffs were wearing seat belts, the severity of the impact, or what parts of the vehicles were involved.
In further support of our case, we presented testimony from an orthopedist and a radiologist. Both doctors noted the minor impact involved in the accident, as reported in the ambulance call report and emergency room records. Our orthopedist concluded that the mechanism of injury for the plaintiffs' claimed injuries was not present, and the radiologist testified that the plaintiffs' films following the accident showed no evidence of any trauma. Both the plaintiffs' attorneys asked the jury to award in excess of $600,000. The jury was persuaded by our arguments and found that neither plaintiff sustained a "serious injury" caused by the accident under New York's threshold law, and never had to reach the questions concerning liability.
To view this Newsletter in full, please click here.
The content of this article is intended to provide a general guide to the subject matter. Specialist advice should be sought about your specific circumstances.