On January 9, 2018, the EPA published the third round of final area designations under the 2010 SO2 NAAQS. In this round, the EPA identified six (6) nonattainment areas located in Florida, Indiana, Louisiana, Puerto Rico and Guam. EPA designated 23 areas as unclassifiable and all other areas as attainment/unclassifiable. The primary focus in this round was on those areas electing to rely on ambient air quality modeling to assess attainment with the standard.
The nonattainment areas are tied to specific facilities and each area represents just that portion of the affected counties or parish where the facility is located. The following table shows the nonattainment area designations by county/parish and the associated facilities: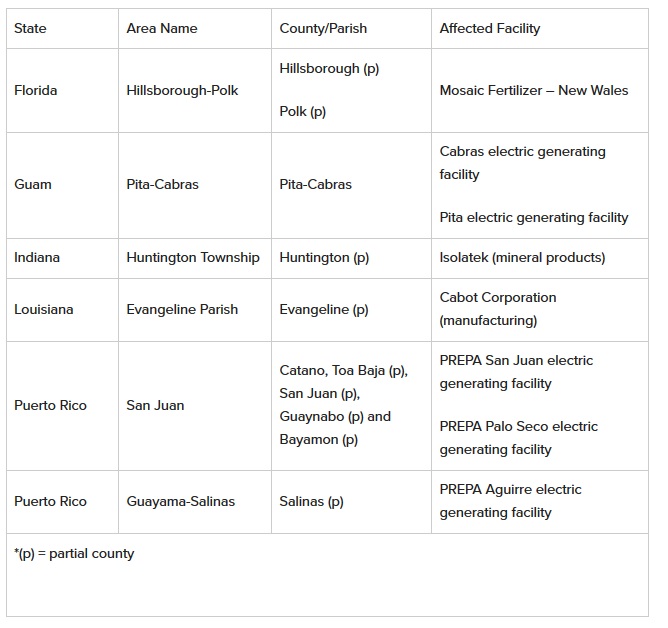 In some instances, EPA overrode some of the state's recommended designations. For instance, EPA disagreed with Indiana's recommended designation of unclassifiable for part of Huntington County and issued a final nonattainment designation. In its response to comments document, EPA explained that the modeling data for the area around the Isolatek (Mineral Products) facility violated the NAAQS. The EPA also disagreed with Louisiana's recommended designation of unclassifiable for part of Evangeline Parish and designated that part of the Parish in the area around Cabot Corporation as nonattainment. In addition to these states, EPA also disagreed with Florida's recommended attainment or unclassifiable designation for part of the Hillsborough-Polk area and designated the area surrounding the Mosaic-New Wales facility as nonattainment. Unlike the previously discussed states, Puerto Rico and Guam recommended nonattainment designations for their respective counties, which were accepted by EPA.
EPA noted that in its fourth and final round of designations, which is due in December 2020, it will designate the remaining areas — approximately 50 undesignated areas where states and sources have installed and started operating a new SO2 monitors. Thus, the next and final
The content of this article is intended to provide a general guide to the subject matter. Specialist advice should be sought about your specific circumstances.