The number of ADA Title III lawsuits filed in federal court in 2018 hit a record high of 10,163 – up 34% from 2017 when the number was a mere 7,663. This is by far the highest number of annual filings since we started tracking these numbers in 2013, when the number of federal filings was only 2,722. In other words, the number of cases has more than tripled. The chart below shows the explosion in these types of suits: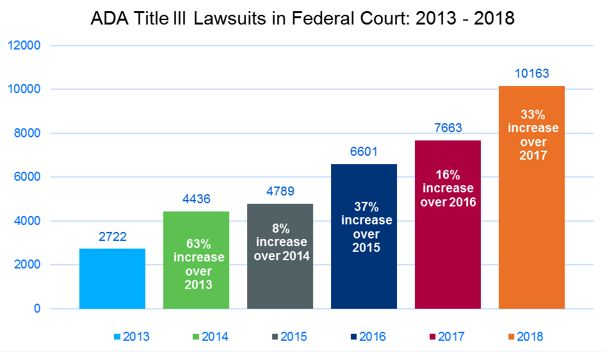 [Graph: ADA Title III Lawsuits in Federal Court: 2013-2018: 2013: 2722; 2014: 4436, 63% increase over 2013; 2015: 4789, 8% increase over 2014; 2016: 6601, 37% increase over 2015; 2017: 7663, 16% increase over 2016; 2018: 10163, 33% increase over 2017]
California, New York, and Florida led the pack by a wide margin as the states with the most ADA Title III lawsuits, with Texas, Georgia, Pennsylvania, Arizona, Massachusetts, New Jersey, and Alabama making the top ten but trailing far behind. Nevada, Colorado, and Utah fell out of the top ten in 2018, displaced by newcomers Alabama, Arizona, and Massachusetts. No ADA Title III lawsuits were filed in Montana, New Mexico, North Dakota, South Dakota, Vermont, Wyoming.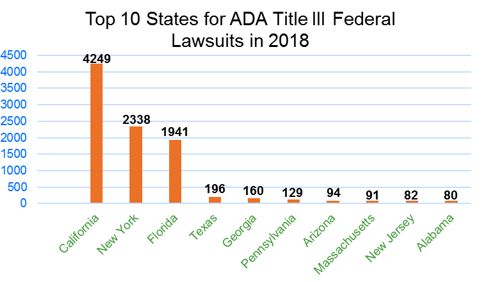 [Graph: Top 10 States for ADA Title III Federal Lawsuits in 2018: CA 4249, NY 2338, FL 1941, TX 196, GA 160, PA 129, AZ 94, MA 91, NJ 82, AL 80.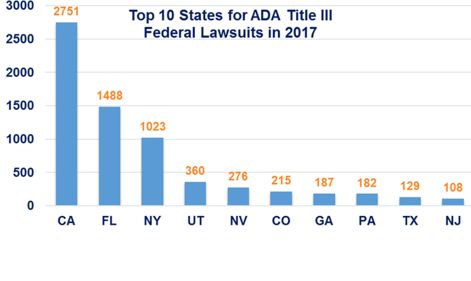 [Graph: Top 10 States for ADA Title III Federal Lawsuits in 2017: CA 2751, FL 1488, NY 1023, UT 360, NV 276, CO 215, GA 187, PA 182, TX 129, NJ 108.]
The big news among the top three states is that New York displaced Florida as the second busiest jurisdiction. Filings in New York more than doubled from 2017 to 2018 (1023 vs. 2338) while the number of cases filed in Florida only increased from 1488 to 1941. The number of lawsuits filed in California increased by 54% from 2751 in 2017 to 4249 in 2018. This record-breaking California number does not even include the many state court filings which we do not track.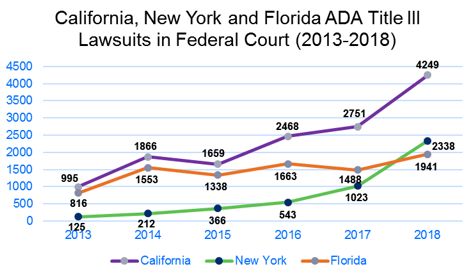 [Graph: California, New York and Florida ADA Title III Lawsuits in Federal Court: 2013-2018: 2017: CA 2751, 2018: CA 4249, 2017: NY 1023, 2018: NY 2338, 2017: FL 1488, 2018: FL 1941.]
What is driving the ADA Title III lawsuit explosion? We are still crunching the numbers but we believe there were nearly 2000 federal lawsuits about allegedly inaccessible websites filed in 2018. There were very few of these cases before 2015. In addition, plaintiffs and their attorneys branched out into suits about hotel reservations websites in 2018, further driving the numbers. We also continue to see many lawsuits about physical access barriers.
A note on our methodology: Our research involved a painstaking manual process of going through all federal cases that were coded as "ADA-Other" and manually culling out the ADA Title II cases in which the defendants are state and local governments. The manual process means there is the small possibility of human error, but we are confident in our process.
The content of this article is intended to provide a general guide to the subject matter. Specialist advice should be sought about your specific circumstances.