ALIXPARTNERS AUTOMOTIVE BRIEF
The United Auto Workers union has initiated an unprecedented multi-company strike against the Detroit auto makers. This conflict has been the subject of a long and heated buildup and the parties continue to appear far apart. The potential for a protracted work stoppage is relatively high.
The consequences of a strike on automotive suppliers are often treated like an afterthought. We believe that focusing on this impact, however, is an urgent priority – suppliers must take immediate action to ensure they can withstand what could well be a lengthy strike.
AlixPartners is currently doing specific work with suppliers on strike scenario planning. This work centers on building a dynamic liquidity model that allows senior management to:
Instantly understand the liquidity impact depending on the length of the strike and how much of the Detroit Three's production base is affected.
Analyze the role potential cost-reduction initiatives would have in helping mitigate cash burn, including these potential actions:

Furloughing hourly and/or salaried workers
Suspending capital projects
Aligning purchasing and receiving with sales projections
Ensuring working capital is properly managed
Suspending discretionary projects and spending
As a result of our approach, a supplier can:
Understand the strike's impact on various labor considerations, vendor relationships, capital spending plans, and liquidity initiatives
Analyze the strike's impact on overall liquidity and on lender covenants
Forecast the liquidity requirements related to a ramp-up to meet customer demand immediately after the strike concludes
For one supplier we've worked with recently, our scenario-planning assumed that an 8-week strike would lead to a 58% decline in sales over the affected period – and, if actions weren't taken, a massive drain on liquidity. However, a proactive strategy has been designed to help contain the impact on liquidity and prepare the company for a quicker recovery once the strike is resolved – whatever its duration may be.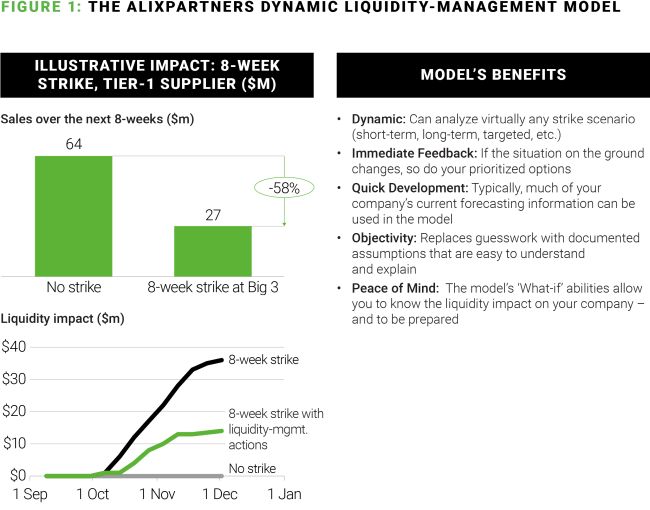 History has shown that there is a delicate balance companies must achieve to retain talent and keep the company on track even amid a negative liquidity event. This is never truer than it is today given today's tight labor market, inflationary pressures, hyper-competitive industry dynamics, and high capital costs.
A dynamic liquidity model that can instantly evaluate the impact of the timing and scope of liquidity actions can give visibility into how the strike is affecting, and will affect, your company. And, importantly, it can also give you visibility into exactly when to take actions – actions that, if taken at the wrong time, might come back to haunt your company once the strike is over. It can also help you unwind actions when the time is right for that.
Building our proven liquidity model can be done with a small team, and it can be implemented quickly. Contact the authors to arrange a call to discuss the merits of this unique AlixPartners approach. But time is of the essence. The time to act is now.
The content of this article is intended to provide a general guide to the subject matter. Specialist advice should be sought about your specific circumstances.