Economic pressures are forcing consumers to make difficult decisions and budget carefully. As fall arrives, retailers preparing for the holidays should expect an underwhelming season. We are projecting only a 3 to 6% increase in sales over last year, down from 2022's 6.6% growth.
On September 15, we released our annual AlixPartners Holiday Outlook Survey of more than 1,000 American consumers. According to the survey, 26% of consumers plan to spend less this holiday season than last year—a figure that rises to 38% for households earning under $45K annually.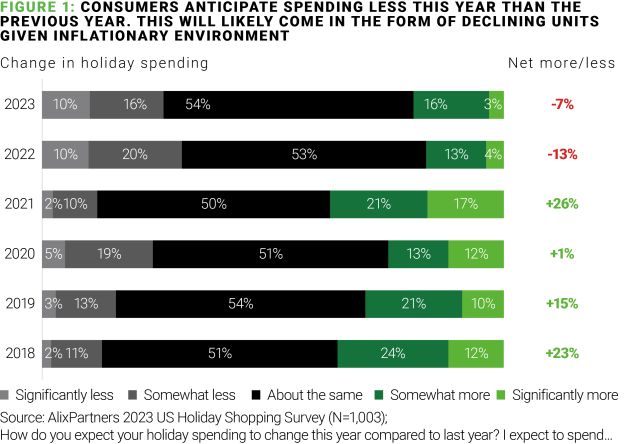 The three main cost-saving levers consumers say they will pull are:
Trading down: 33% of respondents say they will trade down to more affordable brands and private labels.
Less self-gifting: 24% say they will reduce spending on gifts for themselves.
More deal-hunting: 38% say they will buy at least half of their gifts on sale.
Despite the cloudy outlook, retailers armed with value and a digital-first mindset can still find success. Knowing who your customer is and how they will shop will be the key to a strong Q4.
With our advice, you can combat the spending cuts to meet shifting preferences and make the most out of this holiday season:

Ensure your offerings are "value-right"
By "value-right," we mean offering value in categories where consumers are targeting cutbacks. You will need to offer trade downs that feel like a good deal to entice consumers under the combined pressures of inflation, debt, and interest rates to choose your brand.
According to our survey, some categories are going to take a larger hit than others. We expect the home furnishings category (consumers planning a 15% spending reduction compared to last year), jewelry and watches (also a 15% reduction), and accessories (13% reduction) to see the most drastic shifts. Other categories—such as footwear (3% reduction), toys (5% reduction), and apparel (6% reduction)—come with a rosier outlook.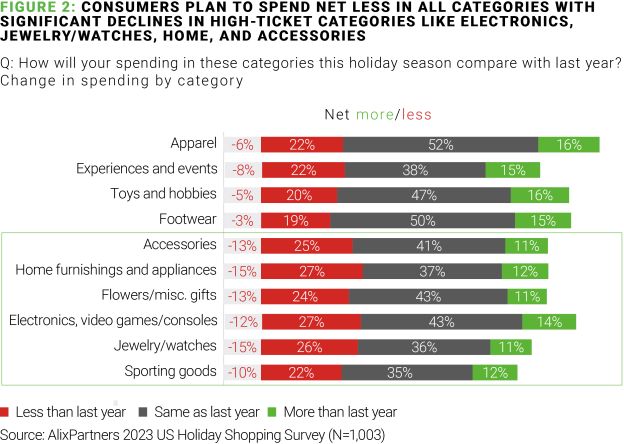 "Retailers need to think outside of the box when it comes to their traditional target audience, understanding that consumers are spending with more discretion—often tied to their individual perceived value," adds Andrew Webb, a Partner in our retail practice.


Meet consumers where and how they shop
Savvy retailers must tap into consumers' preferred digital and physical channels to reach and influence shoppers throughout the sales journey, making the most out of every interaction and touchpoint. As we move past the pandemic, consumers are increasingly shifting back to stores—36% of survey respondents plan on doing at least half of their holiday shopping online this year, which is down 9% from 2020.
Those engaging more in-store are particularly interested in customer service, which is worth retailer focus this holiday season. 41% of respondents plan to ask employees for advice, information, or recommendations, a 13% increase over 2022.
With that said, online shopping remains king. Those who expect to spend more online this year compared to last—mainly households earning $100K+ annually—do so largely for the convenience factor. Beyond convenience, consumers cite a preference for online shopping, wider assortment, and better product availability as the chief reasons. As such, you need a web channel that is fast and well-stocked.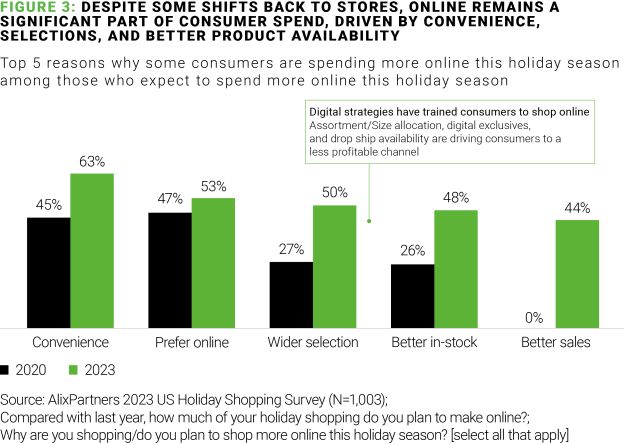 Fine-tune your promotional strategies
Retailers have strong incentive to get this pillar right. When exposed to the right combination of product and price from a brand, about one-third (32%) of consumers, according to our survey, will immediately convert rather than keep shopping.
Luckily, retailers will have more time this year to perfect their promotional and marketing plans. Only 38% of consumers in our survey said they intend to start their holiday shopping before Halloween this year, down from 46% in 2022 and 53% in 2021.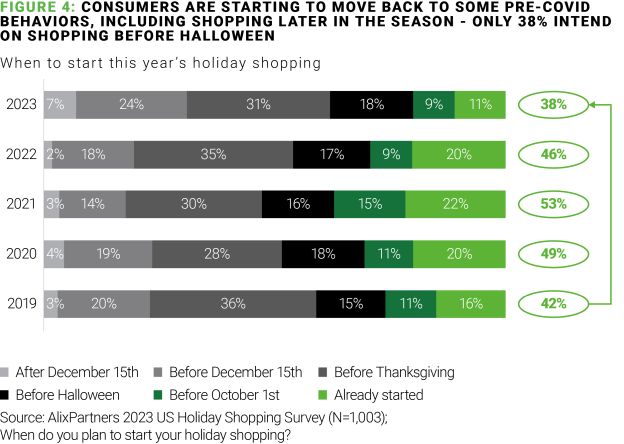 Personalization will be key to success. Consumers now expect personalization in their retail experiences, and grow frustrated when this expectation is not met. But 65% of consumers said they see little-to-no improvement in retailers' ability to provide relevant product recommendations.
Retailers should lean into artificial intelligence as a potential solution. Recent advances in AI capabilities can enhance customer relevance and drive incremental sales. According to our survey, shoppers are most supportive of AI enhancements that improve product recommendations (with only 15% saying they are against such enhancements), provide personalized offers (only 25% against), and streamline service with virtual assistance (only 26% against).
With the fight for sales picking up, retailers will need to solidify their approach now to ensure they are well-positioned for a tough holiday season.
Those that equip themselves with the right data to optimize inventory, marketing, and promotional efforts should see the greatest dividends. Those that don't adjust for shifting consumer behaviors are likely to end up with a lump of coal under the tree.
The content of this article is intended to provide a general guide to the subject matter. Specialist advice should be sought about your specific circumstances.