INTRODUCTION
The latest Smith & Williamson Enterprise Index confirms that confidence in the economy has risen significantly.
With a benchmark of 100 on 1 January 2013, last year saw the Index drop as low as 90.1 in the second quarter, rising to 103.3 in the third quarter and ending the year at 97.4. The latest Index, recorded in the first quarter of 2014, jumped to 108.7, well above its initial benchmark.
What do the numbers mean?
Our Enterprise Index shows confidence is at a record high, with an overwhelming majority of wealth creators feeling positive about the prospects for their businesses.
The inaugural Index, carried out in January 2013, recorded a positive outlook for the economy, while the second quarter saw a reduction in respondents' optimism. However, the third quarter of last year saw that original confidence return with vigour, with a record Index level of 103.3.
While that confidence seemed to tail off towards the end of last year, sitting at 97.4 in December 2013, it seems that the new year has ushered in a new wave of optimism, with this quarter's Index recording an all-time high of 108.7, an 11 point jump compared to the results recorded in the fourth quarter of 2013.
The wider picture
These results are very much in line with the latest figures released by the Office of National Statistics, which show that Britain's economy is growing at its fastest rate since 2007, with an overall growth rate of 1.7% in 2013.
However, Business Secretary Vince Cable has said that although a recovery is seemingly underway, it is not yet balanced. He recently claimed that rising house prices could threaten stability – a sentiment shared by the wealth creators surveyed as part of this quarter's Smith & Williamson Index.
House price growth has accelerated considerably over the past year, with average house prices approximately 7.5% higher than a year ago, according to the Halifax House Price Index. As a result, many economists (along with our Index respondents) have expressed fears of a new housing bubble.
Shortage of basic skills are a long-term concern
The Index reveals that less than half of job and wealth creators think that the employment pool is adequately educated or trained. This concern is echoed in a recent McKinsey report which showed that 74% of education providers think that young people are being armed with skills for the workplace, whereas only 35% of employers agree that this is the case.
The Organisation for Economic Co-operation and Development says that 16 to 24 year-olds in England have literacy and numeracy levels no better than those of their grandparents' generation, ranking 22nd out of 24 countries for literacy and 21st for numeracy. England is behind Estonia, Australia, Poland and Slovakia in both areas.
Looking further at the issue of skills, it's perhaps unsurprising that 72% of Index respondents do not think that the UK's open EU immigration policy is hindering economic growth. In fact, one recent report suggests that tighter immigration controls could result in an estimated £60 billion loss in GDP by 2050, as businesses suffer from a lack of resources and talent.
A shortage of basic skills is clearly a problem facing British businesses now and a threat that needs to be addressed over the long term. Charles Davis, Head of Macroeconomics at the Centre for Economic and Business Research, says: "Non-UK EU-born workers earned £39bn in total in 2012, bringing a wealth of skills and experience to the UK workforce and adding value to the economy. The departure of such workers from the UK or new measures to prevent EU migration could create skills shortages, hold back economic growth and worsen the position of the public finances."
Turning the corner
With over 80% of survey respondents feeling optimistic about their prospects for the coming year, Britain's entrepreneurs are undoubtedly planning for growth.
It seems that the UK economy has now turned a corner, following two dips in the quarterly Index score in 2013, 2014 has started with a bang! This seems to reflect sentiment in the wider economy and we hope for steady and less volatile progress this year.
DO YOU EXPECT THE UK ECONOMY TO IMPROVE IN THE NEXT 12 MONTHS?
"The big reason for optimism is simply that companies are sitting on so much cash and as the recovery gathers momentum they will begin investing, while at the same time we will see a surge in M&A activity."
Michael Baxter, Economist
Our latest Enterprise Index reveals that over 90% of respondents expect the UK economy to improve over the coming 12 months.
The results correlate with recent economic growth data reported by the Office of National Statistics that show that the UK economy grew by 1.7% in 2013, with growth in the last quarter of the year at 0.7%. Index respondents expect this improvement to continue into 2014.
However, this quarter's Index findings are in stark contrast to figures released by the Association of Business Recovery Professionals, which revealed that 53% of businesses disagreed with the Chancellor's assessment that the economy was "moving from rescue to recovery".
Economist Michael Baxter, on the other hand, believes that it would take something of a disaster for the UK economy not to improve over the next 12 months. He says that the evidence from the surveys is unequivocal and recent purchasing managers' indices were consistent with the highest growth in the UK economy since the late 1990s.
"Whether you like it or loathe it, the Government help-to buy-scheme is working. It is stimulating construction and house prices – and rising house prices lead to improving consumer confidence", Michael says. "The big reason for optimism is simply that companies are sitting on so much cash and as the recovery gathers momentum they will begin investing, while at the same time we will see a surge in M&A activity."
Michael believes that the UK will grow by 3.5% this year. "Inflation will remain muted, and rates won't rise. Next year, wage inflation will rise, putting consumer prices under pressure, and this will force the Bank of England to increase interest rates several times."
Do you expect the UK economy to improve in the next 12 months?
(respondents answered on a scale of 1-10)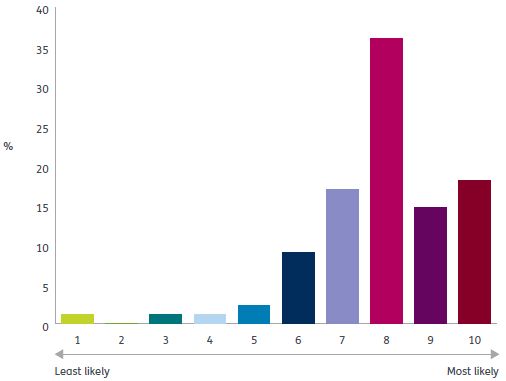 IS CURRENT GOVERNMENT POLICY SUPPORTIVE OF PRIVATE ENTERPRISE?
"The reality is that very few MPs have practical experience working in business at the coal face."
Mark Hindmarsh, Founding Partner at Versatile Connection
When asked whether Government policy is supportive of private enterprise, less than 30% of respondents gave negative feedback.
These results are encouraging when compared to a recent Ipsos Mori survey, which indicated that 87% of business leaders from the UK's firms thought politicians had a poor understanding of business.
These more positive results may be linked to David Cameron's recent speech at a Federation of Small Businesses (FSB) conference, which was widely reported. The Prime Minister announced that thousands of rules affecting business are to be scrapped or amended. He told attendees that over 3,000 rules will be dropped or changed, resulting in savings of up to £850m a year for businesses.
Of interest to some will be the BBC's report that rules undergoing change include 640 pages of cattle movement guidance, 286 pages of hedgerow regulations and 380 pages of waste management rules – all part of the Government's aim to "get out of the way of business success."
The past few years have seen the Government introduce various schemes and funding to support business, such as GrowthAccelerator and Growth Vouchers. These changes, as well as those to tax reliefs for investors under the EIS and SEIS schemes, illustrate that the Government clearly believes that innovation and entrepreneurship are the drivers of economic growth.
Index respondent Mark Hindmarsh, Founding Partner at Versatile Connections, says: "30% may not be a big number, but almost a third of respondents believing that politicians are not in tune with the key needs of their businesses is concerning."
"These polls demonstrate there is a disconnect between what politicians think they understand about business and actually what they truly know about the challenges and issues currently facing business owners in the UK, particularly SMEs. The reality is that very few MPs have practical experience working in business at the coal face," says Mark.
Is current Government policy supportive of private enterprise?
(respondents answered on a scale of 1-10)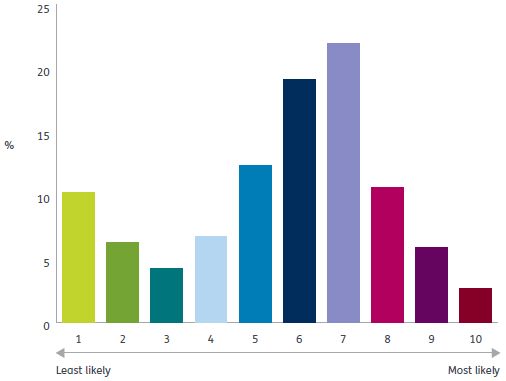 To read this article in full, please click here.
We have taken great care to ensure the accuracy of this information. However, the document is written in general terms and you are strongly recommended to seek specific advice before taking any action based on the information it contains. No responsibility can be taken for any loss arising from action taken or refrained from on the basis of this publication. © Smith & Williamson Holdings Limited 2014. code: 14/374 expiry date: 07/10/2014