Over the past decade, consumer banking habits have increasingly shifted towards online banking and away from brick and mortar branch-based services. As a result, high street banks have been closing local branches in droves, with the likes of HSBC and NatWest announcing the closure of over 100 high street branches in 2023 alone.
The rise of internet banking, the development of banking apps, and the establishment of 100% digital "Neobanks" is reflected in filing data for new trade mark applications. The number of new applications that cover Class 36 (which includes financial services) in combination with Class 9 (which includes computer software and apps) and/or Class 42 (which includes the development of computer software) can give an interesting insight into the development of financial technology ("FinTech") services in the market.
As shown in the graph below, the number of new FinTech-related trade mark applications filed in the UK in 2014 was around three times the number filed in 2013. This sharp increase is perhaps explained by the rise in banking apps around this time, with the world's first "fully functioning" banking app hitting the market in 2011.
From 2014-2019 the number of new FinTech-related trade mark applications kept rising to its peak in 2019, at almost 6,000 new applications, perhaps encouraged by digital challenger banks which first launched in the UK in around 2015.
It is worth noting that from 2017-2021, largely as a result of Brexit, there was an overall spike in the number of new UK trade mark applications across all classes, and so data for this period may be somewhat skewed. However, given the steady increase in filing volumes leading up to this point, it appears that filings in our classes of interest largely continued following an existing trend in this period.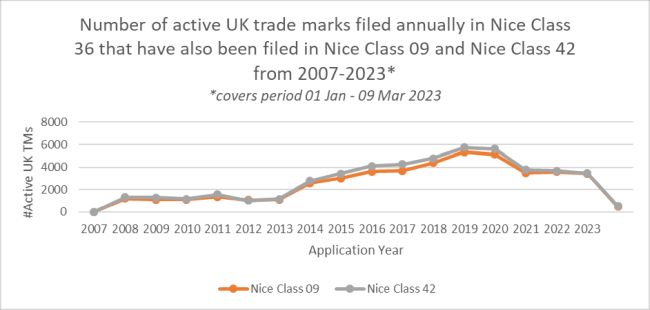 Data source: FoveaIP
Since 2020, the number of new FinTech-related trade mark applications has decreased relative to previous years, with 2023 currently set to follow this trend. It should of course be noted that 2020-21 was a financially uncertain time due to the pandemic, whilst from 2022 into 2023, cost of living has been a rising concern.
With increasingly cost-conscious customers and more reluctant investors, it makes sense that high street banks would be looking to cut costs. Similarly, those in the FinTech field may be less able to fund the development of new technology, thereby leading to less need to protect new brand names for products that aren't being released.
As can be seen from the graph above, the years following the 2008 financial crisis were relatively stagnant in terms of filing numbers. Figures from the Office of National Statistics show that GDP didn't return to pre-crisis levels until 2013, which is when the filing numbers started to increase. By 2018, the UK's economy was 11% larger than pre-crisis, and so it appears that this return to financial stability and growth is also reflected in the trade mark filing figures.
The International Monetary Fund confirmed recently that it no longer expects the UK to enter a recession in 2023, and so it will be interesting to see if the filing figures begin another upward trend as inflation and cost of living are reduced to a more affordable level in the next couple of years.
The content of this article is intended to provide a general guide to the subject matter. Specialist advice should be sought about your specific circumstances.