It's getting closer to Christmas and as the festive period approaches the drop in temperature and change in atmosphere mean it's definitely time to change to that winter wardrobe. When it comes to looking sharp over Christmas you probably don't immediately link fashion with patents but, if you're looking for something truly individual that is also practical then look no further than this: 'Your guide to Winter fashion patents'.
Gloves are an essential part of winter wear and when it comes to choosing gloves there are already hundreds of options available. Utility model CN204273350 brings something new to the market. Stated as being designed for snowball fighting, the glove includes a heater, adjustment knob and charging socket meaning that your hands are kept nice and toasty and any moisture on the glove is dried quickly. When the weather is cold enough I don't think you need to be having a snowball fight to want personal hand heaters. These gloves would also be useful to anyone who turns their hand to building a snowman, making a snow angel or any other kind of snow artistry.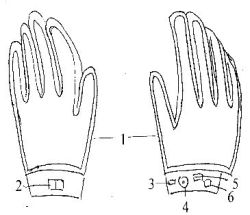 If you're planning on heading anywhere extremely cold then how about trying thermos-screen outdoor wear? This body suit comes with a duel thermometer which measures the temperature both inside and outside of the suit. If the temperature drops too low inside the suit then a warning sound and light signal are emitted, at which point you might want to head inside! The technology can be built into any item of winter clothing with the application listing: snowsuits, parkas, baby buntings, ski suits and jackets. I'm not sure we get temperatures quite cold enough for this in the UK but never say never.
It used to be said that 40-45% of body head was lost through the head and while this has now been disproven, keeping your head warm is no bad thing. A dual purpose solar hat may just be the thing to stop your head getting chilly. The hat is kitted out with an inner layer and external lining between which there are heating wires and a fan which can be switched on to keep your head warm or cold depending on the weather. The hat comes with a storage battery which is powered by solar energy from panels on the hat.
Placing a heater in an existing item of clothing is a popular invention choice. Patent application CN105747353 is a temperature controlled shoe which, you guessed it, contains a heater. The shoe also has its own power supply, a temperature detector and a light source. As someone who always has cold feet I can see the benefit of this invention however, for a cheaper alternative I'd recommend that an extra pair of socks will be just as good.
Finally, an invention which shockingly isn't about heater incorporated clothing. I don't know about you but whenever I go ice-skating I feel like there is something missing. Sure the struggle of trying to balance or the thrill of gliding around the ice is great but wouldn't it be better if the whole experience was a bit more musical? A group of inventors decided it was time that something was done about this first world problem and so they created 'Musical skates'. Through a sensor on the skate forward and backward directions as well as inside and outside lean is captured and turned into music meaning you create music as you skate which matches your skating speed and style. An audio amplifier means that you can listen to the music through wired or wireless headphones.
So there you have it, if you want to be modelling the must have winter fashions then look away from the runway and towards patent applications.
Wishing you a merry (and fashionable) festive period.
The content of this article is intended to provide a general guide to the subject matter. Specialist advice should be sought about your specific circumstances.