What issues will businesses struggle to tackle? And which sectors are more likely to be affected?
Introduction
I have been a partner at Weightmans in the Insolvency and Restructuring team for over three years now. I joined the firm shortly before the pandemic and acutely saw the effect of COVID-19 on our client base and the insolvency world.
For insolvency and restructuring professionals no day is the same as we cross-collaborate with our peers where clients are affected by insolvency pinch points, examples being where suppliers have entered administration, CVA proposals require rapid review or where a client needs urgent advice on their directors' duties and an urgent introduction to an insolvency practitioner is required to assist with the best process of recovery for the business.
The pandemic saw the introduction of the Corporate Insolvency and Governance Act 2020 whereby, amongst other measures, an interim statutory moratorium on winding up petitions was introduced. This stemmed the flow of insolvencies in 2020 and 2021 whereafter the measures were relaxed from 1 October 2021, artificially suppressing the number of insolvencies with winding up petitions being allowed without Schedule 10 notices from 31 March 2022 and the temporary threshold of debt value moving back down from £10,000 to £750.
2023 Pressure points
2022 saw record numbers of insolvencies, showing an upward trend between December 2019 and December 2022 highlighted in this graph produced by the Insolvency Service: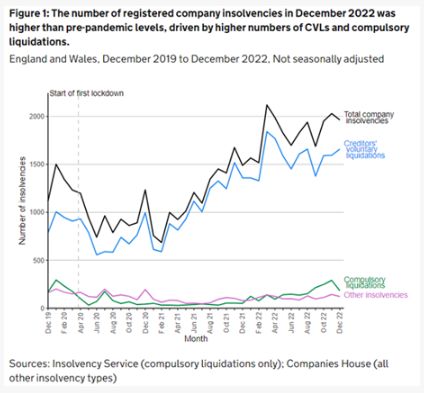 We anticipate those numbers to rise over 2023 as businesses struggle to tackle the following issues:
The demand from the workforce for increased wages in line with inflation, pushing up inflation further,
Supply chain insolvencies / disruption,
The energy crisis and rising costs for heavily energy dependent businesses,
Rising fuel prices,
Liquidity issues as COVID loans are required to be repaid and lack of refinancing options,
Suppliers tightening their payment terms,
Difficulties with the collection of aged debt,
Investor appetite to fund cash-injections, and
Increased rental costs due to interest rate increases being passed on by landlords.
Sectors in the spotlight
Retail and Leisure
As the cost-of-living crisis continues we would expect retail, hospitality and leisure companies to suffer the brunt of consumer hesitancy as they tighten their purse strings on discretionary spending. There have been notable retail insolvencies in 2022 including Joules, Studio Retail Group and Made.com, and we anticipate more consolidation in this space in 2023 as the year kicked off with fashionable high street stalwart Paperchase seeking buyers urgently to avoid an administration. According to statistics from the Insolvency Service, restaurant insolvencies increased 46% in the quarter to the end of September 2022 with the night-time economy particularly hard hit. It will be interesting to see how helpful the Energy Bills Discount Scheme launching in April 2023 will assist given a lot of businesses in this sector, especially independents who do not have the capacity to absorb temporary cash flow issues, are already hanging on by a thread.
Manufacturing
Cornwall Insight last year noted that business energy bills were set to increase on average by 250%. Those businesses heavily absorbing these costs and unable to pass them on to the end customer are likely to see significant liquidity concerns as the heightened costs of energy continues to be uncertain.
These concerns could exacerbate as the level of government support for manufacturers' energy costs reduces in the coming year. Aside from a general softening in demand, the sector has also been hit hard by the impact of the continuing war in Ukraine, supply chain disruption, increases in the cost of raw materials and component shortages, rising transport costs and time-consuming Brexit-related red tape. Factors such as these are causing a growing number of manufacturers to restructure and in some cases move to downsize their operations.
Transport and Logistics
The cost of crude oil decreased during the pandemic due to lack of demand. However, since then, that demand has largely returned resulting in a significant increase in cost. This, combined with Russia's invasion of Ukraine and the fall of the pound against the dollar pushing up wholesale costs for petrol and diesel retailers, has exacerbated the situation further. According to Insolvency Service statistics, the number of company insolvencies in the sector has increased by 25% from 2021 to 2022. Although recently we saw a slight decrease in fuel cost, the prices are expected to be stable putting constant pressure on businesses.
Construction
Control of rising building material costs is a major factor affecting construction firms across the country as they struggle to honour fixed price contracts. A report from Mazars in October 2022 noted that almost 17,000 construction firms were at significant risk of closure. Cash-flow management will be the key here for survival.
Insolvency practitioner perspectives
We have asked a number of our key clients to provide their insights for 2023:

Alex Cadwallader of Leonard Curtis Business Solutions Group states as follows:
"2022 was interrupted as a Covid recovery period for businesses by unforeseen global events. Brexit, followed by Covid, has been tough on business owners. Covid papered over many cracks which gave businesses a false positive. And now we have got various geo-political issues going on affecting energy prices and destabilising the supply chain at a time when there is not much support around for business owners.
We anticipate as a minimum that insolvencies will end up at pre-pandemic levels volume wise, although many people think it will be more than that. And it will be across all sectors. If you consider average numbers of insolvencies pre-March 2020 were around 16-17,000 per annum, we think that could break 20,000. We know there are a lot of businesses that are not in great shape and if you are not ready to react to this latest round of challenges, 2023 will not be a good year. What we have noticed is that in the last 24 months people have zoned out and ended up in a place which is not the norm, but very much feels like it. So they have become complacent and are taken aback now by having to pay bills, satisfy HM Revenue, start repayments on loan schemes. Those that will recover will be the business owners who have got a decent business and a proper understanding of the numbers and their place in the market. These people know what is going to happen as everything goes back to normal and they will be looking after their biggest assets.
What should not be under-estimated is the resolve of the UK economy and business community. Often times are difficult, but we can, with the support of others around us, get through to more positive times."

Allan Kelly of FRP Advisory Group PLC provides the following insight:
"We entered 2022 with a lot of businesses still suffering from the effects of the Covid lockdowns and whilst many had taken available government reliefs, they were still struggling to service legacy losses and increased debt. On the back of this, we've seen an increase in insolvency volumes (to pre-pandemic levels) albeit largely from the liquidation of smaller businesses. Whilst there is stress within larger businesses, formal insolvency appointments especially administrations across the year remained lower as we've worked alongside stakeholders to restructure or refinance.
Coming into 2023, whilst most economists agree that there will be a recession not just in the UK but across many countries, their views differ hugely on the severity and also the potential effects. What we already know is that UK businesses and consumers will continue to face headwinds driven by both global and localised factors contributing to continued higher energy and labour costs, high inflation (which will hopefully fall back across the year), and the inevitable higher interest rates to temper this.
A recession in 2023 will be different to what we saw in 2008. This recession has been known about for some time so businesses should have prepared and at present we're not seeing any reduction in liquidity in the market, lenders are still lending which continues to be demonstrated by the M&A market. However, businesses are seeing challenges and we'll see various sectors pressured at different times of the year with retail, leisure and hospitality impacted during Q1 and Q2 as consumer spend is lowered or diverted elsewhere (such as holidays) given the inflationary pressures and increasing recession talk. In the second half of the year, we may see increasing pressures on construction and manufacturing especially if the recent spikes in Covid in China create further supply chain disruption.
Business owners need to remain proactive, regularly review their business risks not just financial but across customers and suppliers, and take early advice."

James Dowers of RSM forecasts as follows:
"Despite the previous couple of years being plagued with Covid, lockdowns and political scandals it also brought lower insolvency numbers. 2023 brings the greatest threat for business owners experienced for many decades. We are currently experiencing a perfect storm with record inflation, highest ever gas prices, increasing supply costs, staffing costs, a general shortfall in goods and services as well as the ongoing national strikes across several services, many of which, have knock on consequences for businesses.
This is likely to lead to an exceptionally tough year for the UK economy and the likelihood of a year long recession, one that will probably prove to be deeper than that experienced in the early 1990's.
The squeeze on household real incomes will also intensify as interest rates continue to rise especially when most fixed rate mortgages in the UK (57%) coming up for renewal in 2023 were fixed at interest rates below 2%.
I expect to see, as had begun towards the end of 2022, that insolvency numbers will continue to rise and reach a level higher than pre pandemic. HM Revenue & Customs ("HMRC") are beginning to increase the number of winding up petitions issued and negotiating for time to pay is becoming more challenging. The banks in 2020 lent significant sums by way of bounce back loans and CBILs and the level of these in arrears are beginning to be reviewed and options determined. I expect to see both HMRC and the banks push for recovery of their outstanding debts that will lead to a significant increase in insolvency cases towards the middle and end of 2023.
Middle market businesses will already be feeling the impact. The massive squeeze in households' real incomes means cutbacks have had to be made, particularly on discretionary goods. Admittedly, the hospitality sector has avoided the brunt of the cutbacks so far as people continue to prioritise experiences over goods in the wake of the pandemic. It is doubtful this will continue indeed, there are some early signs that consumers are starting to rein in hospitably spending.
With supply chain difficulties continuing, staff shortages not having been fixed and the cost of raw materials at an all-time high there are few industries that will be immune from the gloomy horizon, and I expect therefore to see these increased insolvency numbers from across a broad spectrum of sectors including manufacturing, construction, hospitality, and retail."

"UK PLC was fundamentally in decent shape pre- Covid and the war in Ukraine. However, we are now faced with an unprecedented set of one-off circumstances that have created, hopefully, a temporary economic storm at best, but probably a sharp and damaging recession.
Alongside wider economic factors, we are seeing increasing winding up orders from HMRC, which is another indicator that there may be an increase in restructuring and insolvencies as we enter 2023. The signs are already there with 126 Administration appointments filed in November 2022, the highest since March 2020.
These historically challenging circumstances are testing even the most competent of management teams. The strongest throughout all sectors should survive and prosper. Clearly, some sectors will be hardest hit and here at Kroll, we are seeing Construction, Care and Food Manufacturing as those with the biggest uphill fight on their hands. The perfect storm of rising energy costs, wage and product inflation and increased borrowing costs has turned supply led problems into a falling demand issue.
What should business owners be doing? They need to make sure that every aspect of their operational and financial systems are in tip top shape by reviewing their funding arrangements / liaising with key stakeholders / implementing operational efficiencies / seeking external interim support where they have skills gaps and taking professional advice before things get out of hand."
The content of this article is intended to provide a general guide to the subject matter. Specialist advice should be sought about your specific circumstances.