After a year in which the COVID-19 pandemic has underlined the importance of collaborative working across health and care, 2021/22 look set to be the years in which NHS England/Improvement's plans to formally secure Integrated Care System coverage nationwide crystallise through new legislation and guidance. This intent is expressed in a report, 'Integrating care: Next steps to building strong and effective integrated care systems across England' developed by NHSE/I as a result of discussions with 'the NHS and its partners' over the last year and is accompanied by four consultation questions.
Through a bottom-up process of change, modelled in large part on existing successful ways of working collaboratively, the ICS will become a key body for financial accountability, managing those finances closely together with places and provider collaboratives, deepening the NHS relationship with local government, and enabling more focus on population health. Two potential legislative models are proposed, the most radical of which (the preferred option) would see ICSs established as statutory NHS bodies with CCG functions subsumed into them.
Why?
The report highlights four fundamental purposes of the proposed changes. These are:
Improving population health and healthcare
Tackling unequal outcomes and access
Enhancing productivity and value for money
Helping the NHS to support broader social and economic development
It is proposed that, to achieve these targets, a number of practical changes are required over the next two years spanning a variety of areas and touching a wide range of existing NHS organisations and processes.
Once the consultation period closes in January, the intention is for NHSE/I to set out further guidance, moving existing systems forward into the new models of working, with legislation taking effect in April 2022. Before that date, commissioning functions will need to be coterminous with ICS boundaries, and while there is a commitment to support ICSs at their current sizes, it is acknowledged that smaller ICSs will need to join up their functions as time progresses.
Elements of practical change
Developing provider collaboratives
Every NHS provider will be expected to join at least one provider collaborative, which may span systems and is intended to enable joined-up care both between places (vertical integration) and within places (horizontal integration). There will be a need for some local flexibility, but that apart, provider collaboratives will take an 'active and strong' leadership role in systems enabling them to:
deliver cross-partner programmes;
agree and implement change proposals developed by clinical and operational networks;
challenge and hold each other to account; and
enact mutual aid arrangements such as collective waiting list management.
They will be expected to work together using meaningful delegated budgets to achieve their aim of joining up care with some services organised across a whole system, or potentially, even wider footprint.
From a workforce perspective, provider collaboratives are intended to support career pathways spanning entire systems, organisational and leadership development at all levels, and ensure a diverse workforce and leadership representative of its local population. Clinical leadership across a wide variety of professions should be embedded within systems.
NHSE/I expects to set out potential provider collaborative models in early 2021, which will be based on those already established.
Place is expressed to be an 'important building block' going forward with 'place leaders' taking on four main roles:
Supporting and developing primary care networks
Simplifying, modernising, and joining up health and care
Using population health management tools and other intelligence to proactively identify people at risk of being left behind and organising support for them
Co-ordinating the local contribution to health, social and economic development to prevent future risks to ill health
There will be close working at place level between the NHS, local government and the voluntary sector. Places are expected to take on delegated budgets with the division between system and place working based on the principle of subsidiarity, that is, the system will only take the lead where it is clear that work needs to be carried out over a larger footprint to take advantage of economies of scale.
The report highlights three significant changes to commissioning, namely:
A single, system-wide approach to undertaking strategic commissioning
Change to how service transformation and pathway design are done - the principal engine of transformation will be provider organisations and others through place partnerships
More focus on population health and outcomes in contracts and collective system-ownership of the financial envelope
Perhaps one of the most significant questions raised by this report is what will happen to CCGs and their functions moving forward, given the increased importance of place and the role played by providers. While the question is not definitively answered, given that the two legislative options feature differing CCG fates, the preferred option two involves CCG statutory functions being absorbed into the ICS, and the report notes that CCGs will, in any event, need to 'evolve'.
A shift is also expected in the way that specialised commissioning arrangements are organised to enable improvements to be made that were not possible with the national approach. The expectation is that specialised services funding will shift to population-based budgets with consideration being given to allocating specialised commissioning budgets on a population basis at regional level from April 2021.
Other points dealt with include that Commissioning Support Units are expected to continue as delivery partners to ICSs, making best use of economies of scale. Previously proposed legislative changes to simplify procurement rules stand, including scrapping the NHS procurement regulations, and removing commissioning of NHS healthcare services from the scope of the Public Contracts Regulations 2015. No further detail is given as to the framework that will replace these rules.
Governance and the financial framework
The report considers that now is the time to embed 'firmer governance and decision-making arrangements for 2021-22 to reflect growing roles and responsibilities' at ICS level. The intention is for governance to minimise levels of decision-making and for there to be a variety of both 'consistent' and 'flexible' requirements put into place.
ICSs will be the key bodies for financial accountability, making use of a single pot of money 'which brings together current CCG commissioning budgets, primary care budgets, the majority of specialised commissioning spend, the budgets for certain other directly commissioned services, central support or sustainability funding and nationally-held transformation funding allocated to systems'. Significant budgets are expected to be delegated to place level and providers will, through their involvement at place, have greater say in how transformation funding is used.
There is expected to be a move away from episodic or activity-based payments to blended payment models with each ICS expected to agree how financial risk is to be managed across place and provider collaboratives. From 2021, there will be more metrics to support more system and place level measurements, including an 'integration index' which all ICSs must use.
To take these steps forward, the NHS's 2021/22 planning guidance will set out the support available to ICSs to start operating collective financial governance.
Proposed legislation and timescales
The timescales could broadly be reflected as follows: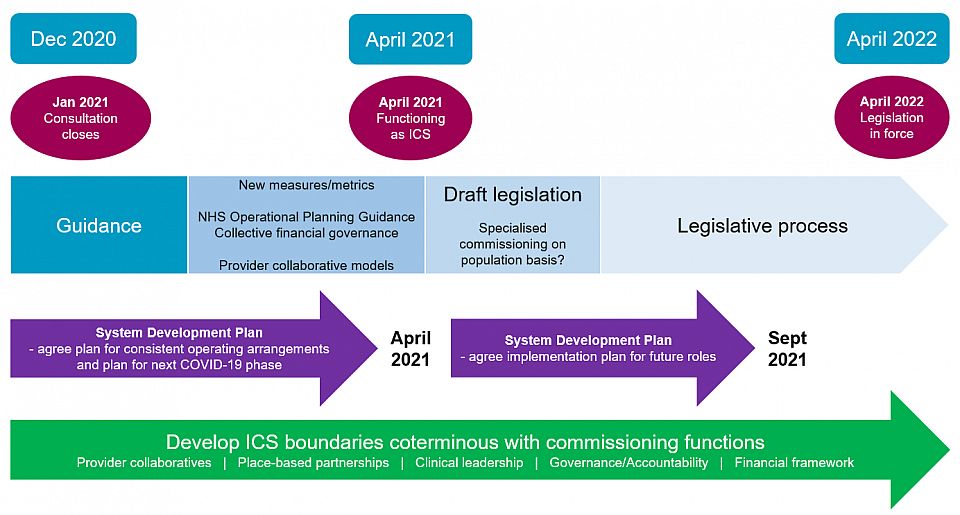 Given its opinion that current legislation 'does not present a sufficiently firm foundation for system working' including doubts that a voluntary approach to ICS development would not be effective to drive it, the report sets out two potential options for 'future-proofed' legislation, the second of which is expressed as the preferred option:
Option 1 - a statutory committee model with an Accountable Officer that binds together current statutory organisations; or
Option 2 - a statutory corporate NHS body model - that additionally brings CCG statutory functions into the ICS.
In either model, local government is expected to play a key integral role in the ICS.
The four consultation questions, open until 8 January 2021, request views on these proposals, including whether option two should indeed be preferred and taken forward.
In any event, it remains the case that all systems are expected to be ready to operate as ICSs from April 2021, having agreed with their regions by that date the functions and activities to be prioritised.
The content of this article is intended to provide a general guide to the subject matter. Specialist advice should be sought about your specific circumstances.