Covid-19 salginiyla birlikte birçok ülkede hayata geçirilen sokaga çikma yasaklari ve benzer kisitlamalar, karbon saliniminda büyük bir düsüse sebep oldu. Venedik kanallarinda bile yunuslar gördügümüz günlerde alternatif yakitlarin kullanimiyla ilgili tartismalar tekrar alevlendi.
Küresel pandeminin beseri ve sanayi hareketliligi azaltmasi sonucu çevre kirliliklerinde yasanan ciddi degisimleri dikkate aldigimizda, alternatif yakitlarin aslinda ne denli önemli oldugu bire kez daha gözler önüne seriliyor. Ulasim ve mobilite'nin toplam emisyonda %23 civari bir payi oldugunu vurgulayan Lund Üniversitesi arastirmacilari, hareketlilikteki azalmanin çevresel degerlerdeki tarihi dönüsümün temel sebeplerinden oldugunu belirtiyor1.
NO2 kodu ile ifade edilen nitrojen dioksit kirliliginin temel nedenlerinden birinin fosil yakitla çalisan araçlarin egzoz gazlari oldugunu belirten NASA da benzer bir çözümleme sunarak emisyon oranlarindaki degisimin insan aktivitesindeki azalmadan kaynaklandigini degerlendiriyor2. Kuzey Amerika'nin nitrojen dioksit saliniminda ortalama %30 oraninda bir düsüs tespit edilirken; 2015-2019 yillarinin Mart ayi ortalamalari ile 2020 yilinin Mart ayini karsilastirarak elde edilen sonuçlar, Washington'dan Boston'a kadar uzanan I-95 koridorunda önemli bir gelisme oldugunu gösteriyor3.
Salgin öncesi yüksek hava kirliligine sahip diger ülkelerde de benzer sonuçlar tespit eden NASA; Pakistan'in Lahore bölgesinde %45 oraninda - Hindistan'in Delhi bölgesinde ise %55 oraninda azalma oldugunu raporluyor4.
Çevre bilimcilerin topladigi tüm bu veriler kapsaminda ulasim faaliyetlerinin çevre kirliligi üzerinde oynadigi role dikkat çekerken, akilli mobilite çözümlerine olan ilgi de artiyor. Bu kapsamda, araçlarin üzerindeki "hybrid" vb. logolari her geçen gün daha fazla görmeye basliyoruz. Artik birçok markanin araçlari arasinda alternatif yakitlarla çalisan modeller de yer aliyor. Elektrik, LNG, CNG veya hidrojen kullanan bu araçlarin yayilmasindaki en büyük engellerden bir tanesi ise araçlarin günlük kullanimina olanak saglayacak altyapinin eksikligi. Fosil yakitli araçlara alternatif olabilmeleri için kullanilan yakit tipine göre sarj veya dolum istasyon sayisi, olmasi gerekenin henüz çok uzaginda. Avrupa Komisyonu (Komisyon), bu araçlarin sayisini arttirabilmek ve karbon saliniminin düsmesini saglamak amaciyla 2014 yilinda Alternatif Yakitlar Altyapi Direktifini (Direktif) yayinladi.
2030 için planlanan karbondioksit salinim hedefini yakalayabilmek için Direktif, alternatif yakit kullanan araçlara yönelik istasyonlarin sayisini ve sahip olmasi gereken standartlari belirlemeyi amaçliyor. Ayrica Avrupa Birligi (AB) üye ülkelerini gerekli altyapiyi belirlemeleri için tesvik etmeyi amaçliyor. Öncelikli hedef otomobil ve benzeri yolcu tasiyan araçlarken, hafif ticari araçlar ile otobüs ve tir benzeri agir ticari araçlardaki (HDV) dönüsümün de hedefe ulasabilmek için kritik bir önemi var.
Direktifin yayinlanmasi üzerinden geçen 6 yilin sonunda geldigimiz noktada ise etkili bir geçis yapmanin henüz çok uzaginda olundugu anlasiliyor:
AB üye ülkelerinden 20 tanesi henüz ilgili altyapiyla ilgili hedefleri belirlemis durumda degil,
Birçogunun ulusal politikalari Komisyon tarafindan belirlenen standartlarin uzaginda,
Ülkeler tarafindan belirlenen istasyon sayilari, Komisyon'un 2025 ve 2030 için belirledigi karbondioksit hedeflerini yerine getirmek için yeterli degil.
Ülkelerin konuyla ilgili yaklasimini ortaya koymak için basit bir istatistik paylasabiliriz. Su anda AB'ye üye 27 ülke bulunuyor. AB üye ülkelerinde bulunan istasyonlarin %76'si 4 bati Avrupa ülkesinde yer aliyor: Fransa, Almanya, Hollanda ve Ingiltere (ki Ingiltere de artik AB üye ülkeler arasinda yer almiyor).
Direktifin çikmasindan itibaren karbondioksit hedeflerinin yerine getirilmesi için 16 yillik bir süre öngörülmüs. Bugüne kadar geçirdigimiz döneme ait istatistiklere bakildiginda (bu noktada belirtmek gerekir ki öngörülen toplam sürenin yaklasik %40'i tamamlandi),  önümüzdeki sürenin verimli bir sekilde kullanilmamasi durumunda hedeflenen karbondioksit seviyelerine ulasmamizin mümkün olmadigini söylemek zor degil. Tabloyu ortaya koymak adina da rakamlara yer vermek gerekir ise:
Su anda AB'de 165.000 istasyon bulunuyor fakat 2030 hedefi ise 2.8 milyon istasyon,
Bu istasyonlarin %24'ü 23 ülkeye yayilmis durumda,
HDV'ler için DC akimla çalisan 100KW alti kamuya açik 10'dan az istasyon bulunuyor ve bu sayi 2025'te 4.000'e, 2030'da ise 50.000'e ulasmali,
Hidrojen, LPG ve CNG dolumu yapilabilen istasyonlar için sayilarin biraz daha iyimser göründügünü söylemek mümkün.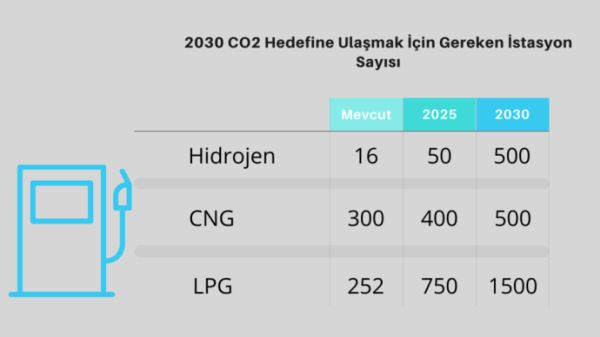 Peki, hedefi yakalamak için ne yapmak gerekiyor?
Her ne kadar bu noktaya kadar elestirel yaklasmis olsak da biraz da büyük resme bakip kalan zamanin nasil verimli kullanilabilecegine yönelik görüslerimize yer verebiliriz. Sirketler açisindan tone-at-the-top ne kadar önemliyle, ülkeler açisindan da ayni sekilde bakmak gerekiyor. Buna bagli olarak, üye ülkelerin ulasilmak istenen hedefi destekleyecek ulusal politikalar belirlemesi, atilmasi gereken adimlarin basinda geliyor. Ayrica Avrupa Yesil Düzeni (European Green Deal) planinin hukuksal bir çerçeveye oturtulmasi ele alinabilecek konular arasinda yer aliyor.
Kamu destegi de alternatif yakit kullanan araçlarin yayginlasmasi için atilabilecek adimlar arasinda yer aliyor. Ulasim sektörü için alternatif yakit kullaniminin tesvik edilmesi ve kamunun araç tercihini bu tarz araçlardan yana kullanmasi, 2030 karbondioksit salinim hedefine ulasilmasi için ülkelerin destekleyecegi konular olarak degerlendirilebilir.
Su ana kadar eksik kalan baska bir konu ise HDV'ler için herhangi bir standart belirlenmemis olmasi. Bu siniftaki araçlarin agirlikli olarak uluslararasi karayollarini kullanmasi sebebiyle istasyonlarin sahip olmasi gereken özelliklerin belirlenmesi ve yeni istasyonlarin bu standartlara göre kurulmasi ve yayginlasma açisindan kritik önem tasiyor. Konuyla ilgili kritik bir gelismeyi de paylasmadan geçmeyelim. Kaliforniya, 25 Haziran'da alinan kararla kamyon ve benzeri araçlar için sifir  emisyon hedefi koyan ABD'nin ilk eyaleti oldu. Istasyonlarla ilgili olarak atilacak adimlar açisindan takip edilmesinin faydali olacagini düsünüyoruz.
Alternatif yakitlar için kullanilan istasyonlarin elektrik veya hidrojen gibi belirli bir tipe özel degil genele hizmet verecek sekilde tasarlamasi, bu araçlar için spesifik istasyon bulunmasi zorunlulugunu ortadan kaldiracak ve yayginlasmasini tesvik edebilecek konular arasinda yer aliyor.
Özellikle elektrik sarj istasyonlari için kritik konulardan bir tanesi olarak akilli sebeke sistemlerinin kullanimi karsimiza çikiyor. Standart sebeke sistemlerinin akilli sebeke sistemlerine geçisi, günlük enerji kullanimina ek olarak gelecek sarj taleplerinin yönetilmesi ve hizmetin kesintisiz olarak saglanabilmesi ve süreklilik saglanmasi bakimindan yatirim yapilmasi gereken konularin basinda geliyor.
Teknolojiyle siki sikiya bagli olan bu araçlarin, yine teknolojiyle birlikte günden güne artan veri isleme yetkinliklerinden de faydalanmasi gerekiyor. Halihazirda veriler, agirlikli olarak garajlarda bulunan 22 Kw alti sarj ünitelerinden geliyor. Elde edilen veriler ne kanun koyucularin, ne de üreticilerin saglikli analizler gerçeklestirip araçlari veya hizmet kalitesini gelistirebilecek sonuçlar ortaya çikarmasi için yeterli degil. Ihtiyaçlarin dogru bir sekilde belirlenebilmesi ve katma degerli bir etki yaratabilmesi için veri kalitesinin iyilestirilmesi ve veri kaynaklarinin yayginlastirilmasi gerekiyor.
Meselenin ülkemiz mevzuatinda ne sekilde ele alindigini inceledigimizde, 2014/94/EU sayili Direktifin dogrudan bir karsiliginin tam anlamiyla yasalasmamis oldugunu görüyoruz. Ayrica, AB Bakanli tarafindan Ocak 2016 – Aralik 2019 arasindaki döneme yönelik hazirlanan "Avrupa Birligi'ne Katilim Için Ulusal Eylem Plani"5 kapsaminda da 2014/94/EU sayili Direktif'e uyum özelinde bire degerlendirme yapilmamakta ve alternatif yakitlara iliskin olasi kodifikason çalismalari bu biçimde ele alinmamaktadir. Bakanligin hazirladigi en kapsamli ve güncel eylem planlarindan biri olarak toplamda 87 kanun, 278 ikincil düzenleme ve 155 idari yapilanmanin hayata geçmesini öngören6 bu metinde 2014/94/EU sayili Direktife yönelik bir öngörünün yer almamasi, alternatif yakit düzenlemelerinin henüz AB uyum süreci içerisinde öncelikli bir pozisyona sahip olmadigini gösteriyor. Nitekim Direktifin yürürlüge girmesini takip eden ilerleme raporlarinda da bu konuya iliskin kapsamli degerlendirmeler yer almadigini görüyoruz.
Öte yandan, alternatif yakitlara iliskin ülkemizde herhangi bir düzenleme bulunmadigini söylemek de isabetli olmayacaktir. Her ne kadar, benzer pek çok direktife iliskin yapilanin aksine, AB mevzuatini dogrudan dogruya karsilayan bir düzenleme bulunmamak ile birlikte, meselenin esasina iliskin nosyonlari paylasan bazi düzenlemelere rastliyoruz. "Araçlarin Imal Tadil ve Montaji Hakkinda Yönetmelik"7 anilan düzenlemelerin örnekleri arasinda yer aliyor ve Yönetmeligin 4(h) maddesinde Alternatif yakitlara atifta bulunulmakta ve biyoyakitlar ile sentetik yakitlara iliskin degerlendirme yapilmaktadir8.
Önümüzde henüz 10 yil olmasina ragmen gidilecek çok yol oldugunu düsünüyoruz. Geçtigimiz 6 yila bakinca görünen manzara da ne yazik ki pek iç açici degil. Bazi filmlerin fragmanlari kendilerinden daha güzel oluyor. Pandemi sürecinin pozitif olarak degerlendirilebilecek etkilerinden biri olarak, fosil yakitlarin kullanimindaki azalmaya bagli degisikliklere dair bir fragman izleme sansi bulduk. Filmin ne kadar güzel olacagi ise tamamen bizlere bagli.
Footnotes
1. https://www.bbc.com/future/article/20200326-covid-19-the-impact-of-coronavirus-on-the-environment
2. https://svs.gsfc.nasa.gov/4810
3. https://www.nasa.gov/feature/goddard/2020/drop-in-air-pollution-over-northeast
4. https://airquality.gsfc.nasa.gov/
5. https://www.ab.gov.tr/files/ceb/Ulusal_Eylem_Planlari/ulusal_eylem_plani_2016_2019_tr.pdf (Son erisim tarihi 13.08.2020)
6. https://www.ab.gov.tr/abye-katilim-icin-ulusal-eylem-plani-2016-2019-_51499.html (Son erisim tarihi 13.08.2020)
7. 26.10.2016 tarihli ve 29869 sayili Resmi Gazete'de yayimlanan ve 21.10.2017 tarihli ve 30217 sayili Resmi Gazete'de güncellenen Araçlarin Imal Tadil ve Montaji Hakkinda Yönetmelik.
8. Konunun detaylari için bakiniz: http://www.lowcarbonturkey.org/wp-content/uploads/2018/06/LCDTR-Act-1.2-Bosluk-Analizi-Raporu.pdf (Son erisim tarihi 13.08.2020)
The content of this article is intended to provide a general guide to the subject matter. Specialist advice should be sought about your specific circumstances.