Geleneksel olarak elektrik piyasaları dikey bütünleşik firmaların üretimden tedarike birçok piyasa faaliyetini yürüttüğü ve yoğun regülasyonların olduğu piyasalar olmakla birlikte bilhassa son 30-35 yılda elektriğin üretim ve tedarikinde birçok ülkede devlet tekelinden aşamalı olarak rekabetçi piyasa yapılarına geçiş temayülünün olduğu görülmektedir.  Ülkemizde de benzer bir eğilim gözlenmiş ve halihazırdaki piyasa yapısının kanuni çerçevesi 2001 yılında yürürlüğe giren 4628 sayılı Elektrik Piyasası Kanunu ile 2013 yılında yürürlüğe giren 6446 sayılı Elektrik Piyasası Kanunu ile çizilmiştir.
Bununla birlikte, liberalleşme rüzgarları her zaman elektrik piyasalarında olumlu sonuçlar vermeyebilmekte ve ister istemez birtakım problemler ile karşılaşılmaktadır. Bilhassa 2010 sonrasında Avrupa, ABD ve Avustralya gibi gelişmiş ülkelerde düşük marjinal maliyetli elektrik üretimi, düşük doğalgaz maliyetleri ve talebin durağan olması nedeniyle toptan elektrik satış piyasalarında oluşan elektrik fiyatlarında önemli oranda bir düşüş ile karşılaşılmakta. Her ne kadar düşük karlılığın rekabetçi piyasaların olağan bir sonucu olduğu ileri sürülebilecek olsa da yatırıma ihtiyaç duyulan bir piyasada düşük karlılığın olması elektrik arz güvenliğini tehdit edebileceğinden bu noktada "düşük karlılığın" piyasa yapısının yeniden değerlendirilmesi gerektiği hususunda bir sinyal olarak algılanması mümkün.[1] Bu bakımdan gelecekte oluşturulacak piyasa yapısının üretim santralleri, enerji depolama sistemleri ve talep tarafı yönetimini gibi sistemin işleyişine ilişkin tüm bileşenlerin ihtiyaçlarını göz önünde bulundurularak kurgulanması gerekebilecektir. Son yıllarda Avrupa Birliği ve ABD'de elektrik satışlarından elde edilen gelirin elektrik üretim maliyetlerini karşılanma oranında önemli düşüşler görülmektedir. Dahası, yeni enerji hizmet sağlayıcılarının ve yenilikçi teknolojik gelişmelerin de destekleyeceği sıfıra yakın marjinal maliyetli elektrik üretim santrallerinin sisteme girmeleriyle birlikte, orta ve uzun vadede toptan elektrik fiyatlarında aşağı yönlü baskının devam edeceğini tahmin etmek mümkündür. Netice itibariyle, yukarıda belirtmiş olduğumuz ülkelerde; politika yapıcıların, düzenleyici kurumların ve elektrik piyasasındaki paydaşların elektik piyasasına geçiş sürecindeki değişimleri idrak etmeleri, enerji arz güvenliğini ve sistem güvenilirliğini sağlarken aynı zamanda düşük karbonlu piyasa yapısına geçiş sürecinin gerektirdiği çözümler ve piyasa tasarımının ön koşulunu teşkil etmektedir.[2]
Diğer yandan, aşağıdaki grafikten de anlaşılacağı üzere ülkemizde elektrik fiyatları yukarıda sayılan gelişmiş ülkelerden farklı olarak ülkemizde düşüş göstermemiş aksine 2018 yılında PTF Aritmetik Ortalamasının 231,636. TL/MWh[3] olarak zirve yaptığı göz önüne alındığında ciddi anlamda artmıştır. Buradan yola çıkarak ülkemiz elektrik piyasasının yapısal problemleri ile Avrupa Birliği, ABD ve Avustralya örneklerinde gözlemlenebilecek ülkelerin yapısal problemlerinin nitelikleri itibariyle birbirlerinden farklı olduğunu ileri sürebilmek mümkün.
Grafik 1: Yıllar itibariyle PTF (Piyasa Takas Fiyatı)[4]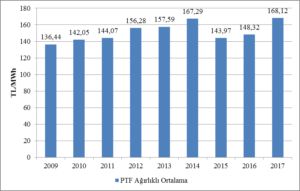 Elektrik kurulu gücü yaklaşık olarak 88.550 MW[5] olan ülkemiz elektrik piyasasında her ne kadar yukarıda değinmiş olduğumuz gelişmiş ekonomilerde elektrik üretim maliyetlerinde düşüş nedeniyle karşılaşılan problemler ile karşılaşılmasa da, heybemizdeki problemler bizim de piyasa yapısının yeniden gözden geçirilmesini ve gerekirse yeniden yapılandırılmasını kaçınılmaz kılacak raddeye erişmiş durumdadır.
Öncelikle, ülkemizde son zamanlarda yüzleşmek zorunda kaldığımız yüksek enflasyonun ve döviz kurumda gözlemlenen yukarı yönlü değişkenliğin elektrik piyasasını olumsuz etkilediğine hiç şüphe yok. Yine bu gelişmelerle paralel olarak Yenilenebilir Enerji Destekleme Mekanizmasının ("YEKDEM") toplum üzerinde ciddi maliyet baskısı oluşturduğu da bir gerçek. Tedarik piyasasının teknolojik gelişmelere paralel olarak dijitalleşmesi için daha radikal adımlar atılması, üretimin artık belirli lokasyonlarda öbekleşmek yerine dağıtık ve hatta tüketicilerin de üretici olabileceği kurgulara evrilmesi için gerekli yasal zeminin hazırlanması, enerji sektöründe dövizle borçlanmış şirketlerin yaratmış olduğu riskin dağıtılması, iletim sisteminin üretim ve tedarikte olması gereken gelişmelere ayak uydurabilmesi, bugün elektrik üretiminde  yüzde 34 civarında olan kamu payının düşürülmesi, gün öncesi piyasalarda oluşan fiyatların gerçek maliyetleri yansıtacak şeklide piyasa yapısının yeniden kurgulanması, ulusal tarifeler, piyasada şeffaflığın ve öngörülebilirliğin arttırılması, iyi yönetişim ilkelerinin benimsenmesi gerekliliği, tüketicilerin bilinçlendirilmesi ve tüketici haklarının korunması konuları yüzleşmemiz gereken problemlerden yalnızca bir kaçını oluşturmaktadır.
Tüm bu yapısal problemlerin neticesi olarak, üreticilerden tedarikçilerin sektörün tüm oyuncuları birçok problem ile boğuşmakta ve bu problemlere çözüm üretebilmek için yapılan devlet müdahaleleri (teşvikler, alım garantileri vs.) ise ister istemez piyasa yapısını bozucu etkiler doğurmaktadır. Dolayısıyla, Avrupa Birliği ve ABD'de elektrik üreticilerinin karşılaştığı "düşük karlılığın" piyasa yapısının yeniden değerlendirilmesi gerektiği hususunda bir sinyal olarak algılanması gerektiğinin ileri sürüldüğü bir ortamda, ülkemiz elektrik piyasasında karşılaşılan problemleri "piyasa yapısının yeniden değerlendirilmesi gereken bir sinyal olarak nitelemek" bunları çok hafife almak olacaktır.
Netice itibariyle, elektrik piyasasında karşılaştığımız problemler yukarıda değinmiş olduğumuz gelişmiş ülke örnekleri ile karşılaştırdığımızda yapısal olarak ciddi farklılıklar arz etmektedir. Bu itibarla, piyasanın kendine özgü nitelikleri ve dünyadaki gelişmelerin de göz önünde bulundurarak birtakım yapısal değişikliklerin yapılması kaçınılmaz görülüyor. Bu noktada iki alternatif ortaya çıkmaktadır. Birincisi, her bir problemi tek tek ele alarak bunlara çözüm üretmeye çalışmak. Diğeri ise, piyasa yapısını bozan tüm etmenler göz önünde bulundurularak piyasa yapısının gerekirse yeniden kurgulanması yoluyla rekabetçi bir piyasanın önün açmak. Politika yapıcıların ve düzenleyici kurumun konuya ilişkin tavrını merakla takip etmekteyiz.
Her halükarda, önümüzdeki süreçte elektrik piyasasında radikal değişikliklerin olması kaçınılmaz gözükmektedir. Zira, perşembenin gelişi çarşambadan bellidir...

---
[1] https://www.iea.org/newsroom/news/2018/december/how-will-the-electricity-market-of-the-future-work.html
[2] İbid.
[3] https://rapor.epias.com.tr/rapor/xhtml/ptfSmfGunluk.xhtml
[4] EPDK: Elektrik Piyasası 2017 Yılı Piyasa Gelişim Raporu, sy. 51
[5] https://www.enerjiekonomisi.com/turkiye-elektrik-enerjisi-kurulu-gucu-88-550-mw/5082/ Erişim tarihi 07.05.2019
The content of this article is intended to provide a general guide to the subject matter. Specialist advice should be sought about your specific circumstances.