Herbert Smith Freehills' Exchange Network, a network of senior women in the London Real Estate department, recently hosted the "Healthy Buildings" panel discussion in conjunction with REWomen. Joined by over 90 attendees from the real estate industry, the panel discussed the economic drivers of well-being in the built environment, who the players are, who benefits, and whether WELL Certification is encouraging a better dialogue between developers, landlords and tenants.
The key theme was the shift towards recognising the centrality of people's health and well-being in designing and maintaining office, retail and residential buildings. In particular:
How it is increasingly important for landlords to prioritise the experiences of people in designing and maintaining properties. Blackstone's Chiswick Park, on which HSF advises, was held up as a pioneering example.
The challenges to prioritising well-being in the built environment from political and ideological reluctance to focus on people's well-being during planning and construction, especially as a result of economic pressures. Globally, due to climate change, difficult trade-offs will have to be made between sustaining economic growth, and maintaining a planet that can support environments that promote health and avoid issues such as air pollution.
Finally, the crucial role that technology will play in promoting well-being in the built environment.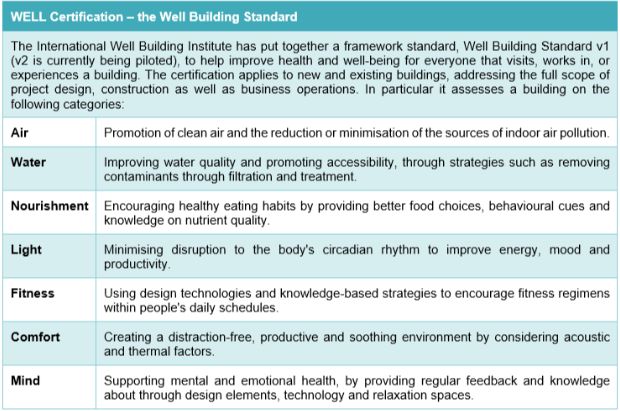 Please get in touch if you would like any further information, or would like to see a recording of the event.