M&A activity in Ireland has been consistently dominated by mid-market transactions and 2022 was no exception: almost nine in ten Irish M&A deals last year fell into the mid-market segment, with transaction values of between €250m and €500m. The larger end of the market was also active, with seven transactions worth more than €500m in 2022, having a total aggregate deal value of €11.5bn. Only 2021, with nine large deals worth €16.2bn (the most on Mergermarket record), exceeded these 2022 totals.
The health of Ireland's M&A activity in 2022 is underlined by the spread of sectors in which deals took place. The financial services sector was a particularly important driver of activity for dealmakers, while tech firms were still also in demand. Real estate and energy, mining and utilities also saw plenty of action, and there were several large deals in both the consumer and pharmaceuticals sectors.
The strength of the financial services sector by value was underpinned by last year's biggest transaction of all in Ireland, which saw the Sumitomo Mitsui Financial Group acquire Dublin- based aircraft leasing firm Goshawk Management, previously owned by a private investment business in Hong Kong. Ireland remains a global centre for the aviation leasing industry, courtesy of its supportive tax environment, the sector expertise available locally and its long track record in this area.
The second largest deal last year, meanwhile, saw Canadian private equity (PE) group Brookfield Asset Management acquire Hibernia REIT – the deal took place through its Irish subsidiary Benedict Real Estate – which owns a portfolio of offices s in Dublin city centre, for €1.1bn. The deal reflects growing interest in real estate opportunities among European investors, with the office esector regarded as having the potential to bounce back strongly from the pandemic. Ireland's relative economic strength makes its real estate sector particularly alluring.
Other significant deals in 2022 included the €940m acquisition of Alternus Energy by the special purpose acquisition company Clean Earth Acquisitions. The deal for Alternus, a leading player in the solar power sector, is one example of international investors' interest in Ireland's burgeoning renewables industry, a pattern which is only likely to continue given the Irish government's stated target to produce 80% of electricity from renewable sources by 2030 and a recently increased target of 7GW to be generated from offshore ewind capacity.
Similarly, despite the worldwide slowdown across the technology sector during 2022, Ireland's technology sector is still attracting worldwide attention, with prominent deals last year including Partners Group's acquisition of digital transformation specialist Version 1 for €800m and significant investments in companies such as Wayflyer, Flipdish and Tines. However, despite the activity of firms such as Brookfield and Partners Group, PE M&A activity in Ireland slowed last year. PE buyers led 62 deals worth €2.6bn during 2022; that represented a fall of 19% and 76% in volume and value terms respectively.
Please click here or on the image to download our full report.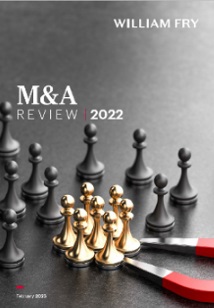 The content of this article is intended to provide a general guide to the subject matter. Specialist advice should be sought about your specific circumstances.