a. Due date of filing of annual return in Form GSTR-9 and reconciliation statement in Form GSTR-9C for financial year (FY) 2019-20 extended from December 31, 2020 to February 28, 2021. [Notification No. 95/2020-CT dated December 30, 2020]
b. Time limit for completion of any compliances by Anti-Profiteering authorities during the period March 20, 2020 to March 30, 2021 extended till March 31, 2021. [Notification No. 7 91/2020-CT dated December 14, 2020]
c. Waiver of late fees for delay in furnishing of returns in Form GSTR-4 (Composition Dealer return) for FY 2019-2020 from November 01 to December 31, 2020 for registered persons having principal place of business in UT of Ladakh. [Notification No. 93/2020-CT dated December 22, 2020]
d. Specific provisions of the Finance Act, 2020 made effective from January 01, 2021. [Notification No. 92/2020-CT dated December 22, 2020]
e. Various amendments made in the Central Goods and Services Tax Rules, 2017 (the CGST Rules), details of which are enumerated as under: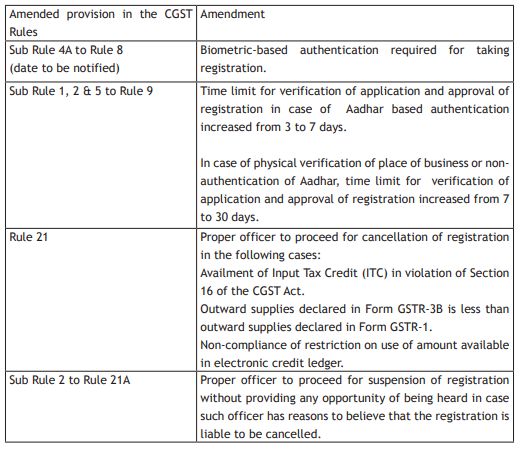 Form GST REG-31 (Intimation for suspension and notice for cancellation of registration) inserted. [Notification No. 94/2020-CT dated December 22, 2020]
f. Waiver from recording of Unique Identification Number (UIN) on invoices issued by retailers/suppliers, pertaining to refund claims from April 2020 to March 2021, subject to condition that copies of invoices duly attested by the authorized representative of UIN entity to be submitted to the jurisdictional officer. [Circular No. 144/14/2020-GST dated December 15, 2020]
The content of this article is intended to provide a general guide to the subject matter. Specialist advice should be sought about your specific circumstances.