DEAL TRENDS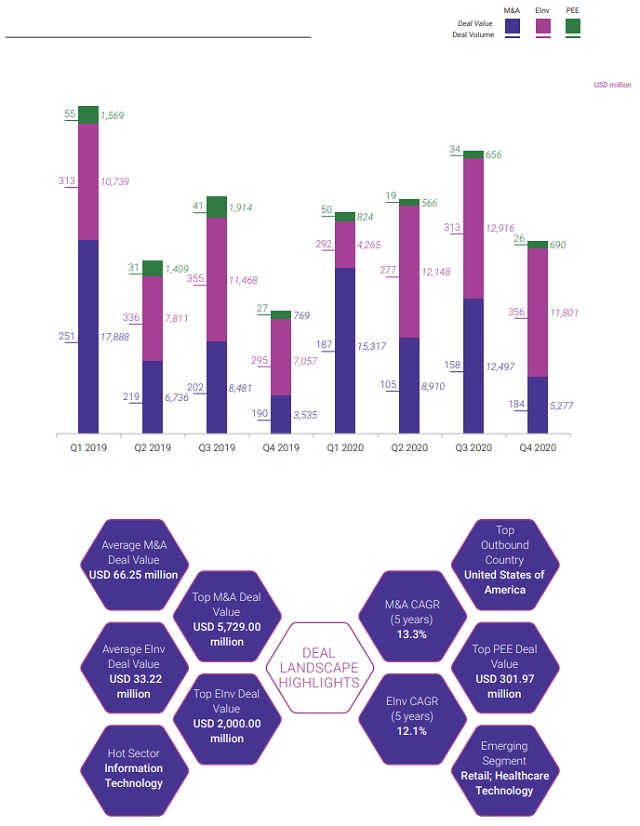 MERGERS AND ACQUISITIONS

Subsequent to the prudent investor trends in 2019 owing to political and macro-economic concerns, deal activity was expected to gain traction in 2020 with the first quarter reflecting an encouraging start. However, economic uncertainties ensuing the pandemic put a pause on several deals for a sizable period of the year. Despite this turbulence, deal value maintained momentum at USD 42 billion.
The pandemic's wrath was more pronounced in M&A deal volumes hitting a five-year low. Even as valuations weathered, only financially and operationally secure companies could confidently act on their acquisition strategies. With a focus on optimization of resources leading to better quality deals, average deal size grew to 1.6x of 2019. Big-ticket transactions amounted to ~50% of the deal value in Telecom, Financials, Consumer Discretionary and Industrials.
To counter the strain on financial resources, models such as stock for stock transactions and earn out mechanisms gained prominence, even as investors lay increased emphasis on due diligence of their targets.
Another section of buyers leading M&A activity this year has been private equity backed players, as investors aim to enhance their portfolio's marketability for monetization through tuck-in acquisitions. Start-ups in spaces such as EdTech and e-health have steadily bought out companies to diversify their portfolio.
While domestic consolidation has been a major deal driver, cross-border transactions also shone with global investors' growing interest in the Technology, Media and Telecoms segments. Prominent cash-rich IT companies have also grasped several overseas acquisitions to plug gaps in their technological prowess and enhance their global footprint.
As Q4 showed signs of staggered recovery with an upcoming pipeline of deals, similar trends are expected to continue in 2021 as the economy becomes more stable.
To read the full article click here
The content of this article is intended to provide a general guide to the subject matter. Specialist advice should be sought about your specific circumstances.