Introduction
To ensure that the Companies (Guernsey) Law, 2008 (the "Law") keeps pace with the needs of local business and to respond to developments in other jurisdictions, the Committee for Economic Development (the "Committee") continuously reviews the Law. As such, the Committee has recommended a number of amendments (the "Amendments") to the Law, which are intended to address a variety of issues. This advisory note sets out a summary of the proposed Amendments.
Procedure and Timing
The Amendments are contained within a policy letter to the States of Guernsey (the "States") dated 4 July 2019. The States has now agreed to direct the preparation of legislation to give effect to the Amendments. The timing of this legislation is not currently clear, but it is thought likely the legislation will be brought back to the States and implemented during the last quarter of 2019 or the first quarter of 2020.
Amendments of Interest – ICCs – Different directors for incorporated cells
A fundamental amendment, and one of particular interest for those dealing with incorporated cell companies ("ICCs"), will be made to section 136 of the Law.
Section 136 of the Law currently requires that each director of an ICC must also be a director of each of its incorporated cells, and that no person may be a director of an incorporated cell unless he is a director of its ICC. The amendment to section 136 of the Law removes the requirement for an ICC and each of its incorporated cells to have the same board.
The reasoning behind this proposed amendment is that this restriction does not always allow an ICC to appoint the most appropriate directors. By removing this restriction, it will allow experts in a particular field relating to the business of an individual cell to be appointed to the board, without needing to be appointed to the board of the ICC, or to any other individual cell. This is likely to be of interest to the captive insurance industry, and also to ICCs established as "rent-a-cell" funds (that incubate small funds for a number of different clients), as it will potentially allow clients to have the ability to appoint directors to the board of an incorporated cell only, without the need to also be appointed to the ICC board.
Further Amendments
Further amendments are set out below: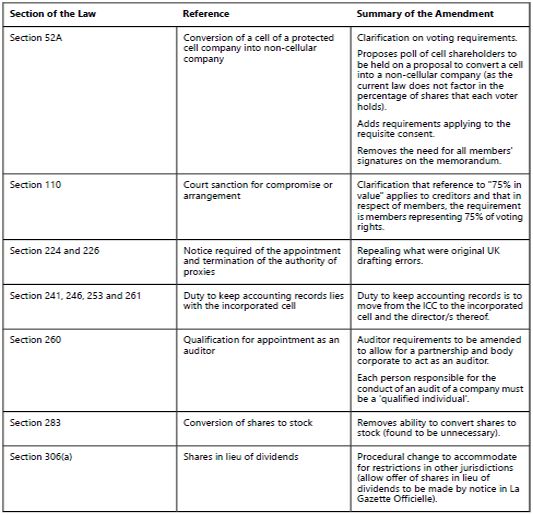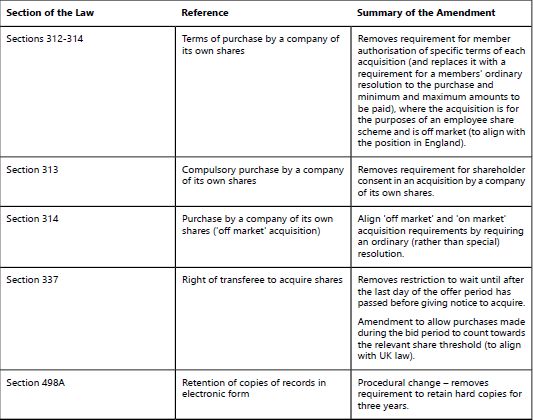 The content of this article is intended to provide a general guide to the subject matter. Specialist advice should be sought about your specific circumstances.