-
Grand Cayman, 4 May 2023 – The Cayman Islands Intellectual Property Office (CIIPO) wrapped up its month-long celebration of intellectual property, culminating with the observance of World Intellectual Property Day (WIPD), celebrated annually around the globe on 26 April.
CIIPO officials spent the month of April educating Cayman's creators, inventors and entrepreneurs about their intellectual property (IP) rights and how to protect them. IP refers to creations of the mind and includes inventions, literary and artistic works, designs and symbols, and names and images used in business.
"IP protection gives our creators the ability to benefit economically from their works, while supporting business activity in the Cayman Islands. Government will continue to support our IP rights holders and we believe the future of our IP sector looks very bright indeed", Financial Services and Commerce Minister, the Hon. André Ebanks said.
CIIPO held five free workshops targeting musicians, inventors, authors, software creators and other types of creatives who wanted to learn more about how to protect their work, gain recognition for their innovation and possibly benefit financially. About 150 persons from the music, visual arts, small business and filmmaking sectors participated in the various sessions.
The topics addressed were:
Intellectual Property | The Basics presented by Candace Westby, CIIPO Director
Copyright and Social Media | What You Need To Know presented by Candace Westby, CIIPO Director
Everything You Need to Know About Trade Marks presented by Kate Cleary, Intellectual Property Manager at HSM IP
Musicians and Intellectual Property | What Musicians Need to Know presented by Sophie Peat, Partner at Ogier
The Basics of IP plus Trade Secrets and Non-Disclosure Agreements presented by Andrea Williams and Abby Guilmette of Williams Law
"It was a pleasure to be a part of these workshops, both as a presenter and a participant. It was a very special and invaluable opportunity to learn and collaborate with the CIIPO team, other Cayman IP agents and creatives, inventors and other IP enthusiasts who attended the workshops", said Andrea Williams of Williams Law.
In addition, CIIPO used broadcast media and radio advertising to help the public better understand IP rights.
"We felt the workshops were a resounding success and we were grateful for the participation of our female creators and IP rights professionals, in keeping with this year's theme. It was good to see persons asking questions about the technical aspects and monetary benefits of IP protection during our sessions and I believe the public is better informed of their rights", CIIPO Director Candace Westby said.
The 2023 theme for WIPD was Women and IP: Accelerating Innovation and Creativity, and all workshops were led by women. In addition, CIIPO produced videos featuring three local female creatives – Carol Hay, founder and creator of Cayman Pepper Patch; Isadora Ferrao, singer, songwriter and musician; and jewellery maker Rachel Christ – who shared their experiences with registering and protecting their creations.
As part of the activities, CIIPO also celebrated the creativity and entrepreneurial spirit of Suzy Soto, the creator of the Sir Turtle trade mark whose design was the first trade mark on the Government's register when direct registration started in 2017.
During the month of April, CIIPO engaged with resident IP agents and discussed ways to highlight the IP sector, both locally and internationally. As part of those promotional efforts, CIIPO and Minister Ebanks will join a Cayman delegation headed to Singapore later this month for the International Trade mark Association Annual Meeting.
For more information about CIIPO, and to view the workshop presentations and videos, visit www.ciipo.ky.
Photos - credit to the Ministry of Financial Services and Commerce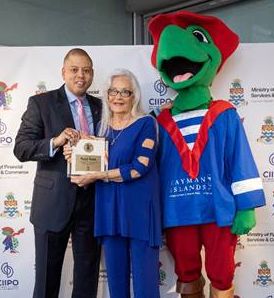 Caption: Financial Services and Commerce Minister, the Hon. André Ebanks, presented Ms Suzy Soto with her award as Sir Turtle looks on.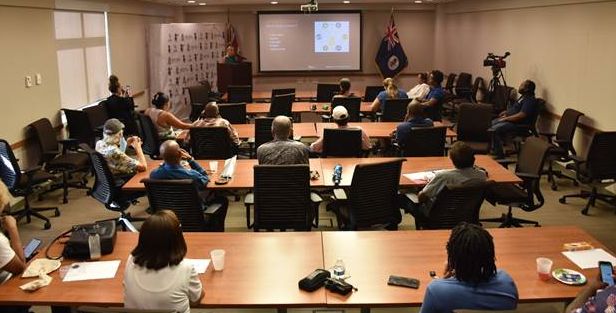 Caption: Local musicians learned about their intellectual property rights at a recent workshop.
Caption: Cayman Islands Intellectual Property Office Director, Candace Westby, addressed numerous questions in relation to intellectual property during the workshops.
The content of this article is intended to provide a general guide to the subject matter. Specialist advice should be sought about your specific circumstances.