The Cayman Islands is recognised as a premier international financial centre and the banking sector is a vital support mechanism for financial services. Banking in Cayman provides a dual functioning role within the financial services industry. Retail banks provide a full range of products and services to residents and local commercial entities and at the same time act as a service provider to other financial services, such as the fund and captive insurance sectors.
Cayman offers a breadth of banking services that is on par with the major financial centres of the world. As at June 30, 2017, there were 158 licensed banks in Cayman, six of which are Retail Category 'A' banks licensed to conduct business with domestic and international clients. There are five non-retail Category 'A' banks and 147 Category 'B' banks, servicing international clients and carrying out limited domestic activity.
The Category 'A' banks in Cayman are: Butterfield Bank (Cayman) Limited, Cayman National Bank Limited, Fidelity Bank (Cayman) Limited, CIBC First Caribbean International Bank (Cayman) Limited, RBC Royal Bank (Cayman) Limited and Scotiabank & Trust (Cayman) Limited. At the end of 2016, the retail banks reported total assets of US$14.33 billion. They are well capitalised and maintain a sound financial position as highlighted in Tables 1 and 2.
The Cayman Islands Monetary Authority is the governing body with responsibility for supervision and regulation of the banking industry. The jurisdiction is recognised by the IMF (International Monetary Fund) and other global agencies as having a comprehensive regulatory and compliance framework and is underpinned by a well developed banking infrastructure and internationally experienced workforce.
Today both local and international clients can expect a full range of banking products and services, including personal, corporate and wealth management. Specific offerings include foreign exchange, deposit products, residential and commercial mortgages. Retail banks also offer robust electronic delivery channels including on-line banking, as well as local and international ATM and POS networks. Banks in Cayman also manage and administer a variety of corporate structures, which cover aspects of the industry such as trust companies, custodial and treasury services.
Cayman, as a global financial centre, plays an integral role in the management of capital flows worldwide. Cayman continues to be ranked eighth internationally in terms of cross-border assets of US$1.13 trillion and fifth based on banking liabilities of US$1.14 trillion, as shown in Table 3, highlighting its role as a key financial intermediary. The banking industry in Cayman remains multi-faceted and is extremely effective at servicing the needs of residents and international clients alike.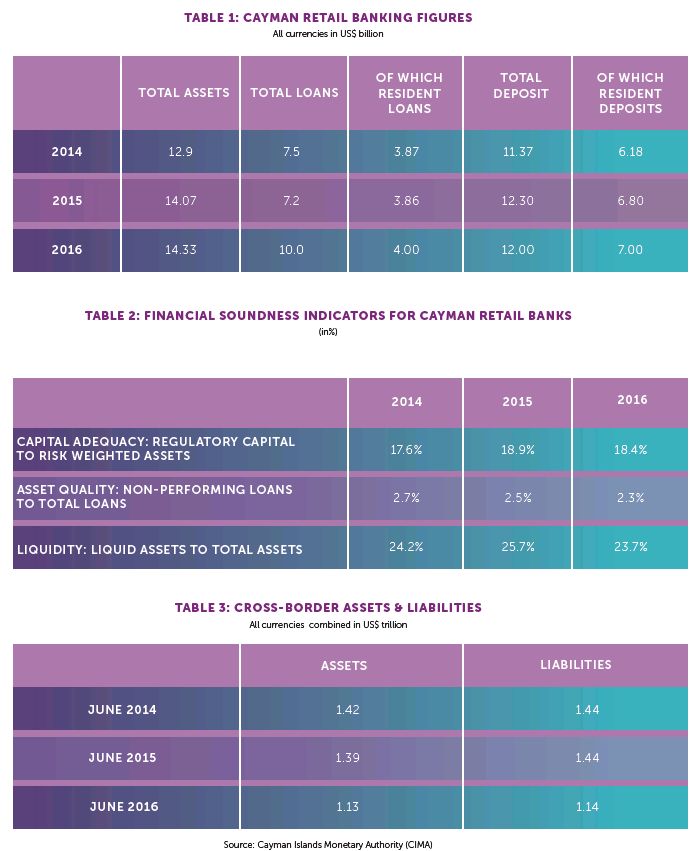 The content of this article is intended to provide a general guide to the subject matter. Specialist advice should be sought about your specific circumstances.