The saying goes you can't compare apples and oranges, but technology giant Apple is arguing that you can compare, and even confuse, apples and pears.
In late 2019, Super Healthy Kids applied to register a pear-shaped trademark in Canada for use in connection with Prepear, its meal prep app. Once the opportunity arose, Apple filed a statement of opposition, arguing that Super Healthy Kids should not be entitled to register their pear logo.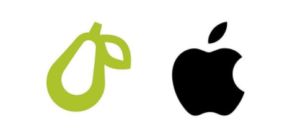 Super Healthy Kids' pear logo (left) and Apple's iconic logo (right).
Apple has opposed Super Healthy Kids' application on almost all grounds available, including that the mark is being sought in bad faith and that when compared to Apple's logo, the pear-shaped mark is confusing and not distinctive. Evidence supporting these claims is expected to follow shortly, but Apple will likely rely on the same arguments it made in analogous opposition taking place in the USA, where Apple is also opposing Super Healthy Kids' US registration of the same mark.
In the US opposition, Apple has argued that the pear logo "consists of a minimalistic fruit design with a right-angled leaf, which readily calls to mind Apple's famous Apple Logo and creates a similar commercial impression" and that Apple's logos "are so famous and instantly recognizable that the similarities [in the pear logo] will overshadow any differences and cause the ordinary consumer to believe that [Super Healthy Kids] is related to, affiliated with or endorsed by Apple".
Apple has also previously opposed another pear-shaped logo in Europe, with that proceeding having made its way to the supreme court of the European Union, the Court of Justice of the European Communities. However, the Court of Justice of the European Communities overturned previous rulings and instead held that consumers could clearly distinguish the two marks as an apple or a pear and would not generalize the mark as just a fruit, and that "in several European Union languages, apples and pears are used in proverbs to illustrate that two things are different and not comparable".
While the Trademark Opposition Board may take a couple of years to come to a conclusion, many users online have delivered their verdict. Thousands of social media users have commented on Super Healthy Kids' Instagram post on the proceeding, with many confused over how someone could confuse an apple with a pear. Some are also upset with Apple's decision to oppose this trademark, given the relative size of Super Healthy Kids compared to the trillion-dollar tech company.
Super Healthy Kids is showcasing a well-executed example of the casting themselves as caught in a David-versus-Goliath battle in order to put a spotlight on itself and its product, and seeking garnering both moral and monetary support from the public. Regardless of which party wins the opposition proceeding, in many ways, Super Healthy Kids has already won.
---
About Norton Rose Fulbright Canada LLP
Norton Rose Fulbright is a global law firm. We provide the world's preeminent corporations and financial institutions with a full business law service. We have 3800 lawyers and other legal staff based in more than 50 cities across Europe, the United States, Canada, Latin America, Asia, Australia, Africa, the Middle East and Central Asia.
Recognized for our industry focus, we are strong across all the key industry sectors: financial institutions; energy; infrastructure, mining and commodities; transport; technology and innovation; and life sciences and healthcare.
Wherever we are, we operate in accordance with our global business principles of quality, unity and integrity. We aim to provide the highest possible standard of legal service in each of our offices and to maintain that level of quality at every point of contact.
For more information about Norton Rose Fulbright, see nortonrosefulbright.com/legal-notices.
Law around the world
nortonrosefulbright.com
The content of this article is intended to provide a general guide to the subject matter. Specialist advice should be sought about your specific circumstances.