In a milestone moment for cryptocurrency investments, the Purpose Bitcoin ETF-the world's first Bitcoin exchange-traded fund-began trading on the Toronto Stock Exchange under the ticker symbol BTCC.
The Ontario Securities Commission (OSC) gave its go-ahead on February 18, 2021. Although Europe boasts Bitcoin exchange-traded products that are also accessible to retail investors, this is the first vehicle of its kind in North American and the first globally to carry the ETF designation. This places Canada in a unique trailblazing position, one that is either exciting and innovative or reckless and ill-advised depending on your viewpoint on these uncharted waters.
A New Way to Invest in the Most Valuable Cryptocurrency
This ETF structure is distinct from other cryptocurrency exchanges. "The ETF will invest directly in physically settled Bitcoin, not derivatives," the manager of the fund, Toronto-based Purpose Investments Inc., said in a statement. When investors buy units of the ETF, the fund in turn purchases physical Bitcoin, rather than Bitcoin derivatives or futures. This is roughly analogous to how physically-backed gold and silver investment products are structured.
According to Purpose Investments, the net effect is that investors will hold actual Bitcoin in their portfolios, which they can then choose to buy or sell as they would a stock.
For the first time, individual investors have a straightforward means for directly investing in Bitcoin without having to establish their own wallet for trading. An added bonus to investing in Bitcoin through the Purpose ETF is that it is generally eligible for investments through registered accounts such as TFSAs and RRSPs.
In their brochure, Purpose Investments says that this is a chance for investors to "own a piece of history". The firm claims that "the World's first true Bitcoin ETF is democratizing how retail and institutional investors access this powerful digital asset."
During its initial days of trading, the Purpose ETF certainly receiving remarkable interest from investors, with a trading volume that approached $400 million worth of shares in two days.
A High-Risk, High Reward ETF
Despite this fervour, or perhaps because of it, prospective investors should be aware that Purpose Investments Inc. has rated the volatility of this ETF as high. "You can lose money", Purpose Investments Inc. states in their Fact Sheet, in an attempt, perhaps, to cool the heels of overly enthusiastic investors.
In the same Fact Sheet, Purpose Investments Inc. describes this ETF as being appropriate for investors who "want capital growth over the long term", "seek an attractive risk-adjusted rate of return", and, crucially, "can tolerate high risk".
In its prospectus, Purpose Investments outlines several factors that make Purpose Bitcoin ETF a high-risk investment. Largely stemming from the unstable nature of the underlying asset, risk factors include:
the volatility in the price of Bitcoin;
the risk of increased regulation;
attacks on or hacking of trading platforms;
general economic volatility of the markets caused by COVID-19; and
the risk of changes in legislation.
While increased demand and new, easier ways for retail investors to buy into Bitcoin, it's not surprising that sources such as Bloomberg Intelligence predict that Bitcoin "is more likely to stay on its upward path." That upward trajectory does not guarantee a smooth ride, however. While Bloomberg Intelligence speculates that Bitcoin might "add another zero" by 2025, and compare the asset to "a digital version of gold" the author hedges with "or the new technology could fail."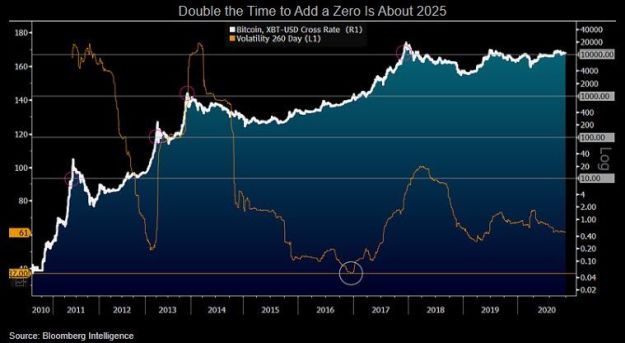 Source: Bloomberg Intelligence
Security Concerns and Risk Mitigation
Regulators, including the US Securities and Exchange Commission, have expressed concerns about the use of Bitcoin ETFs in general, including concerns about market manipulation and secure storage. The ascent of cryptocurrencies has gone hand in hand with a rise in cyber-attacks. An article on nasdaq.com reports that hacking incidents on digital assets "netted $1.8 billion over the first 10 months of 2020" alone.
Purpose Investments has attempted to alleviate some of these concerns by storing the physical Bitcoins using cold storage, an offline wallet used for storing Bitcoins, which more readily protects the wallet from unauthorized access and cyber hacks.
Do Canada's Liberal Regulators Anticipate Global ETF Adoption?
Although the Purpose ETF was the first Bitcoin ETF, it was not the only one for long. On February 19, the Evolve Bitcoin ETF began trading on the TSX under the ticker symbol EBIT. Like the Purpose ETF, the Evolve Bitcoin ETF is backed by physical bitcoin and is eligible for registered accounts.
A senior analyst at Bloomberg, Eric Balchunas, said he believes the fund in Canada is a "good sign" for a U.S.-sanctioned bitcoin ETF. If and when, the U.S. sanctions a Bitcoin ETF, "growth could be explosive", notes the Financial Post.
These ETFs would seem to indicate that cryptocurrencies will not simply be a digital fever that passes as quickly as it came on. We might instead, see Bitcoin become an enduring store of wealth and a useful hedge against currency inflation and instability. "Might" is the key qualifier here. It is certainly an interesting moment for crypto, with Canada leading the charge.
Canadian Regulators Approve World's First Bitcoin ETF for Individual Investors
The content of this article is intended to provide a general guide to the subject matter. Specialist advice should be sought about your specific circumstances.