« En octobre 2019, MT❯3 a hébergé les données de 47 954 432 dossiers, totalisant 18 254 gigaoctets, et traité 55 326 189 dossiers, totalisant 9 225 gigaoctets. »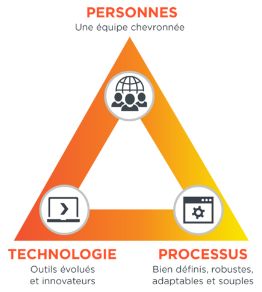 Les leaders de talent savent qu'en cette ère où l'analytique est omniprésente, l'exploitation efficace des données peut réduire les coûts et accélérer la mise sur le marché. MT❯3 favorise le succès de ses clients en tirant parti de l'information numérique juridique et de la technologie pour les aider à gérer efficacement l'administration de la preuve électronique, la gouvernance de l'information et leurs besoins technologiques. MT❯3 se distingue dans le marché par sa capacité à faire parler les chiffres pour comprendre les données et proposer des solutions d'affaires stratégiques à moindre coût. Depuis 2007, l'équipe composée d'avocats plaidants, d'analystes techniques et de gestionnaires de projet offre aux clients des conseils d'experts dans les domaines suivants :
Administration de la preuve électronique :
gestion de toutes les phases de ce processus dans le cadre de litiges complexes, d'enquêtes, de demandes du Bureau de la concurrence et d'autres projets concernant les obligations d'information.
Gouvernance de l'information :
mise en Suvre de solutions qui répondent aux obligations juridiques et réglementaires de votre organisation et à ses besoins en matière de gestion des risques.
Contrôle préalable :
utilisation avantageuse des technologies les plus récentes pour examiner et analyser les contrats, produire des résumés de contrat et faciliter la préparation des annexes sur l'information à fournir.
Examen géré des documents :
gestion de l'examen des documents au cSur des litiges, des enquêtes, des demandes, des cas de conformité réglementaire et d'autres dossiers.
To view original article, please click here.
The content of this article is intended to provide a general guide to the subject matter. Specialist advice should be sought about your specific circumstances.