The Australian Prudential Regulation Authority ("APRA") has recently released its latest quarterly property exposure data for domestic and foreign Authorised Deposit-taking Institutions ("ADI's").
Key takeaways...
Overall exposure to property
September data reflects the first contraction in residential investor exposure since 2008.
Total exposure to all property grew by just over 2.0% for the quarter and 8.7% for the year.
Growth in overall exposure was consistent with the June quarter, albeit now equally driven by residential and commercial lending.
Commercial sector
Exposure to mainstream commercial asset classes increased during the quarter, more than offsetting last quarter's decline.
Office and retail property exposure hit new peaks this quarter, with industrial exposure continuing to fluctuate just below previous peak exposure.
Commercial exposure is now within 3.5% of the previous peak exposure in March 2009.
Growth in exposure to subdivisional land slowed significantly to 2.0%, from 9.2% for the June quarter. However, lending on other residential developments expanded significantly, reflecting just under 20% growth year-on-year.
Exposure to tourism property declined markedly (-8.4%).
Despite impairments reducing by $1.3 billion over the past 12 months, the proportion of impairments was stable at 0.6% of total commercial exposure.
Specific provisioning for impairments remains historically high (but decreasing) at approximately 33%.
Residential sector
The number of loans held and total exposure to the residential sector continues to increase.
Recent measures to dampen growth in investor loans have started to bite, with exposure contracting by -0.6%.
Year-on-year growth in investor loan exposure also dropped from 18.6% to 9.1% from the June to September quarters.
Exposure to owner-occupiers still dominates at 62% of overall exposure, expanding slightly.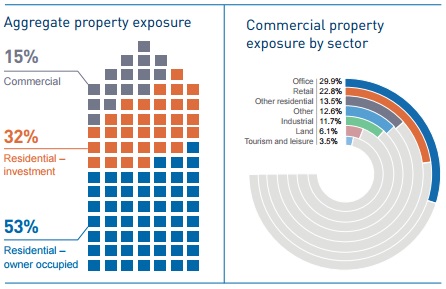 Change in property exposure by sector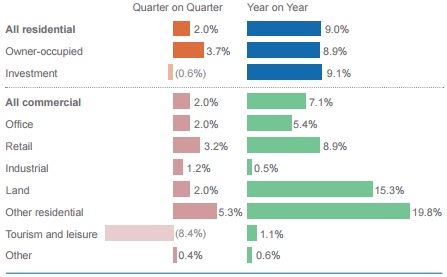 Property exposure by lender group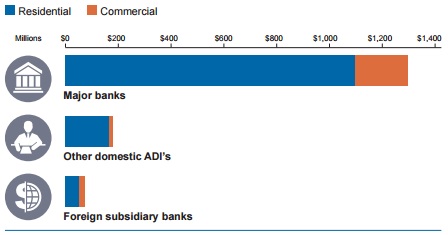 Aggregate residential property exposure by type
New residential loans approved per quarter by LVR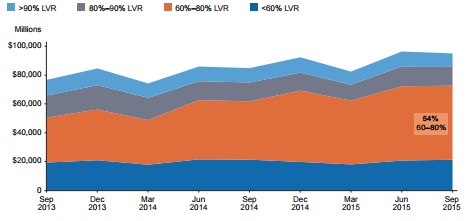 Commercial property exposure by sector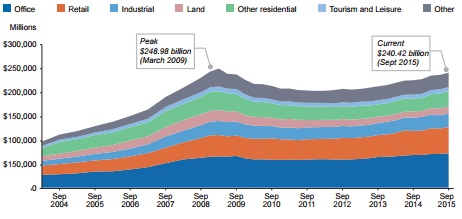 Commercial property impairment
The content of this article is intended to provide a general guide to the subject matter. Specialist advice should be sought about your specific circumstances.