For the second consecutive year, Crowe MacKay Kelowna has won Best Accounting Firm in Kelowna by the Best of Kelowna. Crowe MacKay Partner, Lynn Wong, is also this year's winner of Best Accountant in Kelowna. Driven by our core values We Care. We Share. We Invest. We Grow. our Kelowna office is proud to be recognized by for the lasting value they provide their staff, clients, and community.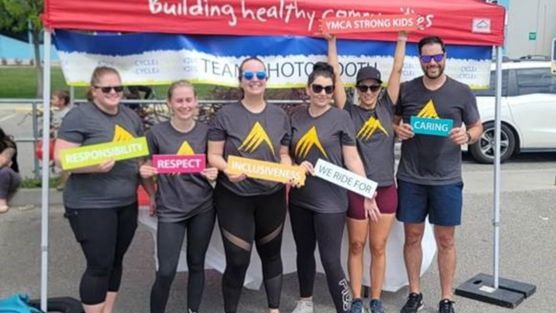 2022 Cycle for Strong Kids
We're better when we work together
We value our people and are invested in their success and growth. From training, professional development opportunities, new technologies, and team-centric events, staff are given the tools to grow their careers at Crowe. "We care about our team and have created a culture of continuous improvement to help everyone reach their full potential," says Dave Gautier, Kelowna's Managing Director.
Exceptional service at every point of the talent pipeline
Within her 23 years at the firm, Lynn Wong has seen tremendous growth in the Kelowna office, increasing from an office of 20 team members to 85. "We continue to make culture and client service a top priority," Lynn shares, seeing this as the top reason for their growth and success. The Kelowna team is engaged at all levels, a foundational strengthen, Lynn says, in providing excellent service.
Nicole Kirubi, Associate in Kelowna, echoes Lynn, sharing that their "team works together, utilizing each staff members individual skills and strengths to allow [them] to provide exceptional client service."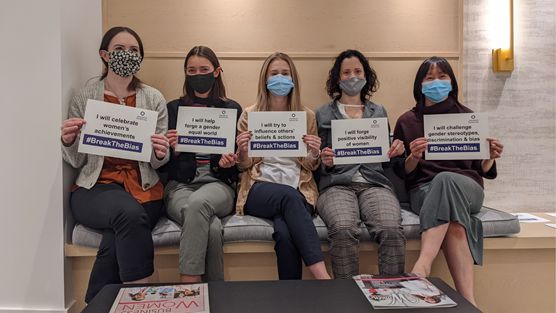 International Women's Day 2022
Living our values
It's through unpredictable times that the fundamentals of a business are challenged, and as we emerge from the COVID-19 pandemic we are proud to say our firm continues to live and lead by our core values.
At the face of the pandemic, new business challenges arose. To best support their community, the Kelowna office became hyper-focused on their purpose, and their purpose was their clients. "This clarity allowed us to be prepared to respond quickly and assist clients to navigate new and existing government problems," says Dave.
To ensure clients received the care they needed, the Partners also looked internally and prioritized the well-being of their team. "Our Partners live and breathe our core values," says Moe Rynard, Human Resources Manger in Kelowna, "and were committed to keeping all staff employed during this difficult period of time." During a time of instability, leadership exemplified the meaning of caring for and investing in their people.
2022 CAN Ride for Autism
Connecting with Community
The Crowe MacKay Kelowna office is committed to our core values We Care. We Share. We Invest. We Grow. and giving back to the community they live and serve. "Whether within our firm or within our community, we are proud that these values are at the forefront of everything we do," Lynn says. "I believe that this has an impact on why we have been awarded this honour."
The office "thinks local," Dave shares, allowing them "to work and give back in ways that have the biggest impact to the Kelowna community." For over two decades, the office has supported the United Way through monetary donations and event participation.
Only six months into 2022 and Crowe MacKay Kelowna has raised over $21,000, supporting dozens of community organizations including:
We are firm believers in supporting our clients and other local business whenever we can and always strive to give back to our community in a variety of meaningful ways.
Moe Rynard
With care being so deeply rooted in our corporate culture, we hope to inspire our teams to lead with care and kindness.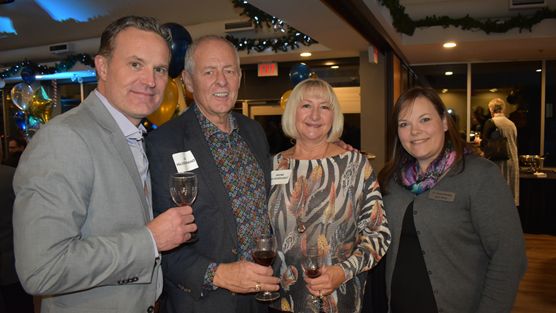 Client Business Appreciation Night - Lynn Wong (far right)
Best Accountant in Kelowna
Lynn Wong is the winner of this year's Best Accountant in Kelowna by Best of Kelowna. She started at Crowe MacKay in 1998, growing from an articling student to Partner. Driven by the opportunity to contribute, she finds fulfillment in her career when she can assist her clients or mentor future leaders. "It's rewarding to feel that you've helped someone grow to reach their goals," Lynn shares.
As a trusted advisor to her clients, she creates more than just business relationships and is always able to provide her clients with exceptional service. "She has a great sense of humour and connects personally and professionally to support her clients business growth and operational goals," says Moe. "She has an innate ability to understand her clients business beyond just their accounting and assurance needs."
Crowe MacKay's trusted advisors provide clients with the guidance to make smart decisions that create lasting value for both their business and their employees. They are accountants who are invested in more than just the bottom line, viewing their clients' business like their own; understanding the true value of creating lasting relationships.
The Best of Kelowna is an annual celebration recognizing individuals, families, and businesses, where the community nominates and then votes on those they believe to be the Best of Kelowna.
About Crowe MacKay LLP
Serving northern and western Canada for over 50 years, Crowe MacKay LLP is one of the leading accounting and advisory firms in the country. With a team of 400 across eight offices, we are a vibrant team of trusted advisors. We believe strong relationships are the cornerstone to success and strive to create innovative solutions for our clients in both private and public sectors. We have a passion for quality in the services we deliver to our community and clients from a wide range of industries. A firm focused on people first, Crowe MacKay's corporate culture is built on maximizing potential for clients and staff. Our belief is that we are truly our best when we invest in our people and communities. Committed to showing we care about the people we serve through our work and actions, we strive to make a difference in the regions we serve.
About Crowe Global
One of the top 10 accounting networks in the world, Crowe Global has over 200 independent accounting and advisory firms in more than 145 countries. For over 100 years, Crowe has made smart decisions for multinational clients working across borders. Our leaders work with governments, regulatory bodies, and industry groups to shape the future of the profession worldwide. Their exceptional knowledge of business, local laws, and customs provide lasting value to clients undertaking international projects. At Crowe, the professionals all share one commitment, to deliver excellence.