Hi friends,
Our 2019 TCPA Year-End Review is here!
As has been my tradition, I start each year with a review of all the TCPA cases that were decided the previous year, and 2020 will be no different – although this review is a little later than I would have preferred. Sorry for the delay!
Google Scholar tells me there were more than 800 TCPA decisions handed down in 2019. And it was an absolute barnburner for TCPA developments, with huge developments coming out of Congress, as well as from the courts. While most assumed that the FCC would have taken decisive action on the TCPA in the nearly two years since ACA Int'l was handed down, 2019 witnessed more or less complete TCPA silence from the Commission – although the FCC did introduce default call blocking, which should have a huge impact on the number of robocalls received by the average American (even if the rule does threaten to block a large number of legitimate calls in the process).
The 2019 TCPA Year-End Review is my biggest yet – more than 200 cases are reviewed, categorized and broken down for your convenience. As always, the review is completely free. (Who does that?) You just have to ask me for it – no consumer lawyers are allowed.
Of course, you already know about the biggest TCPA-related news of 2019 – the launch of TCPAWorld.com! What a tremendous success. The site already has more followers than my former site – I cannot even remember the name of it anymore – and the Unprecedented podcast has had huge guests and developed a huge following as a result.
Indeed, TCPAWorld.com has seen more than 135,000 hits, and it has not even been up a year yet. Wow!
I am proud that the firm has invested the resources to create the internet's premier source for TCPA-related news and views – and oh so much content! (The 2019 TCPA Year-End Review includes hyperlinks with references to appropriate TCPAWorld articles wherever possible – for those reading this in print form, feel free to search TCPAWorld for the name of the case and you can find the article easily enough.)
But enough about that awesome website, you need to get your hands on a copy of this year's review! As always, my year-end review is a labor of love and consumed countless hours over the last few weeks. But I consider it my duty, as the Czar of the TCPA, to read and digest every single case and share my knowledge and analysis with all of you. After all, TCPA defense is all I do – all day, every day for the last 10 years. Eesh – where does the time go?
Here is a sample of last year's review to whet your appetites (this year's review is even beefier – I promise):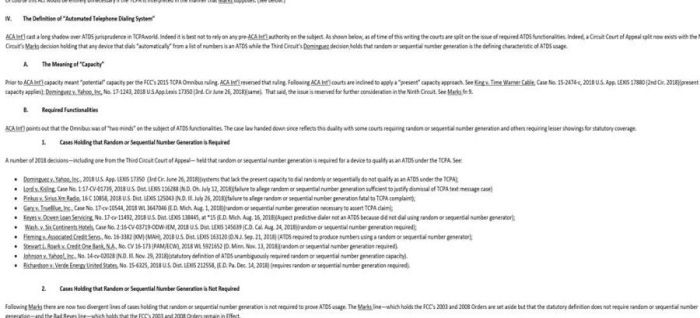 While we always stock TCPAWorld.com with the biggest news, many cases do not merit full blog treatment, but still receive analysis in the year-end review.
Again, I am happy to provide you with the whole review – free of charge, of course. Just reach out and ask for it. This is an extremely valuable resource that no TCPA defense practitioner should be without.
Also, if you are interested in purchasing a copy of my TCPA practice guide – still the nation's only comprehensive TCPA resource – that includes discussion of cases from past years, you can find it online.
Thanks, friends. Chat soon!
The content of this article is intended to provide a general guide to the subject matter. Specialist advice should be sought about your specific circumstances.