3D Printing and Additive Manufacturing
As a general overview, 3D printing involves turning a 3D digital model created on a computer or with a 3D scanner into a physical object, allowing users to make almost anything. Unlike traditional manufacturing, which typically uses subtractive processes, such as cutting, drilling, milling, or grinding, 3D printing is an additive process that fuses materials, layer on layer, with heat, chemicals, light, electron beams, or adhesives. Many different and increasingly complex technologies fall under the umbrella of 3D printing and additive manufacturing. 3D printing is a disruptive technology with far-reaching implications for manufacturers, consumers, and intellectual property owners. While 3D printing technology enables manufacturers to make complex designs, rapid prototypes, and final parts in fundamentally different ways, it also poses some IP protection risks. For example, 3D printing enables almost anyone to recreate any existing product design and make, use, or distribute it without permission from the original creator. Due to the very nature of additive manufacturing, users and makers of 3D printers will encounter emerging issues involving their own patents, trademarks, trade dress, trade secrets, and copyrights, and those of others. Almost anyone who owns rights in product designs, including within the sports and fitness industry, may be affected by 3D printing.
3D Printing Applications in the Sports and Fitness Industry
Within the sports and fitness industry, 3D printing has a rapidly growing range of applications. Many top sports manufacturers have seen 3D printing's potential and are beginning to harness it to their advantage. On the cutting edge, Nike, New Balance, Adidas, and Reebok have all been experimenting with this technology's potential within the footwear subindustry. And these companies, along with others in the industry, have likely opened the door for consumers to be able to customize athletic footwear.1 Reebok's innovative Liquid Speed shoes, shown above, are one example of recent advances in 3D printing as applied to footwear.
Other companies are also leveraging 3D printing technology to provide ultra-customized goods. For example, Zweikampf, an Australian company, provides custom 3D-printed soccer shin guards. GuardLab, Hydra-Guard, and GRiTT 3D have begun producing 3D-printed mouth guards. And Autodesk and Lawrence Livermore National Laboratory are collaborating to begin production of 3D-printed football helmets.
In addition to these uses, the area in which the sports and fitness industry may continue to see extreme amounts of growth is in the design and prototyping stages of production. As a simple example, bicycle manufacturer Trek has begun using CAD software and 3D printers to design and test bracket and gear parts for bicycles. Nike also used rapid 3D printing prototyping to optimize the outsole design of the Nike Zoom Superfly Elite shoe.2 With 3D printing technologies, the ability to quickly and easily design, create, and test products will jump start the innovation process for many sports and fitness industry companies. Moreover, when slight alterations in design are necessary during the innovation process, 3D printing makes modifications on-the-fly simple, quick, and inexpensive.
Because of the breadth of advantages from customization to speed of design and production, 3D printing will likely continue to be an increasingly important technology within the sports and fitness industry.
Projections for Further 3D Printing Growth and Expansion
In sports and across industries globally, 3D printing is predicted to continue to have a significant impact over the coming years. For example, EY presents a global 3D printing report annually that contains interesting market and industry projections. For example, the application of 3D printing within nearly every industry is projected to continue growing.3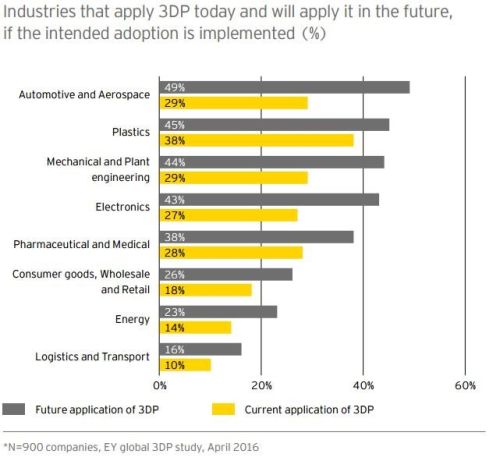 Moreover, according to the 900 companies surveyed for the EY report, 25% believe that implementing 3D printing within their business model would increase competitive advantage.4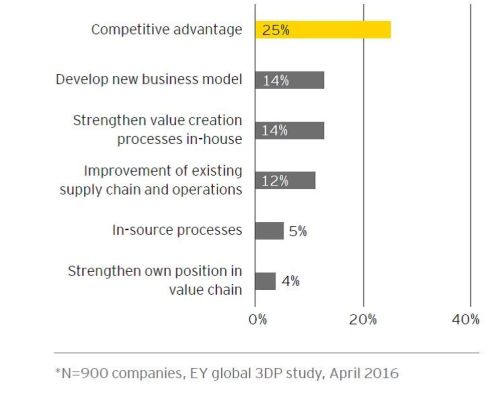 This chart shows the number of publications and issuances by the U.S. Patent and Trademark Office confirms the growth of the 3D printing industry. This graph shows the growth of issued additive manufacturing related ("AM-related") patents since 1995 (blue) and of AM-related published patent applications since 2001 (magenta).5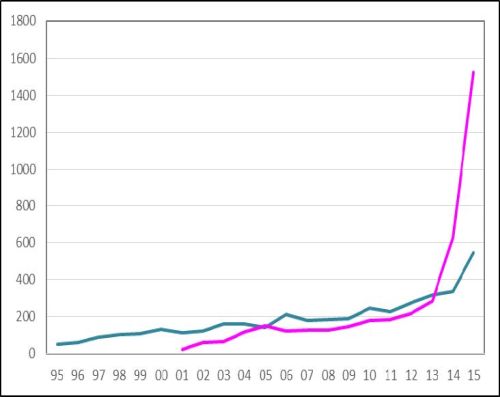 The number of patent applications that issued in 2015 exceeded that of 2014 by 61%, and this increase is expected to continue through the end of 2016 and beyond.6 The following chart shows the figures in tabulated format.7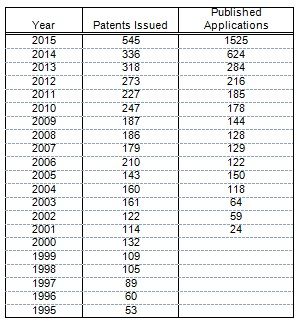 Protecting 3D Printing Innovations
Intellectual property laws and rights exist to incentivize innovation, and this includes 3D printing innovations. Whether building a new style of 3D printer, developing a new printing material, or drafting a new printable design, IP can provide exclusive rights to use ideas and bring them to market.8 There are several distinct forms of IP rights that can be used to protect 3D printing-related ideas:
Utility patents protect the functional aspects of an invention. A utility patent may protect a machine such as a printer or printed device, a new way of making or using a machine, or new 3D printing materials. Utility patents may be available for new, useful, and non-obvious innovations.
Design patents protect how the ornamental features or "look" of a manufactured object. Generally speaking, eligible designs must meet the same requirements as a utility patent (new, useful, non-obvious).
Trademarks protect the brand. If the particular innovation will be sold under a specific name, logo, symbol, or some other means of identifying the source of the product to consumers, this may be eligible for trademark protection. Common law trademark rights may be obtained automatically by selling products under the brand or logo, but federal registration provides additional rights. Generally speaking, in order to receive protection (and to avoid possibilities of liability for infringement), the trademark cannot be used if someone else is using the same or a similar trademark within the same field or industry.
Copyrights protect the original expression of an idea, but not the underlying idea itself. Copyright protection is broad, and may cover 3D blueprints, marketing materials and advertisements, artwork, and computer software. Like trademarks, copyrights are created automatically when an idea is expressed in a tangible form, but registration with the federal government provides additional rights.
Trade secrets are information kept sufficiently confidential so as to provide some form of economic value. Trade secrets are not registered and depend on maintaining secrecy. Thus, protection of the invention or idea is maintained only so long as the secret is protected, but companies must also take steps to properly identify and label trade secrets.
Creating a comprehensive protection plan that covers all aspects of the innovation takes careful planning, strategy, and forethought. It is unlikely that a single method will be sufficient, as most innovations have technical and marketing aspects, which lend themselves to patent and trade secret protection for the technology itself along with copyright and trademark protection for any surrounding literature, brand identity, or marketing plans and materials.
Patent Protection for 3D Innovations
Regarding patent protection for 3D printing innovations, there are generally three different classifications: (1) process for manufacture (e.g., methods of 3D printing); (2) machines for manufacture (e.g., the 3D printers themselves); and (3) the item of manufacture (e.g., the 3D printed product). Each category lends itself to particular strategies for seeking patent protection.
As discussed above, there are two relevant categories of patents, design patents (or patents that cover ornamental features of useful objections) and utility patents (or patents that cover the apparatus and functionality of a machine or manufacture). In utility patents inventions may be defined in variety of ways, including using different claiming schemes, including method claims and apparatus claims, which are most common.
For example, innovations relating to processes for manufacture lend themselves to method claims within utility patents. Machines for manufacture, however, may lend themselves to multiple styles of patent protection. Although the machine itself could be protected by an apparatus claim, the machine may perform a particular process or method, opening up the possibility for multiple styles of protections. Moreover, if the machine has ornamental features, particular aspects of the machine may also be eligible for design patent protection.
Similarly, items of manufacture, in this case 3D printed products, may be eligible for both apparatus claim protection within a utility patent as well as design patent protection. As mentioned in the previous sections, shoes are one area of the sports industry where 3D printing is becoming prominent. Ornamental footwear designs may involve innovative designs best protected with design patents.
Thus, although many different forms of IP protection are available for innovation generally, numerous strategies exist within the specific class of patents to provide unique structures for ensuring the strongest and most complete protection for all aspects of innovation.
Enforcing Protection of 3D Innovations - A Future of Litigation
As discussed, there has been a drastic increase in 3D printing patent application filings and allowances in recent years. Although litigation within the 3D printing industry has not yet made headlines, the issue is beginning to show up in the court system.
In one well-known case, Memjet, a small San Diego based printing company, sued Hewlett-Packard in 2015, alleging infringement of eight different patents relating to page-wide printing technologies.9 Although Memjet's patents were directed to 2D printing techniques, it accused HP's anticipated full-color Multi Jet Fusion 3D Printer of infringing Memjet's patents. The case eventually settled under confidential terms. However, it serves as an interesting example for how 2D and 3D printing technologies may overlap within the patent realm.
In another case brought in September 2016, EnvisionTEC, a Michigan-based 3D printer manufacturer filed a lawsuit accusing Formlabs, a former MIT start-up, of infringing two patents based on their stereolithography 3D printers.10 This lawsuit is still pending. Interestingly, although formed in 2011, Formlabs has already faced two lawsuits for alleged patent infringement. In addition to the lawsuit filed by EnvisionTEC, Formlabs was sued by 3D Systems in 2012.11 That lawsuit was later settled and the terms of the settlement are confidential.
Thus, although lawsuits on 3D printing are not yet vast in number, the area promises to be hotly contested and vigorously defended. This contentiousness is expected, based on the sheer volume of companies entering the 3D printing space and the far-reaching impact 3D printing will have on nearly all areas of the consumer product and industrial manufacturing markets. Therefore, the number of lawsuits surrounding this technology is likely to increase, particularly in light of the increasing number of patent applications being filed and examined and the increasing number of patents being allowed by the Patent Office each year.
Conclusion
3D printing has become a part of modern innovation, including within the sports and fitness industry, and its use and importance will only continue to grow and gain influence. For a company seeking to utilize 3D printing within its business model, IP protection is one of many aspects that should be considered and implemented by all companies as part of their overall innovation and business plan.
Footnotes
1 See also, Daniel Burrus, 3D Printed Shoes: A Step in the Right Direction, Wired (Sept. 2014), available at https://www.wired.com/insights/2014/09/3d-printed-shoes, (last viewed Dec. 8 2016).
2 See Margaret Rhodes, Check Out Nike's Crazy New Machine-Designed Track Shoe (July 20, 2016), available at http://www.wired.com/2016/07/check-nikes-crazy-new-machine-designed-track-shoe/, (last viewed Dec. 8, 2016).
3 Global 3D Printing Report, EY, at 19 (2016) available at http://www.ey.com/Publication/vwLUAssets/ey-global-3d-printing-report-2016-full-report/%24FILE/ey-global-3d-printing-report-2016-full-report.pdf, (last viewed Dec. 8 2016).
4 Id. at 29.
5 Wohlers Report: 3D Printing and Additive Manufacturing State of the Industry Annual Worldwide Progress Report (Fort Collins, CO: Wohlers Associates, 2016), pp. 237-29.
6 Id.
7 Id.
8 See also Elizabeth Ferrill, Daniel Klodowski, & John Hornick, 3D Printing: What Can IP Rights Do For You?, Wired, Innovation Inisghts (Aug. 15, 2014), available at http://insights.wired.com/profiles/blogs/3d-printing-what-can-ip-rights-do-for-you#axzz4SGMJ2Fxy, (last viewed Dec. 8, 2016).
9 Memjet Tech. Ltd. v. Hewlett-Packard Co., No. 3-15-cd-01769 (S.D. Cal., Aug. 11, 2015).
10 EnvisionTEC, Inc. v. Formlabs, Inc., No. 2-16-cv-06812 (N.D. Cal., Sept. 12, 2016).
11 3D Systems, Inc. v. Formlabs, Inc., No. 1-13-cv-07973 (S.D. N.Y. Nov. 8, 2013). 
Originally printed in Sports & Fitness Industry Association Innovative Insights Report on April 25, 2017.
The content of this article is intended to provide a general guide to the subject matter. Specialist advice should be sought about your specific circumstances.