Keywords: FERC, gas export, Mexican border,
On November 8, 2013, the US Federal Energy Regulatory Commission (FERC) issued a Presidential Permit and Granting Authorization* (under Section 3 of the Natural Gas Act) allowing NET Mexico Pipeline Partners, LLC (NET Mexico), a subsidiary of Houston-based NET Midstream, to build a natural gas export facility with 2.1 billion cubic feet per day (Bcf/d) capacity at the US-Mexico border.
According to the FERC order, the export facility will be linked to a 120-mile, 42-inch diameter intrastate pipeline that NET Mexico is planning to build from the Agua Dulce Hub in Nueces County, Texas, to the export facility. The export facility would then deliver gas to Mexico's Los Ramones Pipeline, which has yet to be built.
The FERC order adds that the export facility was "necessary to meet the expanding fuel demand for power generation and industrial activity in Mexico" and to promote North American trade.
Mexico is a net importer of natural gas, mostly via pipeline from the United States. Its natural gas demand is rising due to greater use of the fuel for power generation. According to the US Energy Information Administration (EIA), US natural gas exports to Mexico grew by 24 percent to 1.69 Bcf/d in 2012, the highest level recorded (see graph below). Natural gas flows from US pipelines accounted for about 80 percent of Mexico's overall natural gas imports in 2012.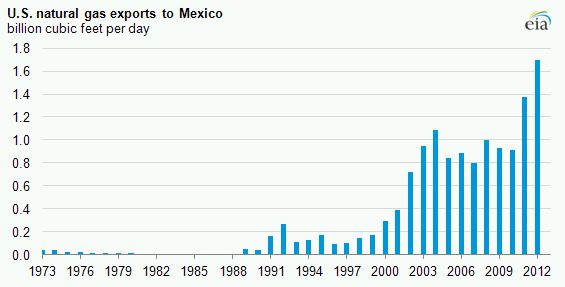 Source: US Energy Information Administration (March 13, 2013). See: "U.S. natural gas exports to Mexico reach record high in 2012"
*See November 8, 2013 FERC order: http://www.ferc.gov/CalendarFiles/20131108125728-CP13-482-000.pdf
Originally published November 18, 2013
Learn more about Mexico Energy Reform and Mayer Brown's Energy practice.
Visit us at mayerbrown.com
Mayer Brown is a global legal services provider comprising legal practices that are separate entities (the "Mayer Brown Practices"). The Mayer Brown Practices are: Mayer Brown LLP and Mayer Brown Europe – Brussels LLP, both limited liability partnerships established in Illinois USA; Mayer Brown International LLP, a limited liability partnership incorporated in England and Wales (authorized and regulated by the Solicitors Regulation Authority and registered in England and Wales number OC 303359); Mayer Brown, a SELAS established in France; Mayer Brown JSM, a Hong Kong partnership and its associated entities in Asia; and Tauil & Chequer Advogados, a Brazilian law partnership with which Mayer Brown is associated. "Mayer Brown" and the Mayer Brown logo are the trademarks of the Mayer Brown Practices in their respective jurisdictions.
© Copyright 2013. The Mayer Brown Practices. All rights reserved.
This Mayer Brown article provides information and comments on legal issues and developments of interest. The foregoing is not a comprehensive treatment of the subject matter covered and is not intended to provide legal advice. Readers should seek specific legal advice before taking any action with respect to the matters discussed herein.