The S&P Healthcare Services index increased by 11.4% over the last month, as compared to S&P 500, which increased 8.8% over the same period.
Over the past month, the best performing sectors were Assisted / Independent Living (up 20.0%), Providers – Other (up 16.5%) and Care Management / TPA (up 16.5%). The sectors experiencing least growth were Healthcare Consulting (up 1.2%), Pharmacy Management (up 5.9%) and Rehabilitation (up 6.2%).
The current average LTM revenue and LTM EBITDA multiples for the Healthcare Services industry overall are 2.21x and 14.4x respectively.
The sectors with the highest valuation multiples include:
HCIT (4.20x LTM Revenue, 34.6x LTM EBITDA)
Hospital Vendors (1.71x LTM Revenue, 19.8x LTM EBITDA)
Pharmacy Management (0.89x LTM Revenue, 19.0x LTM EBITDA)
Care Management / TPA (1.81x LTM Revenue, 19.3x LTM EBITDA)
Read the report for more detail on sector activity.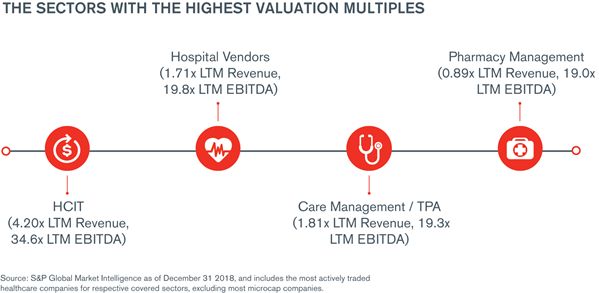 Download: Healthcare Services Sector Update – January 2019.pdf (0.2) MB
The content of this article is intended to provide a general guide to the subject matter. Specialist advice should be sought about your specific circumstances.