Readers of our blog know that we are following a very interesting case in San Francisco Superior Court where Barrett Business Services, Inc. ("BBSI") has sued Oracle for fraud, breach of contract and related claims arising out of a failed ERP installation. One aspect of the case that we have really not blogged on concerns the side litigation involving Key Equipment Finance ("KEF"), arising out of the financing of the ERP deal. Although KEF first brought its Complaint in federal court in Washington, the court there granted BBSI's motion to dismiss on forum non conveniens grounds and KEF refiled in the San Francisco action involving BBSI and Oracle. When BBSI cross-complained saying that it should not need to pay OCC and its assignee KEF on the financing contract due to Oracle's fraud and failure to perform, KEF attacked BBSI's cross-complaint by filing a demurrer (similar to a motion to dismiss in federal court). KEF essentially claimed that as a holder in due course of the assignment, under California law "come hell or high water" BBSI would still need to pay the debt. Last week Judge Ulmer of San Francisco Superior Court overruled the demurrer saying that KEF's status as a holder in due course under California law is a question of fact that could not be decided on demurrer. According to Judge Ulmer's Order: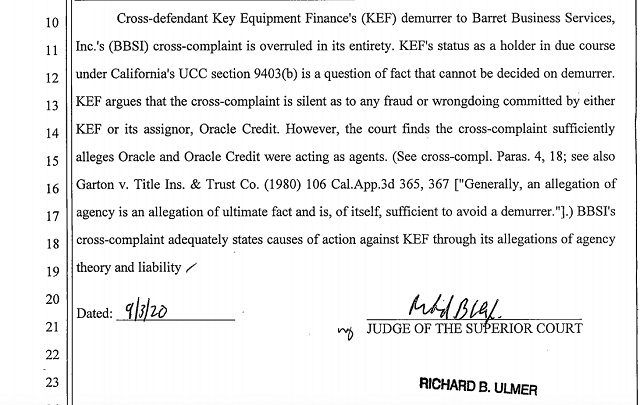 The dispute between KEF and BBSI arose as follows. The ERP contract between BBSI and Oracle was originally financed through an Oracle subsidiary called Oracle Credit Corporation ("OCC"). Sometime after OCC agreed to finance the ERP installation, OCC assigned its rights to receive payment to Key Equipment Finance ("KEF"). Eventually BBSI ceased paying on the financing deal when Oracle failed to deliver the functioning system on time and at the price that it had promised, and KEF brought suit against BBSI to collect the debt arguing that as a holder in due course, BBSI had no right to discontinue payments under the financing contract, even though Oracle did not meet its obligations under the ERP contract. According to KEF's Complaint:
"Rather than paying out-of-pocket, BBSI opted to finance the purchase of the Oracle America software through a contemporaneous, but separately contracted, payment plan offered by Oracle Credit (the "Payment Plan Agreement" and "Payment Schedule"). As noted in the Ordering Document at Paragraph 18, BBSI was not obliged to sign the Payment Plan Agreement and Payment Schedule; but if it did, the payment terms of the Payment Plan Agreement and Payment Schedule would control. In turn, long before any dispute arose between BBSI and Oracle America, in April 2018, Oracle Credit assigned its rights to the Payment Plan Agreement and Payment Schedule to KEF. The Payment Plan Agreement and Payment Schedule are governed by California law."
OCC's assignment of its rights to KEF was not unusual, and OCC seems to be assigning quite a few of these financing deals to third party banking entities. In fact, we have noticed several other assignees of OCC bringing suit recently to collect payments relating to similar financing contracts put together by Oracle and its financing arm, OCC, relating to other Oracle ERP customers. These include several recent suits brought by Banc of America Leasing here in the Bay Area, where we expect that Oracle customers will make similar arguments claiming that they should not have to continue to pay where Oracle either failed to deliver or fraudulently induced the customer into entering into the ERP contract.
Oracle customers who have financed Oracle ERP or other software purchases including Oracle cloud through Oracle's OCC subsidiary should take note. BBSI's opposition to KEF's demurrer does not paint a pretty picture of what Oracle was up to.
"Oracle sought to insulate itself from liability for its misrepresentations through onerous contractual provisions heavily weighted in its favor and then to sever BBSI's monetary obligations from Oracle's performance by causing Oracle Credit to assign the subscription agreement to KEF on April 20, 2018.
It was not until June 2018, after Oracle had firmly locked BBSI into a multi-year, multi- million subscription agreement for the HCM Cloud and an implementation agreement with Cognizant, that it was finally disclosed to BBSI that the HCM Cloud was actually riddled with massive design, functionality, interface, integration and performance gaps; that in order to bridge these yawning gaps, customization and implementation would cost $33 million instead of the $5.41 million quoted and that it would take not 1 year but over 2 years to do so."
Similarly Judge Leighton of the Western District of Washington where KEF had originally filed suit also appeared to recognize the inequities inherent in the Oracle financing deal. In fact in his Order dismissing KEF's complaint on forum non conveniens grounds, Judge Leighton noted that the arrangement most likely failed for lack of consideration. According to the court:
"[t]his clever arrangement seems designed to subdivide the payment and performance aspects of Oracle's agreement with Barrett into different contracts, thus ensuring payment even if Oracle fails to deliver the promised services. The result is a disturbingly imbalanced transaction that preserves OCC's ability to terminate Barrett's rights to the cloud services if it fails to pay but denies Barrett the same opportunity to avoid payment if Oracle breaches. Unfortunately for Oracle, such an arrangement would likely be illusory or lacking in consideration. See 1 WILLISTON ON CONTRACTS § 4:27 (4th ed.) (contracts are illusory where one party can decide for themselves the nature and extent of performance)." Key Equipment Finance v. Barrett Business Services, Inc., NO. 3:19-cv-05122-RBL, 2019 WL 2491893, (W.D of Washington June 14 2019)."
We were pleased to see that BBSI's cross-complaint against KEF will go forward, and at least so far Oracle's "clever arrangement" designed to guarantee payment even where it failed to deliver what it promised, may yet be reviewed by a court.
We will continue to monitor the case, which is Barrett Business Services, Inc. v. Oracle America, Inc. and Cognizant, San Francisco Superior Court, CGC-19-572474 and related cross-claims.
The content of this article is intended to provide a general guide to the subject matter. Specialist advice should be sought about your specific circumstances.