Introduction
We are delighted to present the findings from the second FTI Consulting Special Situations Investor Survey and share our own thoughts on distressed deal activity for the year ahead. The survey, which was conducted in December 2022, aggregates the views of UK-based investors focused primarily on alternative investments in the lower to upper mid-market with a typical equity cheque size ranging from £10 million to £100 million per transaction.
Key themes from this year's survey:
The majority of investors (65%) saw an increase in special situations investment opportunities in 2022, with this pickup in activity coming through in the second half of the year.
Despite this increase, the number of transactions completed was below expectations, with the quality and/or size of the opportunities commonly cited as the reasons for not pursuing or closing deals.
The most active sectors in 2022 were retail (22%), consumer goods (19%), automotive (13%) and industrials (10%). Investors expect this theme to continue in 2023 given the specific challenges faced by these industries.
80% of respondents expect to deploy more capital in 2023 compared to 2022, given their expectation that both the quality and quantum of special situations investment opportunities will improve.
Compared to accelerated M&A ("AMA") opportunities, the corporate carve-out market was a more fruitful hunting ground for special situations investors in 2022. The expected rise in AMA processes this year suggests this trend could reverse in 2023.
"Given the headwinds facing UK corporates, I think we are heading for a period of increased activity in the special situations M&A market that will cover (1) company rescues where a transaction needs to be delivered ahead of a pending liquidity event (2) large corporates seeking to exit non-core divisions, and (3) sale processes conducted to benchmark value to support a financial restructuring. Whilst I don't think it will be the tsunami of mandates that some have previously predicted, I believe special situations M&A will be a trend for the coming years and turnaround investors will play a vital role.
I hope you find the report insightful and would like to thank the significant number of investors who responded to the survey."
Ben Hughes, Senior Managing Director
2022 in Review
Despite a gradual pickup in Special Situations M&A (SSM&A) activity in the second half of 2022 and some notable transactions throughout the year, the wave of opportunities that had been predicted to come to market since the onset of the pandemic is still yet to materialise.
A key takeaway from our inaugural Special Situations Investor Survey from 12 months ago was that almost 90% of respondents expected SSM&A activity to increase over the course of 2022. The reasons given for the expected increase in activity were (1) 2021 being a soft comparator as it was a quiet SSM&A market and (2) the challenges faced by UK corporates primarily, disrupted supply chains, the unwind of government support measures, inflationary pressures, and record levels of corporate and government debt.
Whilst the 90% were correct in that 2022 would present multiple challenges to UK companies, few if indeed any respondents would have predicted what was to follow, including:
Russia's invasion of Ukraine and the knock-on effects, including skyrocketing energy costs and wide ranging sanctions;
three UK prime ministers in two months;
a mini-budget that damaged investor sentiment towards the UK, plunged the GBP to a low of 1.035 against the USD1 and spooked the gilt yield markets to the point where the Bank of England intervened to prevent a market meltdown;
private and public workers across the UK stepping up pressure over pay rises with co-ordinated strikes across a range of industries (417,000 days of work were lost in October 2022 alone2); and
the bank rate increasing from 0.25% in December 2021 to 3.5% in December 2022 across eight separate rate rises.1
Figure 1 - Number of Administrations by Month4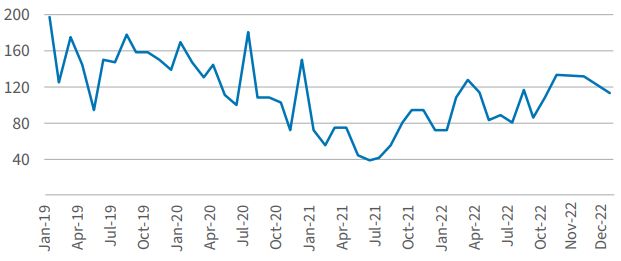 As the financial shockwaves of these events started to be felt by UK corporates, restructuring activity picked up, and the number of companies entering administration began an upward trend from August 2022, albeit notably still c.30% lower compared to the same period in 2019.4
With the volume of administrations being a fair proxy for SSM&A activity, this rising trend supports the results of our survey. 65% of investors reported that the total quantum of opportunities in 2022 was higher than in 2021, with 71% of these respondents seeing an increase in the latter stages of 2022.
Whilst special situations investors were encouraged by an increase in activity, a number of opportunities brought to market (particularly for those investors with limited appetite for retail) were deemed either too small and/or past the point at which a successful turnaround could be achieved. This is reinforced by analysis of the investment activity of 45 turnaround funds, which shows a 30% decline in the number of transactions completed in 2022 compared with 2021.5
Click here to continue reading . . .
Footnotes
1. Markets Insider, September 2022: https://markets.businessinsider.com/news/currencies/pound-dollar-tax-cuts-inflation-recession-stagflation-interest-rates-hikes-2022-9
2. Sky News, January 2023: https://news.sky.com/story/more-than-a-million-work-days-lost-to-strike-action-in-2022-12775946#
3. Reuters, December 2022: https://www.reuters.com/world/uk/view-bank-england-delivers-8th-final-rate-hike-2022-2022-12-15/
4. Gov.uk, November 2022: https://www.gov.uk/government/statistics/monthly-insolvency-statistics-november-2022
5. Office for Budget Responsibility, November 2022: https://obr.uk/box/the-outlook-for-household-income-and-consumption/
The content of this article is intended to provide a general guide to the subject matter. Specialist advice should be sought about your specific circumstances.