Geçtiğimiz haftalarda Avrupa Komisyonu, General Electric'e 52 milyon Avro para cezası verdi. Cezanın sebebi ise General Electric'in LM Wind'i devralması işleminde Komisyon'a sunduğu bilgilerin yanıltıcı nitelikte görülmesiydi. Türünün ikinci örneği olan bu ceza, Avrupa'da yanıltıcı bilgiye toleransın düşüşüne işaret edebilir.
Bir piyasada hâkim durum yaratmaya ya da mevcut bir hâkim durumu güçlendirmeye yönelik olan birleşme ve devralmaların yasak olduğunu biliyoruz. Ancak bir birleşme veya devralma işleminin bahse konu piyasada nasıl bir etki doğuracağına ilişkin değerlendirmenin eksiksiz yapılabilmesi, işlemi inceleyecek rekabet otoritesinin doğru ve eksiksiz bilgilendirilmiş olmasını gerektirir. İşlem hakkında eksik bilgi sahibi bir rekabet otoritesinin de kendinden beklenen etkinliği sağlaması mümkün olmaz. Bu kapsamda tüm modern rekabet hukuku düzenlemelerinde doğrudan ya da dolaylı olarak rekabet otoritelerinin tam bilgilendirmelerini sağlayacak enstrümanlar yer alır. Bunlardan en yaygını ise rekabet otoritelerine eksik ya da yanlış bilgi sunulması durumunda uygulanacak idari para cezalarıdır.
Ülkemiz uygulamasında Rekabet Kanunu'na göre birleşme ve devralma işlemlerine ilişkin izin başvurularında yanlış ya da yanıltıcı bilgi verilmesi durumunda teşebbüslerin cirolarının %0,1'i oranında bir idari para cezası tutarı belirlenmişken AB 2004 Birleşme Düzenlemesi'nde bu oran, %1 gibi oldukça yüksek bir oran olarak karşımıza çıkmaktadır. Geçtiğimiz günlerde de Avrupa Komisyonu bu cezayı General Electric'in LM Wind'i devralma işleminde uygulamıştır. General Electric'e verilen bu ceza 2004 Birleşme Düzenlemesi'nin yürürlükte olduğu yaklaşık 15 yıllık dönemdeki ikinci para cezasıdır. 2004 Birleşme Düzenlemesi'ne dayalı yanıltıcı bilgi cezası ilk defa Facebook'un WhatsApp'i devralması işleminde verilmişti. Türk Rekabet Hukuku pratiğinde birleşme ve devralma izin başvurularında yanıltıcı bilgiye dayalı idari para cezası uygulanmasını Avrupa'daki kadar olmasa da yine de az görüyoruz. Öte yandan yanıltıcı bilgiye dayalı verilen idari para cezaları genellikle rekabet ihlallerine yönelik soruşturmalarda karşımıza çıkıyor.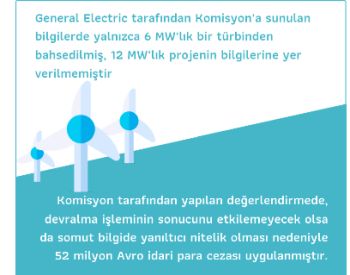 Avrupa Komisyonu'nun General Electric'e kesmiş olduğu cezanın gerekçeleri, konuya ilerleyen süreçte nasıl yaklaşılacağı yönünde bir öngörü edinmek açısından oldukça kıymetli. General Electric 2017 yılının başında LM Wind adlı şirketi devralmak amacıyla Avrupa Komisyonu'na başvurmuştu. Yapılan başvurunun ilk safhasında General Electric tarafından Komisyon'a sunulan bilgilerde; deniz üstü rüzgâr türbinlerinden üretiminin hâlihazırda kurulu olan 6 MW'lık santral ile sınırlı olduğu ve bunun dışında bu alanda mevcut ya da planlanan bir üretimin bulunmadığı bildirilmişti. Komisyon tarafından ilgili piyasadaki diğer oyuncularla yapılan görüşmelerde ise General Electric'in bahse konu mevcut 6 MW'lık üretim santrali dışında 12 MW'lık geleceğe yönelik bir projesinin daha olduğu öğrenildi. Bunun üzerine başvurusunu geri çekip revize ettikten sonra yeniden Komisyon'a sunan General Electric'in LM Wind'i devralma işlemine Avrupa Komisyonu'nca izin verildi. Ancak sunulan bilginin yanıltıcı içerikte olduğu konusunun peşini bırakmayan Komisyon, yanıltıcı bilgiye dayalı ayrı bir değerlendirme yaparak konuyu karara bağladı. Komisyon, 6 MW'lık mevcut üretim kapasitesinin yanında 12 MW'lık planlanan proje hakkında bilgi verilmemesini yanıltıcı bilgi kapsamında değerlendirdi ve General Electric'e 52 milyon Avro para cezası kesti. Komisyon tarafından yapılan açıklamada bahse konu devralma işleminin akıbetinin bu ceza kararından etkilenmeyeceği ayrıca belirtildi.
Komisyon'un bu devralma işlemine izin kararının da yanıltıcı bilgi değerlendirmesi açısından önemli olduğu kanaatindeyiz. Zira devralma işlemi kararını etkilemeyecek düzeyde bir yanlış veya eksik bilgi sunumunun bu derece ağır bir para cezası ile karşılaşmama ihtimalinin daha yüksek olması beklenir. Türbin üreten General Electric'in türbin kanadı üretimi faaliyetleri yürüten LM Wind'i devralması işlemine Komisyon tarafından verilen izinde, bahse konu devralmanın üst pazarda ve alt pazarda rekabetçi sorunlara yol açmayacağı değerlendirildi. Komisyon tarafından üst pazarda LM Wind dışındaki kanat üreticilerinin pek çok farklı türbin üreticisine erişiminin devam edeceği, alt pazarda ise türbin üreticisi güçlü rakiplerin LM Wind kanatlarına bağlı olmadıkları ve farklı kanat üreticileri ile çalışabilecekleri değerlendirilmiştir. Yanıltıcı bilgiye dayalı para cezasının temelindeki deniz üstü rüzgâr türbini üretim kapasitesi bilgisi ise burada üst pazarda ve alt pazarda rekabetin düzeyi ile oyuncuların rekabet güçlerinin tespiti bakımından önem arz edebilecektir. Bununla birlikte, işleme izin verilmesinden de görüldüğü üzere bu bilgi yanlışlığı işlemin akıbetini etkileyebilecek düzeyde değildir. Bu noktada, Komisyon'un yanıltıcı bilgiye dayalı yaptırımlar konusunda daha katı ve ilkesel bir tutum almaya başladığı söylenebilir. Nitekim General Electric'e verilen cezayı değerlendirirken yaptığı açıklamada Komisyon üyesi Margrethe Vestager de yanıltıcı bilgiye olan yaklaşımlarının ciddi olduğunu belirtti. Avrupa'da Merck'in Sigma Aldrich'i devralma işleminde, yanıltıcı bilgi verildiğine ilişkin devam eden soruşturmanın varlığı da bu tezi doğrular nitelikte.
Bilginin niteliğinin yapılan değerlendirmeye etkisine baktığımızda ise General Electric örneğinde Komisyon'un materyal bir bilginin yanlış sunulmuş olmasına dayalı bir ceza verdiği dikkat çekiyor. Konuyla ilgili Türk Rekabet Hukuku uygulamasına bakıldığında da bu tip somut verilerin yanlış sunulmuş olmasının daha yüksek bir risk barındırdığı Rekabet Kurulu'nun Dow Chemical1, Omya2 ve Tuneks3 kararlarından görülüyor. Öte yandan, Rekabet Kurulu geçmiş tarihli kararlarında yoruma dayalı bilgileri her zaman yanıltıcı bilgi kapsamında değerlendirmemişti. Örneğin, Arçelik'in TP Vision'dan alınacak televizyonların satımına ilişkin muafiyet başvurusunda4, sözleşmenin münhasırlık içermediği bildirilmişti. Bahse konu sözleşmeyi inceleyen Kurul ise sözleşmede açıkça görülebilen münhasırlık hükmünün yer aldığını belirterek bir yanıltıcı bilgi değerlendirmesi yürütmüştü. Neticede münhasırlığın yanlış yorumlandığı ve hükmün de başvuru ekindeki sözleşmeden açıkça görülebilmesi gerekçeleriyle yanıltıcı bilgiye dayalı bir idari para cezası tesis edilmemişti. Rekabet Kurumu'nun Jacobs5 kararında benzer bir durumla karşılaşılmaktadır. Bahse konu kararda Jacobs'un Türkiye iştirakinin %30 payının Kasap Ailesi'ne devredilmesine Rekabet Kurulu'nca izin verilmiş, bununla birlikte Kurul üyelerinden Hasan Hüseyin Ünlü'nün farklı gerekçe yazısı dikkat çekmiştir. Farklı gerekçede Danıştay'ın konuyla ilgili kararlarına da atıf yapılmış; bildirimde Kasap Ailesi'ne devredilecek %30'luk payın kontrol hakkı vermediğinin belirtildiği, bununla birlikte yapılan incelemede Kasap Ailesi'ne devredilecek azlık payının ortak kontrol sağladığı belirtilerek ayrıntılı bir yanıltıcı bilgi incelemesine gidilmesi gerektiği belirtilmiştir.
Bu kapsamda bir noktada rekabet hukuku değerlendirmesi ve yorum içeren hallerde Rekabet Kurulu'nca yanıltıcı bilgiye dayalı ceza verilmeyebileceği ihtimali akla gelebilir. Bununla birlikte, rekabet otoritelerinin her durumda bu yönde ayrıntılı bir düşünsel süreç yürütmeleri ve yanıltıcı bilginin altında yatan saiki sorgulamaları beklenemez. Başvurucu tarafından yoruma muhtaç bir bilginin hatalı sunulması, rekabet otoritesi tarafından doğrudan yanıltıcı bilgi ekseninde değerlendirilebilecektir. Nitekim Avrupa'da Facebook'un WhatsApp'i devralması işlemine dayalı verilen ceza kararının, rekabet hukuku çevrelerinde iş süreçlerine ilişkin bir yorum farklılığı olarak değerlendirilmesi de söz konusudur. Bu kapsamda Avrupa'nın konuya hassasiyetle eğildiği şu dönemde, rekabet otoritelerine sunulacak yoruma dayalı ya da materyal/somut bilgilerde mümkün olan tüm açıklığın sağlanarak bilgilerin iletilmesi eskisinden de önemli bir zorunluluk olarak ortaya çıkmaktadır.
Footnotes
[1] Rekabet Kurulu, 10-24/339-123 sayılı karar
[2] Rekabet Kurulu, 08-62/1017-393 sayılı karar
[3] Rekabet Kurulu, 08-54/847-338 sayılı karar
[4] Rekabet Kurulu, 16-15/243-105 sayılı karar
[5] Rekabet Kurulu, 18-39/632-307 sayılı karar
The content of this article is intended to provide a general guide to the subject matter. Specialist advice should be sought about your specific circumstances.