Kişisel Verileri Koruma Kurulu ("Kurul") tarafından son dönemde uygulamayı yakından ilgilendiren kararlar yayınlandı. Bu yazımızda, Kurul'un, kişisel verilerin güvenliğinin sağlanması ve korunması, Kurul kararlarına uyulması ve aydınlatma yükümlülüğünün yerine getirilmesi ile ilgili olan kararlara ilişkin bilgilendirmemizi bulabilirsiniz.
I. Teknik Servis Hizmeti Veren Veri Sorumlusunun Kurul Kararına Uymaması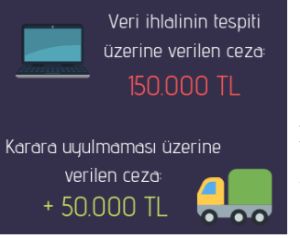 Teknik servis hizmeti veren veri sorumlusu firma hakkında kişisel verileri ihlal ettiği gerekçesi ile Kurul'a gelen ihbar neticesinde, Kurul firmanın internet sitesinde servise bırakılan cihazlar için kişilere verilen sorgu numaralarının son iki hanesinin değiştirilerek başka cihaz sahiplerine ait cihaz kod numaralarına ulaşılabildiğini ve bunu takip eden linklerde ise ilgili kişilere ait kimlik bilgileri ile sahip oldukları cihazlara ilişkin kod numaralarına erişilebildiğini tespit etmişti. Kurul bu tespiti üzerine, veri sorumlusu tarafından söz konusu linklerin kullanımının durdurulmasına ve kişisel verilerin güvenliğine ilişkin gerekli idari ve teknik tedbirleri almaması sebebi ile veri sorumlusu firmanın 150.000 TL idari para cezası ödemesine karar vermişti.1
Kurul'un bu kararının şirkete tebliğinden sonra, Kurul tarafından veri sorumlusu firmanın internet sitesinde yapılan sorgulamada, internet sitesi üzerinden yönlendirilen çeşitli linkler aracılığı ile halen teknik servis hizmeti alan ilgili kişilerin sahip oldukları cihazların kod numaralarına ulaşılabildiği, kargo gönderileri sorgulama linki aracılığı ile firma tarafından ilgili kişilere gönderilen kargoları teslim alan kişilerin ad ve soyad bilgilerine açık bir şekilde erişilebildiği tespit edilmiş olup; veri sorumlusu firmanın Kurul Kararı'na uymadığı tutanağa bağlandı. Bunun üzerine Kurul, Kurul kararına uymama sebebi ile veri sorumlusu firmaya 50.000 TL idari para cezası uygulanmasına ve söz konusu sorgulama sistemine erişimin tamamen engellenmesine karar verdi.2
II. Sadakat kartları hizmet alımına engel mi? 3
Tüketici şikayetleri ve Kurum'a intikal eden ihbarlar sonucunda Kurum bir marketi mercek altına aldı. Şikayetlerde marketin bazı alışveriş/hizmet alımlarında indirim ve puan biriktirme avantajı sağlayan sadakat kartlarının açık rızanın bir ürün veya hizmetin sunulmasına ilişkin koşul olarak ileri sürüldüğü, ihbarlarda ise marketin kart kullanımına ilişkin açık rıza alma esnasında "Veri İzni Alma Uygulaması" adı altında 0,01 TL'lik bir hizmet bedeli alındığı iddia edildi.
Yapılan incelemede, müşterilerin sadakat karta ilişkin açık rıza vermemeleri halinde kendilerine hizmet sunulmaması gibi bir durumun ortaya çıkmadığı, dolayısıyla hizmet veya ürün sunumunun açık rıza şartına bağlanmadığı anlaşıldı. Marketin savunmasından müşterilere çeşitli kanallardan yapılan duyuruların hukuka uygun olmayan şekilde elde edilen kişisel verilere meşruiyet kazandırılması için değil, aksine önceden alınan rızalara ilişkin matbu formdaki bazı eksiklik veya tahrifatların giderilmesi amacıyla alındığı anlaşıldığından konuya ilişkin bir işlem tahsis edilmedi.
"Veri İzni Alma Uygulaması" adı altında alınan hizmet bedelinin ise alışveriş kasalarına kurulan bilgi teknolojileri sisteminden kaynaklanan ve sehven yansıtılan bir bedel olduğu ve söz konusu bedelin müşteri kartlarına aynı tutarda indirim olarak yüklendiği anlaşıldığından, bu hususta da herhangi bir işlem yapılmamasına hükmedildi.
Bu süreçte marketin Üyelik Rıza metni ile Aydınlatma Metni arasında tutarsızlıklar tespit eden Kurul, bu tutarsızlıkların giderilmesine ve Aydınlatma metninin kanunun temel ilkeleri ile Aydınlatma Yükümlülüğünün Yerine Getirilmesinde Uyulacak Usul ve Esaslar Hakkında Tebliğ'e ("Tebliğ") uygun hale getirilmesine hükmetti. Bu kararın arkasında yatan sebebin, marketin gıda ve ihtiyaç maddelerinin perakende olarak tüketiciye sunulması faaliyetinin kapsamını ve amacını aşan nitelikteki özel nitelikli kişisel verileri toplaması ve işlemesi olduğu anlaşıldı.
III. Siz siz olun başvurulara zamanında cevap verin!4
İlgili kişinin hakları kapsamındaki taleplerini veri sorumlusu T.C. Ziraat Bankası A.Ş.'ye ("Banka") bildirmesi ile başlayan süreç, Kurum'un önüne geldi. Kuruma yapılan şikayet başvurusunda Banka'nın kanuni yükümlülüğü olan 30 günlük sürede ilgili kişinin başvurusuna yanıt vermediği anlaşıldı.
Kurum'un konuya ilişkin açıklama talebini içeren yazısı Banka'ya teslim edilmekle beraber, Banka'dan herhangi bir dönüş yapılmamasını takiben Kurum, Kanun'un 18/3. maddesi çerçevesinde sorumlular ile gerekli tedbirleri almak ve denetimleri yapmakla yükümlü kişiler hakkında disiplin hükümlerine göre işlem yapılmasına karar verdi.
İlgili kişi başvurusuna ilişkin ise Banka tarafından cevap verilmesine ve Banka'nın kanuni yükümlülüklerine uyum konusunda azami dikkat ve özen göstermesi konusunda talimat verilmesi kararlaştırıldı. Son olarak Banka'nın internet sitesinde yer alan Aydınlatma Metni'ne ilişkin görüşlerini bildiren Kurul, ilgili metinde işlenen verilerin hangi hukuki sebebe dayandırıldığı belirtilmediği ve veri işleme amaçları ifadesinin belirsizlik yarattığı gerekçesiyle metnin gözden geçirilmesine ve Tebliğ'e uygun hale getirilmesine hükmetti.
IV. Kurul'a Yapılan Şikayet
İlgili kişi, bir şahsın kendisi ve ailesine ait kişisel verilere hukuk dışı yollar ile erişerek bu verileri ilgili kişinin rızası olmaksızın üçüncü kişiler ve İcra Müdürlükleri ile paylaştığı iddiası ile Kurul'a şikayette bulundu.
Kurul tarafından yapılan inceleme neticesinde, şikayet edilen şahsın kısmen veya tamamen otomatik olan ya da herhangi bir veri kayıt sisteminin parçası olmak kaydıyla otomatik olmayan yollarla gerçekleştirdiği bir veri işleme faaliyetinin olmadığı, dolayısıyla kendisinin veri sorumlusu olarak değerlendirilemeyeceği belirtildi.
Ek olarak, Kurul, şikayet edilenin eylemlerinin Türk Ceza Kanunu kapsamında suç niteliği taşıyabileceğini belirtmiş ve konunun ceza yargılaması konusu olabileceğini açıkladı. Bu nedenlerle, ilgili kişinin iddiası bakımından Kurul tarafından yapılabilecek bir işlem olmadığına karar verildi.5
Sonuç
Kurum kararlarınında veri sorumluları için önemli mesajlar içerdiği kanaatindeyiz. Bu kapsamda Kurul kararlarının yerine getirilmesinin önemi ve gerekliliğini ve Kurul'a yapılan şikayetlerde ortaya konan iddiaların ispat yükünün başvurucuda olduğunu hatırlatır, başkalarına ait kişisel verilerin ilgili kişilerin rızası olmadan elde edilmesinin Türk Ceza Kanunu kapsamında suç teşkil edeceğini dikkatinize sunarız. Ayrıca kararlardan Kurul'un veri sorumlularının aydınlatma metinlerini mercek altına aldığı anlaşılmakla, aydınlatma metinlerinizi Kanun'un temel ilkeleri ve Tebliğ kapsamında yeniden gözden geçirmenizin faydalı olabileceğini belirtmek isteriz.
Footnotes
[1] Kurul'un 14/02/2019 Tarihli ve 2019/23 Sayılı Kararı
[2] Kurul'un 05/03/2019 Tarihli ve 2019/52 Sayılı Kararı
[3] Kurul'un 25.03.2019 Tarihli ve 2019/82 Sayılı Kararı
[4] Kurul'un 02.05.2019 Tarihli ve 2019/122 Sayılı Kararı
[5] Kurul'un 01/03/2019 Tarihli ve 2019/47 Sayılı Kararı
The content of this article is intended to provide a general guide to the subject matter. Specialist advice should be sought about your specific circumstances.