The opportunity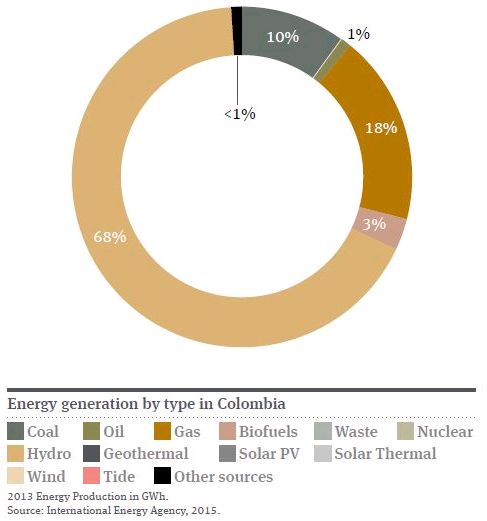 The opportunity
Colombia has a rich endowment of energy sources and the country is heavily reliant on installed hydropower (65 per cent of annual consumption), which provides cost effective electricity. However, Colombia has strong potential for non-conventional sources of energy generation, particularly solar, wind and biomass. According to the UN Industrial Development Organization and the International Centre on Small Hydro Power, in 2010 Colombia saw its highest growth for renewable energy generation, totalling 2,543MW of added capacity. It is estimated that large scale onshore wind and large scale geothermal would be able to achieve the same cost/KW as that of current hydroelectric generation.
Colombia's electricity and energy sector is under the jurisdiction of the Ministry of Mines and Energy (MME). The MME has adopted an Indicative Action Plan and established a target of achieving 3.5 per cent of on-grid and 20 per cent of off-grid generation from renewable sources by 2015. This is to be increased to 6.5 per cent and 30 per cent respectively in 2020. However, there are no legislative targets associated with the accomplishment of these goals.
Potential
In terms of wind energy potential, different studies agree that the use of this resource alone would be sufficient to meet the country's current energy needs. The department of La Guajira stands out for its high natural resources in this area (estimated at 21GW of capacity). Winds in La Guajira have been classified as Class 7 (close to ten metres per second annual average), making it one of only two regions in Latin America to winds of this speed. The Jepirachi wind farm, the first operational wind farm in the country, is located in this area. There is also potential for large scale solar generation in the Orinoco and San Andrés areas in the northern part of the country.
Biomass energy also has a positive outlook due to the large quantities of agricultural and forestry waste produced in the country. Important sources of agricultural waste are from banana plantations, rice, coffee, and livestock. The most suitable places for generating this form of energy are the departments of Santander and Norte de Santander, Valle del Cauca, Llanos Orientales, and the Caribbean coast. There are some existing biomass projects, such as the Ingenio Mayagüez cogeneration plant, which became operational in 2011.
With regard to small-scale hydropower, there is an estimated 25GW of naturally occurring potential for electricity generation, mainly in the Andean region. However, concerns about the environmental impact of hydropower, and the fact that large-scale hydroelectric plants are already located in the best places, are likely to put a halt on further developments in this sector.
Support regimes
Law 1665 of 2013 (the New Renewable Energy Law (REL)) was adopted in April 2014. The REL approved the International Renewable Energy Agency Statute as an attempt to promote the adoption and sustainable use of all forms of renewable energy, including bioenergy, geothermal, hydropower, ocean, solar, and wind energy, in the pursuit of sustainable development, energy access, energy security and low-carbon economic growth.
The Financial Support Fund for Energy Provision in Non- Interconnected Zones (FAER) was created in 2000 by Law 633 of 2000. This fund has proven to be an important tool for the financing of projects in areas not connected to the national grid. The fund focuses on energy expansion using both renewable and non-renewable energy sources, and has become an important instrument for financing projects in these regions. Another significant aspect of Law 633 is the creation of the Fund for Non-Conventional Energies (FENOGE), which will help to finance initiatives in nonconventional energy with public and international resources.
Investors in renewable energy projects can obtain a 50 per cent annual deduction of taxable income for the first five years following an investment. Equipment and machinery are excluded from VAT and, if such equipment and machinery is imported, customs duties are exempt.
Finally, the government has regulated the self-generation of energy through Decree 2469 of 2014. Legal or natural persons will be considered self-generators if the energy they produce is for their own consumption and if they do not use national transmission or distributions systems. However, if there are surpluses, self-generators can deliver energy to the national network in accordance with the regulation established by the Energy and Gas Regulation Commission (CREG). Large-scale self-generators must be represented in the wholesale electric market by a distribution agent, who will market the surplus to the National Network. In addition, large-scale self-generators have to enter into a backup contract with the network operator which sets out the fees and charges for the energy distribution services performed by the operator.
It is important to mention that all self-generators will be considered as large scale producers until the CREG establishes criteria to determine which self-generators will be deemed large scale.
Obstacles/challenges
Colombia's abundant hydro resources, and the historic lack of recognition of the benefits of renewable energy generation, have limited the call for government incentives in sectors like wind, geothermal and solar. There is a widespread perception that additional hydro capacity is the best solution, with fossil fuel capacity laid by for dry years.
Wind and solar energy are not competitive when compared to other kinds of energy generation, due to their intermittent nature. Hydrocarbons, on the other hand, have the advantage of being easily transportable and relatively cheap. These characteristics still make hydrocarbons more attractive to consumers compared to wind and solar sources. It remains true that consumers tend to prefer the cheapest and most effective products.
In addition, there are very few companies with the financial and technical capabilities to assume the high initial costs of renewables projects. Moreover, uncertainty about the generation capacity and reliability of non-dispatchable energy increases the financial sector's perception of risk. This constitutes an economic barrier to any project and to any potential economies of scale which could lower the price of non-conventional energy. Higher costs create disincentives for companies to replace conventional sources of energy with non-conventional ones.
Another economic obstacle is the lack of public funds for the development of viable projects. If the use of renewable energy sources is to be accelerated, new and innovative mechanisms for financing will need to be implemented by both the government and private sector.
The future
There are several interesting projects in the pipeline. One of them, the Jouktai Wind Farm in the Cabo de la Vela District of the La Guajira department, is currently under construction and will soon initiate operation. Developed by ISAGEN, an estimated initial capacity of 31.5MW is expected, requiring the investment of approximately US$60 million. In addition, pre-feasibility studies have been concluded for two largescale thermal projects near the Municipality of Villamaria, both developed by ISAGEN. The projects are still at an early stage, but progress in field and power plant development is expected in the next two years. Finally, the Ipapure Wind Farm project, with an estimated initial capacity of 200MW, is currently undergoing preliminary studies in the La Guajira department.
According to the Energy Productivity and Economic Prosperity Index of 2015, Colombia is currently the second country in Latin America to consume more units of energy than number of points of GDP. In fact, Colombia produces €330,000 million of GDP for every exajoule consumed, reflecting the considerable growth in Colombia's energy demand. Taking that into account, the Institute of Planning and Promotion of Energetic Solutions (IPSE) has subscribed to a memorandum of understanding with Kepco, an expert in the renewable energy field, to consult on the introduction of non-conventional energy sources into the Colombian grid. To accompany this initiative, the Unit of Mining and Energetic Planning (UPME) included in the National Energetic Plan for 2050 a goal to increase the contribution of non-conventional renewable energy sources (photovoltaic, wind and biomass power) to ten per cent of the country's total installed capacity by 2028.
The content of this article is intended to provide a general guide to the subject matter. Specialist advice should be sought about your specific circumstances.