Eight years ago, the Government of Indonesia ("GOI") issued Government Regulation No. 79 of 2014, dated October 17, 2014, regarding National Energy Policy ("NEP"), with the aim of achieving an energy mix of a minimum 23% renewable energy and a maximum 30% coal by 2025. According to Indonesia Energy Transition Outlook 2022, from the Institute for Essential Services Reform, Indonesia is still well short of this goal, with renewable energy making up just 11.2% of the primary energy mix. However, the GOI further declared its commitment to boost renewable energy development in 2021, at the 26th Conference of the Parties of the United Nations Framework Convention on Climate Change ("COP 26 UNFCCC").
When the NEP was enacted, there was no clear regulatory framework on how the energy mix target would be achieved. Now the GOI has issued Presidential Regulation No. 112 of 2022, dated September 13, 2022, regarding the Acceleration of Renewable Energy Development for Electricity Supply ("RE PR"), which sets in stone the energy transition strategy in Indonesia. Besides an energy transition strategy, RE PR also contains provisions on (i) tendering for renewable projects, (ii) tariff mechanisms, and (iii) incentives provided for renewable energy projects.
We discuss key provisions of RE PR and the implications of this regulation in the first of a planned regular feature called Indonesia Renewable Energy Update.
Energy Transition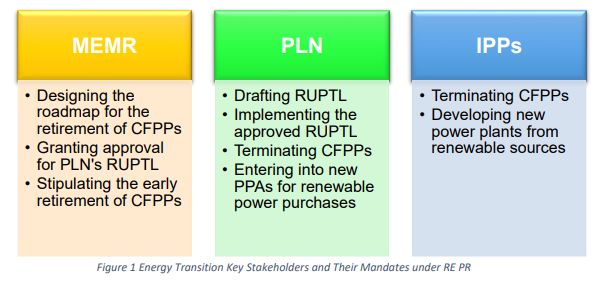 1. Roadmap on Early Retirement of CFPPs
As part of the energy transition, RE PR mandates the Minister of Energy and Mineral Resources ("MEMR") to develop a roadmap for accelerating the early retirement of Coal-Fired Power Plants ("CFPPs"), in consultation with the Minister of Finance ("MOF") and the Minister of State-Owned Enterprises ("MSOE"). Article 2 (3) of RE PR mandates that this roadmap shall at least include the following:
Emission reduction strategy for CFPPs;
Strategy on the acceleration of termination of CFPPs; and
Harmonization strategy with other policies.
Further, Article 2 (4) of RE PR explicitly prohibits the new development of CFPPs, with the following exemptions: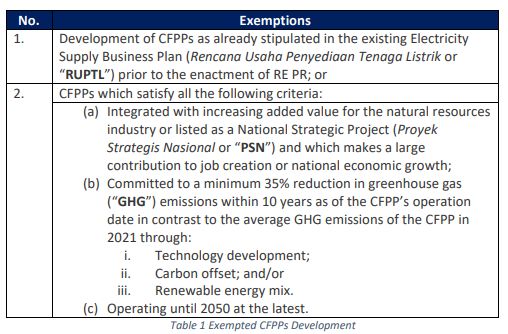 While the prohibition on the development of new CFPPs may seem drastic, the exemptions above cannot be overlooked. First, in the most recent RUPTL of PT Perusahaan Listrik Negara (Persero) ("PLN"), as ratified by MEMR Decree No. 188.K/HK.02/MEM.L/2021, dated September 28, 2021, regarding the Ratification of PLN's RUPTL 2021-2030 ("RUPTL 2021-2030"), CFPPs still make up the majority of the energy mix. In the optimal scenario, CFPPs' share of the projected energy mix by 2030 would be 63.95%, equal to 284,637
GWh, while under the low carbon scenario, CFPPs are projected to account for 59.37%, or 264,260 GWh, of the energy mix by 2030. This means there is still a substantial amount of CFPP development in the pipeline.
However, it is also noteworthy that PLN still has the ability to develop CFPPs even further through its annual evaluation of the RUPTL, as stipulated in Article 28 of MEMR Regulation No. 11 of 2021, dated June 11, 2021, regarding the Implementation of Electricity Business ("MEMR Reg 11/2021"). This is consistent with PLN's obligation as a business area holder to make sure that its RUPTL is consistent with the National Electricity General Plan (Rencana Umum Ketenagalistrikan Nasional or "RUKN") and ultimately the 23% renewable energy target by 2025 under the NEP, as mandated by Article 25 of MEMR Reg 11/2021 and MEMR Regulation No. 8 of 2021, dated May 18, 2021, regarding Guidelines for Drafting the National Electricity General Plan and Local Electricity General Plan ("MEMR Reg 8/2021").
Besides, the exemption criteria for the new development of CFPPs listed as PSN are also very lenient. Based on Article 4 of Government Regulation No. 42 of 2021, dated February 2, 2021, regarding Facilities for National Strategic Projects ("GR 42/2021"), the Coordinating Ministry for Economic Affairs ("CMEA") has the authority to evaluate and adjust the list of PSNs if the President approves. This means the inclusion for CFPPs as National Strategic Projects is at the political discretion of the CMEA and the President.
2. Early Retirement of CFPPs
RE PR instructs PLN to accelerate the early termination of (i) the operation of PLN's CFPPs and/or (ii) the termination of CFPP PPAs with Independent Power Producers ("IPPs"), by considering electricity demand and supply, as well as taking the following matters into account:
Capacity;
Power plant age;
Utilization;
GHG emissions of the CFPP;
Economic added value;
Availibility of financial support (domestic and international); and
Availibility of technical support (domestic and international).
In such acceleration, PLN may replace the power supply with power supply from renewable energy power plants by also considering electricity demand and supply conditions. The early retirement of CFPPs, with or without replacement power from a renewable energy power plant, must be stipulated by the MEMR after obtaining written approvals from the MSOE and MOF.
Tendering
RE PR affirms the current tendering process for renewable electricity purchases, which begins by shortlisting developers into PLN's list of selected providers (Daftar Penyedia Terseleksi or "DPT"). Further, RE PR mandates that the DPT must be reviewed and renewed quarterly. RE PR does waive the requirement to be shortlisted to PLN's DPT for the following types of projects:
Hydropower plants utilizing water resources from a dam or irrigation the construction of which is multiuse as a state asset by the Ministry of Public Works and Housing ("MPWH");
Geothermal power plants developed by a party holding one of the following:

Geothermal License;
exploitation of geothermal resources license;
joint operation contract for geothermal resources exploitation;
geothermal resources concession.

Capacity expansion for geothermal, hydro, solar photovoltaic, wind, biomass, or biogas power plant; and
Excess power from geothermal, hydro, biomass, or biogas power plant.
To view the full article, click here
The content of this article is intended to provide a general guide to the subject matter. Specialist advice should be sought about your specific circumstances.