The Successful Transgenerational Entrepreneurship Practices (STEP) Project Global Consortium, European Family Businesses (EFB) and KPMG Private Enterprise came together to discover how family businesses around the world were responding to the impact of COVID-19. What actions have they taken to stabilize their businesses in the short term? What strategies have they adopted to sustain their success for generations to come?
To answer these questions, the first step was to collect data in a family business survey, which was conducted by the STEP Project Global Consortium between June and October of 2020. In total, 2,493 family businesses and 510 non-family businesses (for comparison purposes) across the globe responded to the survey. The global view was presented in a report entitled "Mastering a comeback: How family businesses are triumphing over COVID-19", and provided a detailed picture of the impact of a global crisis on family businesses around the world and how they have responded.
In Europe alone, a total of 1,332 family business leaders (and 215 non-family) from 23 European countries responded to the survey. European family businesses made important contributions to the analysis of the global results and this special report takes a closer look at the experiences and successes of these family businesses, how they have navigated through the pandemic and compares their actions and outlooks for the future with business families in other major regions.
The initial shock
The first commercial shock of the pandemic was felt on companies' revenues worldwide. As many as 64 percent of European family businesses reported a decline in their revenues, though they fared better than the global average of 69 percent. Eleven percent of European family businesses actually experienced a boost in their revenues.
Sixty-four percent of European family businesses reported revenue declines, however, 11 percent experienced a revenue boost.
How family business responded
European family businesses responded immediately, in three characteristic ways, to address both the short- and long-term impacts of COVID-19 on their companies: taking actions to stabilize their businesses, accessing government support and taking a long-term view to reimagine the future for their companies.
Stabilizing the business: To stabilize their businesses in the short term and keep it on a steady course for the long term, the leaders of many family businesses took cost-reduction measures to address the immediate drop in income and the impact it had on cash flow.
In some cases, these measures included employment-related changes, such as moving employees to remote working status, which suggests they were able to adapt and adopt digital solutions quickly to transform their business operations. It was notable that European family businesses were less likely to reduce their employees' pay compared to those in other world regions. Their actions taken to maintain employment as much as possible reflect the business families' characteristic commitment and loyalty to their employees.
While there was a higher percentage of employee-related actions taken by European family businesses, the overall 4.1 percent reduction in the workforce in European countries was significantly lower than the 8.56 percent reduction in the workforce reported globally.
Accessing government support: Governments across Europe introduced a broad range of support programs to shore up the economy and the businesses that contribute to it. Over 70 percent of European family businesses reported that they received some form of government support. Financial support programs, in the form of targeted loan programs, repayment plans and loan guarantees were the most popular.
Taking the long view: Having achieved a level of stability in their businesses, business families turned their attention to the long-term outlook for their companies by adopting a combination of three main strategies: social responsibility, business transformation and leveraging their patient capital. In most cases, all three strategies were employed by family businesses as the impact of COVID-19 on their business operations changed over time.

Social responsibility: Twenty-five percent of European family businesses adopted this strategy to address the impact of the pandemic on the welfare of society and the needs of all of the family's stakeholders. This strategy closely aligns the business with the family's purpose and values to protect the welfare of their employees and their relationships with customers, suppliers and local communities.
Business transformation: Business families explored ways for pivoting their businesses to first react to the immediate impact of COVID-19 and then to proactively adopt new business models and evolve their business in a rapidly changing external environment. Actions such as streamlining operations and implementing new financial measures, creating new products, exploring new markets or adopting new technology solutions were adopted by 33 percent of family businesses in Europe.
Leveraging patient capital: Patient capital is at the heart of an entrepreneurial, long-term value mindset. Their response to COVID-19 provided opportunities to recalibrate their business processes, to take the time to undertake special projects and consider new opportunities for the business. Forty-two percent of European business families adopted a strategy to leverage their patient capital in support of the long-term value creation of their businesses.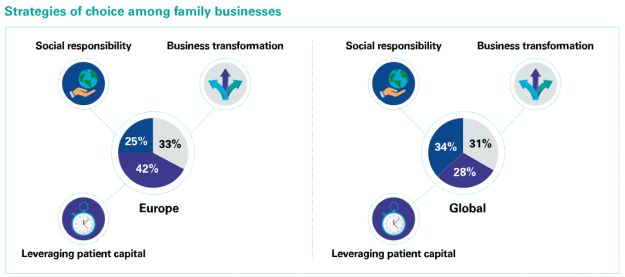 The power behind the business
Through the survey and the direct input of family business leaders, we have reconfirmed the view that European family businesses are, indeed, uniquely resilient and adaptable. They have successfully navigated through generations of economic, health and political crises long before the onset of COVID-19. They have applied these historical experiences to mitigate the disruption to their businesses, while also looking ahead at prospects for the future.
We have also confirmed our belief that a unique source of power behind family businesses is the involvement of the family itself, with multiple generations contributing to decision-making and strategy development.
Our conclusion is that there are two essential sources of power and endurance behind family businesses: the ability to take the long view and the foresight to tap into the diverse skills, knowledge and insights that are embedded in multi-generational families.
A strong and stabilizing influence
The survey findings, followed by roundtable discussions with family business leaders, has revealed an important insight: family businesses in Europe have not only stabilized their businesses successfully, they also are making important contributions to help restart Europe's economic engine.
Key takeaways
Family businesses successfully stabilized their companies in the short term in response to the direct impact of COVID-19, while leveraging their entrepreneurial mindset to sustain a sharp focus on longer-term prospects.
They succeeded in opening up opportunities to adopt innovative technologies, develop new products and tap into emerging new markets.
They prioritized the concerns of all their stakeholders.
The knowledge and skills of multiple generations of family members were rallied in order to reimagine the strategic direction of the business while also increasing awareness of the need to address environmental, social and governance (ESG) issues as strategic priorities.
Their practical insights provide a roadmap, not only for family businesses, but for businesses of all types and sizes across Europe.
Lessons learned, lessons shared
As you consider the strengths and opportunities ahead for your family business, we encourage you to consider how the power of these key ingredients contributes to your success. We hope the insights from the report will help you to consider these and many other important questions in continuing to fulfill your family's purpose and values and in answering the call to help restart the economic engine in your country.
How effective have the initial financial and non-financial actions been in mitigating the impact of COVID-19 on your business?
What other actions might you consider now?
How are younger generations of the family contributing to the long-term view for the business? Is succession planning becoming more of a priority?
What is the long-term outlook for your business? Is it time to recalibrate the business model and adopt new technology solutions?
How relevant are the three strategies (social responsibility, business transformation and leveraging patient capital) for the short- and long-term needs of your business?
Are acquisitions, strategic alliances or other opportunities available to diversify your products and provide a potential entry into new markets?
The content of this article is intended to provide a general guide to the subject matter. Specialist advice should be sought about your specific circumstances.