Nigeria's GDP growth slowed from 3.52% to 2.31% in the first quarter of this year when demonetisation caused a severe cash shortage. That deceleration exemplifies policy shocks that typified ex-president Muhammadu Buhari's eight-year reign. Now, a change of government presents an opportunity to retool the economy.
President Bola Tinubu was sworn in on 29 May. Although his weak popular mandate may limit the pace and breadth of fiscal reforms in the medium term (see note on the presidential election), he will have political resources that could be used to set and execute his own economic agenda. His All Progressives Congress (APC) will control parliament. As president he will have significant influence over the judiciary, which is still hearing opposition petitions against his election. He will also be able to appoint longtime associates to key ministries and the central bank with his own faction of the ruling party now in government.
In this case, the economic outlook depends on the nature of presidential appointments and evolving power dynamics between the ruling party and the executive, important elements of which must be resolved within 60 days.
1. Cabinet
Buhari took five months to name a cabinet in his first term, but a recent constitutional amendment now requires Tinubu to name one in a timelier manner. This means the new president will have 60 days to nominate a finance minister and others.
The key figures are already preparing to take charge. See our mapping in Naija 2023 power dynamics. For example, Ben Akabueze was recently on Tinubu's entourage to France where the president was plotting with allies while receiving medical treatment. Akabueze, from southeast Anambra, is outgoing head of Nigeria's budget office but is expected to get a more senior role in the new administration.
The new administration marks a shift in political power from Nigeria's north to south according to the local principle of zoning, which states that power swings between the north and south every eight years. But there are still legal and political constraints to the distribution of power despite the shift.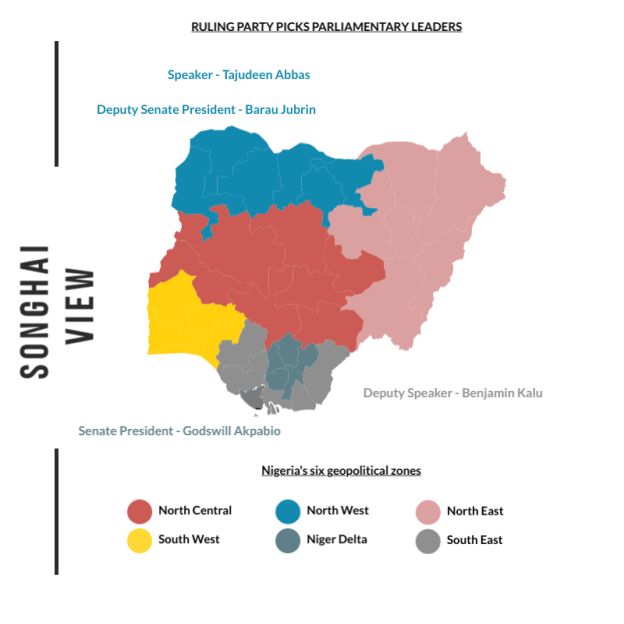 For example, the constitution requires the president to appoint at least one minister from each of the country's 36 states. Tinubu (like past presidents) looks to circumvent this requirement by choosing people from his own part of the country to head key ministries, and so he has surrounded himself with southern technocrats. However, the ruling APC is still controlled by politicians from Buhari's northwest region. Last month, the party decided to 'zone' two of the four leadership positions in the new parliament to the northwest (see image).
2. Central bank management
Godwin Emefiele has been governor of the Central Bank of Nigeria since June 2014, and he is due to complete his final term in May 2024. But he is presently entangled in a political web that resulted from his own ambition and maneuvering. His exit now seems more imminent (see background).
There are at least three ways by which Emefiele may be replaced as CBN governor in the coming months.
He may resign. Local media reports suggest he asked outgoing president Buhari for 'study leave' overseas. He was already wanted by the secret police for alleged corruption (and in connection with his political dealings). Threats of arrest or prosecution may now force him to leave soon.
Tinubu may suspend him – as Goodluck Jonathan did to remove Sanusi Lamido Sanusi from the job in 2014. The new president would then appoint an interim governor until the formal end of Emefiele's tenure.
Tinubu may sack him for serious misconduct in terms of Section 11 of the Central Bank Act.1 A two-thirds Senate majority would be required.
Tinubu's potential nominees to head the central bank include Wale Edun, who had the finance portfolio in Tinubu's cabinet when he was governor of Lagos state, and Fola Adeola, founder of one of Nigeria's largest banks GTBank. The track record of those on the shortlist suggests that the next governor will attempt to restore price stability as a central bank priority and reboot the foreign exchange regime with the aim of establishing a single exchange rate.
3. Fiscal policy
Nigeria's oil output has fallen by 40% in the past decade, and this has cut a key source of government revenue. Contributing to the strain on Nigeria's oil borne coffers:
The long-overdue Petroleum Industry Act was enacted in 2021 as oil majors retreated from the country and coincided with a sharp rise in industrial-scale theft from crude oil pipelines in its host communities.
Now, the state-owned Nigerian National Petroleum Company spends most of its profits from the falling output on petrol subsidies for the public. These subventions currently cost the equivalent of 22% of the national budget.
Tinubu has promised to cut these petrol subsidies and there is political consensus for this move at an elite level. But his weak popular mandate could deter sustained reforms: he lost the presidential election in two-thirds of the country's 36 states and adverse economic effects (especially when policy execution is haphazard) could stoke social unrest. Already we have seen fuel queues emerge and taxi prices rise here in Lagos immediately after the president spontaneously declared at his inauguration that 'fuel subsidy is gone'2.
In addition to the matter of fuel price offsets, there is a need to revisit the new petroleum law to clarify the fiscal relationship between the NNPC and government given its change in corporate status – any long-term fiscal policy must incorporate establishing a clear line between the parastatal and the state. This is a legislative matter but there remains a question of political will.
Outlook
The NNPC is older than the fourth republic by a matter of decades. The interests that underpin its structure and its activities run deep, to put it lightly. Although Tinubu comes in as a president with substantial political resources, we will learn if he is willing to spend them as freely as he must to fundamentally reform the oil sector. A lot will be clarified by cabinet appointments, that must take place within 60 days according to the law.
Footnotes
2. Not in the official speech
The content of this article is intended to provide a general guide to the subject matter. Specialist advice should be sought about your specific circumstances.