Across the EU a range of broadly applied legislative and non-legislative payment moratoria were made available to borrowers to address the extraordinary effects of the COVID-19 pandemic, amongst other support measures. The European Banking Authority (EBA) has been monitoring the range of actions and notifications made to it by banks in order to support customers through the lockdown measures.
The EBA had issued a statement on the 25th March 2020 and, following this, issued guidelines to banks on 'legislative and non-legislative moratoria on loan repayments applied in light of the COVID-19 Crisis' EBA/GL/2020/02 on the 2nd April 2020 (the "EBA Guidelines"). Implementation of the EBA Guidelines has been supervised by the Central Bank of Ireland (CBI) here in respect of the non-legislative payment moratoria that have been made available by the Irish banking sector to Irish borrowers (consumers and SME/large corporates), initially for a period of three months and subsequently extended for a further three months until 30 September 2020. The CBI had issued a "Dear CEO" letter on the 8th June 2020 to regulated firms setting out its supervisory expectations on the application of COVID-19 payment breaks and management of the end of such payment break term.
Such broadly applied payment moratoria were accorded special treatment in the circumstances and, clarified in the EBA Guidelines from a bank's perspective, would not be classified as defaults or forbearance, subject to certain criteria. However, institutions were still required to monitor credit risk and individual borrowers' abilities to repay to ensure that risk is identified and measured in a true and accurate manner, particularly where capital buffers had also been relaxed due to the pandemic i.e. loans would still be classified as performing or non-performing and recognised in financial statements. For borrowers such moratoria would not be recorded on the Irish Central Credit Register.
The EBA confirmed on 21 September that it is phasing out any extension of this measure after 30 September 2020.
What does this mean for banks and borrowers?
the regulatory treatment in the EBA Guidelines will continue to apply to all eligible payment moratoria granted prior to 30 September 2020, i.e. existing payment breaks will continue according to their duration and will not be subject to reclassification;
payment breaks extended after 30 September 2020 will be subject to the usual prudential treatment and may involve reclassification on a case by case basis (as they would otherwise previously have been); and
new loans granted after the launch of moratoria did not qualify under the Guidelines anyway so there is no change in that context.
These measures in effect since 2 April 2020 enabled payment moratoria to be extended to borrowers without automatic classification of such exposures as "forbearance" or "defaulted under distressed restructuring". This reflected the high degree of disturbance caused by the COVID-19 pandemic and the role of banks in providing ongoing liquidity to the economy.
Reviews by the CBI in two Fiscal Stability Notes as at May 2020 recorded that 67,000 owner occupier mortgage payment breaks were issued by the five main retail banks as at the end of May 2020 (one in nine mortgages, worth over €10 bn). 20.5% of SME balances had an active payment break, 3.2% had an approved but unimplemented payment break and 1.9% had a pending application. 9.1% of large corporate borrowers' balances had an active or unimplemented payment break, although these numbers have since come down by September as shown by the CBI table below.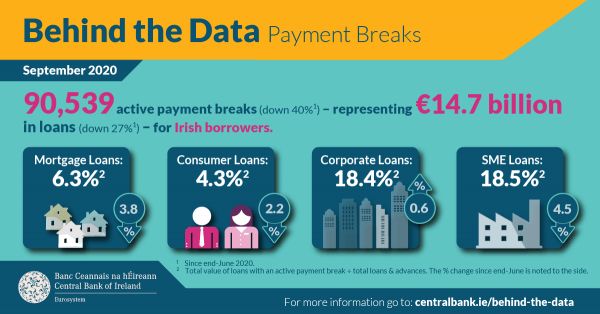 In its statement the EBA noted that the payment moratoria had been an effective tool to address short-term liquidity challenges caused by the COVID-19 pandemic but that it did not consider it adequate at this stage to further extend such an exceptional measure and that rescheduling of loans should therefore return to a case by case approach.
The content of this article is intended to provide a general guide to the subject matter. Specialist advice should be sought about your specific circumstances.