This article is part two of a series of three articles that examine the impact of COVID-19 on Supply Chains. The first article, titled 'Responding with Resilience – the Indian Pharma Sector', used the example of India's pharma sector to explain the crisis, the challenges that emerged, and the industry's short-term response in the face of the pandemic. Part 2 of the series outlines the 'Learnings from the Crisis for Supply Chain Management', and part 3 will ideate on the 'Supply Chain Management Strategy for the New Normal'.
Here, we take a deep-dive into the learnings from the past few months' experience of battling the pandemic, which help organizations get back on track for their business objectives effectively. These learnings are summarized under three distinct areas:
1. Robust Business Continuity Planning (BCP)
2. Risk Management Driven by the Top Leadership
3. Innovation and Creativity in Difficult times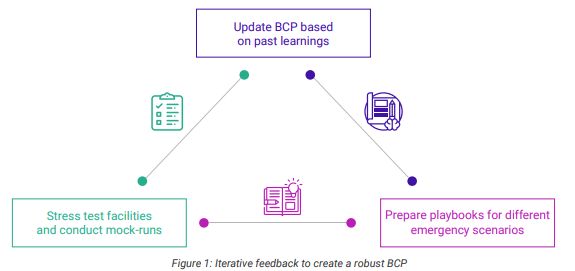 1. Robust Business Continuity Planning (BCP)
Robust BCP is pivotal in maintaining operational continuity for critical elements of a supply chain, and in recovering from disruptions rapidly, with minimum impact. COVID-19 had shown that the business continuity plans of many businesses were not effective. To explore what enables effective planning, we will decode the planning process in this section.
While figure 1 conceptually mentions the planning and testing process that goes behind BCP, businesses need to ensure that the following enablers are considered to prepare the range of critical functions.
Ensure a comprehensive System View of the supply chain
The first step of solving the problem is to measure its magnitude by evaluating functional interdependencies across the supply chain. A visibility of upstream and downstream impact helps in aligning the internal effort also as management has priorities defined clearly.
Key points to consider while building complete visibility across the supply chain include:
Maintain comprehensive information about suppliers, Carrying and Forwarding Agents (CFAs), distributors, clearing agents, key transporters, etc., to understand the impact and vulnerability. Information should include locations, capacity, other customers, financial health, organizational structure, key personnel, etc.
Assess the risks and vulnerabilities of different suppliers and distributors
To see the full article click here
The content of this article is intended to provide a general guide to the subject matter. Specialist advice should be sought about your specific circumstances.