"Do not forget Julian Assange. Or you will lose him," tweeted John Pilger on 5 August. The veteran Australian journalist stated that he'd just visited the Wikileaks founder in London's Belmarsh prison, and "his health is deteriorating".
"Treated worse than a murderer, he is isolated, medicated and denied the tools to fight the bogus charges of a US extradition," Pilger continued. "I now fear for him. Do not forget him." Indeed, it's now been four and a half months since British authorities incarcerated Assange.
The Greens NSW also holds concerns for Assange's health. At its State Delegates Council meeting last Sunday, the Greens NSW called on the Australian government to defend Assange "in the face of his lengthy enforced asylum, bad health, legal threats and incarceration".
Further, the members of the local Greens are also demanding that Canberra seeks to have Assange brought to his home country, so that he can be "given the support and services he needs", while his legal matters proceed.
And recent revelations made by multi-Walkley winning journalist Mark Davis downplay assertions in the public arena that Assange was somehow callous in his publishing of the files that made up the Manning leaks. Davis actually shot down this version of events as "a complete lie".
Bring Assange home
"The Australian Greens have a long history of supporting Julian Assange, along with many of the cross benchers," Support Assange and Wikileaks Coalition member Ian Rose told Sydney Criminal Lawyers.
The consensus decision on Assange that was taken at The Greens NSW weekend meeting, Mr Rose continued, "is a welcome relief, as it proves the narrative is shifting from one about his personality to one about his work and actions".
The long-time Wikileaks supporter pointed to a glaring difference in the way that the Australian government worked to secure the release of journalist Peter Greste – who was imprisoned in Egypt in late 2013 – and Canberra's lack of any meaningful response when it comes to Assange.
In Greste's case, the federal government not only provided consular assistance, but it also provided a diplomatic response and it arranged a meeting between the foreign ministers of both nations. But, Morrison has stated that besides consular assistance, Assange will receive "no special treatment".
"The Australian government has not afforded Assange anywhere near the same level of support," Rose makes clear, "because it is cowered by its colonial masters the UK and the US."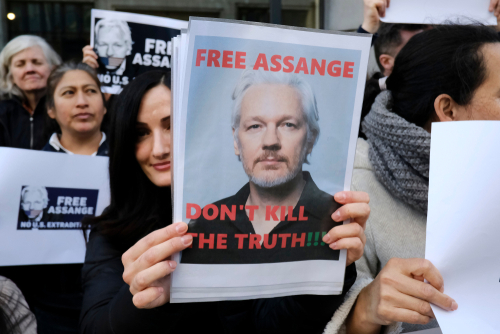 Alleged crimes on foreign soil
After he spent seven years living in exile at the Ecuadorian embassy in London, the South American country revoked Assange's asylum, and handed him over to UK police. He was subsequently convicted of breaching bail in 2010 and sentenced to 50 weeks behind bars.
On the day of his UK arrest in April, the US also arrested Assange by proxy over an alleged hacking offence that didn't occur on its soil. The initial single charge was later increased by US prosecutors to multiple espionage charges, which together carry a maximum prison term of 175 years.
Washington is attempting to prosecute Assange over the 700,000-odd classified US military and diplomatic files leaked by Chelsea Manning, which Wikileaks went on to publish over 2010 and early 2011.
Assange is awaiting his extradition February hearing, which could see him sent to the US to stand trial over 18 federal counts that aren't even alleged to have been committed in that country. And as he waits in Belmarsh prison, his health is failing under the isolated conditions he's detained within.
A smear campaign discredited
Mark Davis gave a presentation at a Sydney Politics in the Pub event in August, where he elaborated on his involvement with Assange back in 2010 just prior to the publication of the first major Manning leaks: The Afghan War Logs. And Davis dispelled a few myths as he did so.
The Australian journalist explained that the Guardian reporters who were collaborating with Assange on the release of the classified documents have subsequently described the Wikileaks founder as someone who showed no concern over the fate of informants exposed by the leaks.
The idea that Assange was cavalier in his approach to those mentioned in the files is furthest from the truth, according to Davis. He stresses that Julian was very concerned about the named informants. And he went to great lengths to ensure their names were redacted to protect them.
"The Mark Davis revelations prove the point that Assange is a conscientious contributor to the global society," Mr Rose said, "and that many of the media outlets he was working with were happy to make him the fall guy."
Rose added that "Assange's work publishing the revelations of whistleblowers" has threatened the multi-trillion dollar war industry. And it's "no wonder" those profiteering from it are focused on discrediting him.
And as for Mr Davis, he's since clarified his position in a 22 August statement, in which he outlines that "news organisations were willing to let Julian be a 'fall guy' and insulate themselves from responsibility for the release of the material".
Implications for us all
Mr Rose said that Pilger was correct in his recent assertion regarding Julian Assange. "So, it is up to us, the Australian populous, to unite in support of Assange and what his work represents to us" he explained.
The prosecution of whistleblower David McBride, the AFP raid on Annika Smethurst, and the push to criminalise climate activism, are, as far as Rose is concerned, examples that reveal Australia is in "grave danger" of becoming one of the most "heavily monitored and controlled societies" on Earth.
"What is happening to Assange will happen to us all if we don't unite to defend him," Mr Rose concluded, "as it is not just his life in danger, it is what he represents, the ability to live in a free and open society."
The content of this article is intended to provide a general guide to the subject matter. Specialist advice should be sought about your specific circumstances.