Providenciales, Turks and Caicos Islands February 5th, 2020 – The month of January saw Invest Turks and Caicos (Invest TCI) kicking off the new year in full force promoting the Turks and Caicos Islands to an international audience while also focusing on local projects.
Invest TCI attended the 2020 Caribbean Infrastructure Forum (CARIF) which took place in Kingston, Jamaica January 21st - 22nd. CARIF 2020, a two-day conference with the primary focus of accelerating capital to infrastructure markets throughout the region saw the attendence of regional governments, private capital firms, financial institutions, utilities companies and developers who came together to discuss future initiatives for public sector infrastructure projects, financing and the future of regional infrastructure.
Representatives from the Agency attended The Americas Lodging Investment Summit (ALIS). ALIS, one of the leading hotel investment conferences in the world took place in Los Angeles, California, January 27th - 29th, which had over 3,000 attendees. Through networking opportunities Invest TCI discussed important trends and identified new opportunities for the year ahead.
Invest TCI also exhibited at the 3rd Annual STEP Cayman Conference which took place in the Cayman Islands January 23rd - 24th. This conference is a building block for the Agency, providing an avenue for Invest TCI to meet and network with potential investors and international trust experts as TCI grows its financial services industry.
Along with the strides the Agency is making in the financial services sector, the Agency continues to promote hotel and real estate development opportunities in the islands. As part of Invest TCI's ongoing promotion of inward investment in the islands, under Cabinet instruction, the Agency is pursuing its mandate to grow investment in the family islands and has most recently entered into negotiations with Sea-T Adventures Ltd. to build an open cruise terminal on the island of Salt Cay.
Commenting on the activities for the year thus far, James Bursey, CEO of Invest TCI states; "this year is predicted to be extremely busy for the Agency as we promote the Turks and Caicos Islands regionally and Internationally. Financial services will be a major focus for the Agency as we seek to attract a broader range of businesses to the islands. We will also seek to grow investment in the family islands with Salt Cay being one of the first to experience growth with a new cruise terminal, which will create much needed jobs and opportunities for the residents of Salt Cay and Grand Turk."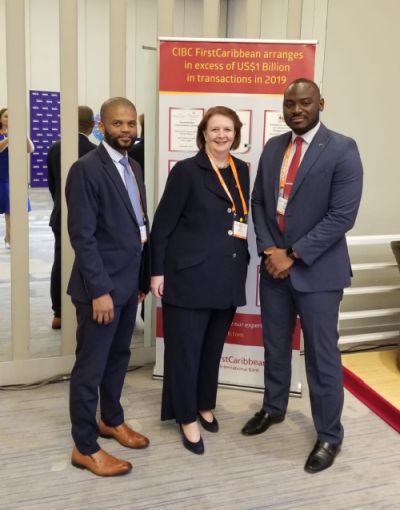 Alonzo Higgs Business Analyst Invest TCI attends CARIF 2020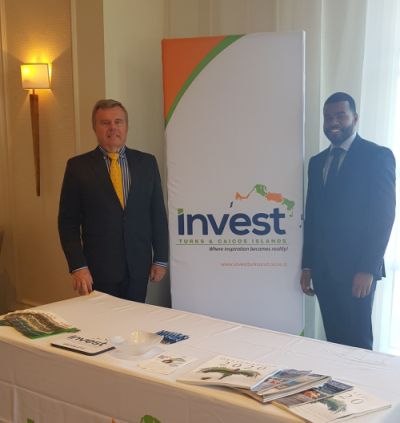 James Bursey CEO of Invest TCI and Benjamin Durham Financial Services Marketing and Promotion Contractor at 2020 STEP Cayman Conference