M Mulla Associates
M Mulla Associates is a boutique law firm founded in June 2010. The firm led by Mr. Maneck Mulla has a team of experienced lawyers who offer advice to bring about a harmonious solution between the legal and commercial requirements of a client. The firm's philosophy is to provide personalised attention to each matter. The firm has a range of practice areas, some of its specializations include:
Real Estate
General Banking and Finance
Media Entertainment/IPR/Technology
Trust and Personal Laws
Contracts and Commercial Transactions
Litigation and Alternate Dispute Resolutions
Criminal Law
The firm delivers quality legal advice on terms that can be tailormade to match clients needs.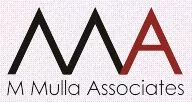 Contact Details
Mumbai
Email
Website
Dhanraj Mahal, Block F-41,
Apollo Bunder,
Mumbai 400001
India