2015 was a year of two halves for Canadian mid-market Technology, Media and Telecom (TMT) companies. Starting strong, then struggling under the weight of slowing Chinese growth, and both the oil & gas sector and Canadian dollar in steep declines.  Over the year, public mid-market TMT companies, as measured by the Veracap TMT Index (VTI)(1), were down by 4.7% while the large market cap tech index, the S&P/TSX Capped Information Technology Index was actually up by 13.5%. The VTI reached a high of 15,589 (20.5% increase from the beginning of the year) on June 25, 2015 and then began to decline into year end.
Of the 121 constituents in the index, approximately 50% were up and 50% were down on the year. Some were up over 100% including Espial Group, 01 Communique Laboratory, Firan Technology Group Corporation, and TIO Networks. Enablence Technologies and Pivot Technology Solutions were up over 300%(2). Of course there were laggards as well, DragonWave, GuestLogix, Mood Media, SENSIO Technologies, Contagious Gaming, and LeoNovus were all down over 75%.  TMT sector valuation multiples (enterprise value divided by EBITDA)(3) also saw a rise and then a decline, ending the ear at 12.4x, slightly lower than 12.9x at the start of the year. The strongest subsector for the year was the IT Consulting & Services subsector, where companies such as Pivot Technology Solutions contributed to an average subsector LTM EBITDA multiple of 14.3x. The Media sector lagged other sectors, trading at 10.6 times LTM EBITDA.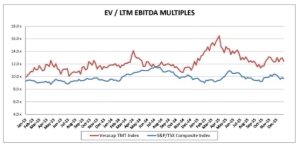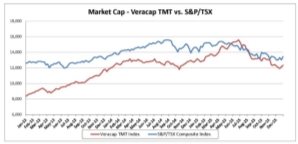 2015 Sector by Sector Review
Rather than the typical list of biggest transactions of the year, or stats on all deals done, we thought we would share our experience and note interesting mid-market transactions and trends by sector. The following activity piqued our interest in the TMT sector in 2015.
Cleantech: The cleantech sector was one of the more challenged sectors in the broader technology space. It had been suffering headwinds entering the year and then the rout in the fossil fuel sector continued the malaise.
Yet, the cleantech sector is here to stay with many leading- edge and growing constituents. Some companies that successfully raised capital in 2015 were ecobee (from United Technologies owned Carrier Corp.), Clear Blue Technologies, Enbala Power Networks, and General Fusion. On the M&A side, Distech Controls was sold to Acuity Brands Lighting for over $300 million. Active investors in this sector include Chrysalix Energy Venture Capital, EDC Equity, Edison Energy, EnerTech Capital, GE Ventures, and BDC.

Veracap participated in this sector by representing Energent, a SaaS provider of energy informatics software solutions.
Fintech: The fintech sector was vibrant with the IPO of Shopify and several of the largest VC funding rounds of the year including Lightspeed POS securing $78.9 million and Blockstream securing $73.7 million. Other notable companies that received financing included SecureKey Technologies, Elastic Path, and FINCAD. Active investors in this sector include Horizon Ventures, AXA Strategic Capital, Information Venture Partners, Yaletown, iNovia Capital, BDC, Blue Sky Capital and Rogers Venture Partners.

Veracap participated in this sector by representing Playerize, a global monetization solution for applications.
Hardware: The IOT and IIOT sectors, by way of sensors and wireless infrastructure companies, remain of high interest. Companies that  raised capital in 2015 included Clearpath Robotics, Solantro Semiconductor, Corsa Technology and Teradici Corp. M&A activity included the sale of Recon Instruments to Intel Corporation for an undisclosed amount. Active investors in this sector include McRock Capital, Georgian Partners, BDC, EDC, Black Coral Capital, Presidio Ventures, RRE Ventures and GE Ventures.
Healthcare: The Life Sciences sector, including eHealth and IT, medical devices and equipment, and drugs and biologics counted more than 40 investments of $2M or more in 2015. Intelex, an Environmental, Health, and Safety (EHS) company, closed one of the largest private equity rounds at $160 million from JMI. On the M&A side Medworxx Solutions Inc. (TSXV: "MWX"), announced its sale to Aptean for approximately $15 million. Active investors in the sector include Janus Capital, New Enterprise Associates, iGan Partners, BlueCross BlueShield Ventures, Lumira Capital, Hatteras Venture Partners, and Whitecap Venture Partners.
IT  Consulting:  We  track  more  than  650  IT  consulting companies in Canada and recognize the following subsectors: IT staffing, hosting and managed services including PaaS and IaaS, enterprise software implementation and maintenance (i.e. SAP, IBM, Oracle and Microsoft), cyber-security and infrastructure management services.
We continue to see consolidation and steady transactions in the IT consulting sector, typically situations where founders have run their businesses for many years and are looking to transition. We are also seeing older economy names such as Ricoh Canada and Konica Minolta acquiring companies in this space (Graycon Group and IT Weapons). The IT staffing and strategic resourcing sector also remains active. Notable transactions were Smart Employee Benefits (SEB) acquiring Maplesoft and ManpowerGroup taking a majority position in Veritaaq IT Consulting. In the software consulting space, the accounting firms continued their expansion into the sector with BDO acquiring Systemgroup Consulting and KPMG acquiring ITnet.
Media: Within the broader media space we cover digital media, education and games, integrated advertisers and ad- tech, marketing platform and automation, broadcast hardware and software, music and video production and online content.
The TV and Film production sector saw another deep pocketed investment by Fairfax Financial in Temple Street Productions (last year Zelnick Media invested in 9 Story Media Group). Online, Influitive raised $36.4M and VerticalScope sold a majority position to Torstar for over $185 million. In the advertising sector we saw international interest with Vision 7 International being sold to BlueFocus Communication Group of China and Sid Lee selling to Hakuhodo of Japan.

Veracap participated in this sector by representing Inbox Marketer, a digital marketing platform and solutions provider.
Software: We cover various segments and sub-segments of the software sector including hosted platforms, SaaS, vertical software, enterprise or SMB focused software, custom development, BI, BPM, ERP, CRM, and ECM.
Hosted platforms, cyber security and systems software continue to be well valued and funded in 2015. There were a number of financings in these sectors including one of the largest of the year: $60 million in Real Matters. Other investee companies included Blueprint Software Systems, Affinio, Clevest Solutions, Coveo Solutions, Bit Stew Systems and CENX. Active investors include Whitecap, BDC, Cisco Investments and Yaletown. Notable M&A activity included the sale of Plentyoffish Media to Match.com for $575 million and the sale of Achievers to Blackhawk Network for $110 million.
Telecom: There were notable transactions in the network and wireless technologies sectors including the sale of Webtech Wireless to BSM and Novacap selling Fibrenoire to Videotron for $125 million. In the public market, Edgewater Wireless was a rising star up over 1600% for the year. Glentel was sold partially to Bell and partially to Rogers and with Zayo Group acquiring Allstream, and Birch Communications acquiring Primus we will see $500 million of US capital come into the Canadian Telecom sector, the beginning of a trend we think.
Conclusion: We saw plenty of M&A and investment activity in the "hot" sectors such as FinTech, IOT and cyber-security but we also saw plenty of activity in the not so sexy sectors. In these cases the need for transition and demand from established traditional product and services companies looking to reposition themselves is driving activity. While general economic conditions worsened in the second half of the year, we expect the level of M&A and financing activity to remain buoyant as investor liquidity remains strong and the need for orderly transitions continues.
For more information on any of the transactions or investors mentioned in this overview, please feel free to contact Derek van der Plaat. Also, Veracap participated in the Toronto Cloud Business Coalition's research document entitled "Financing Cloud Businesses", available for free upon request.
Footnotes
1 - The VTI includes all technology, media, and telecommunications sector companies trading on the TSX and TSX-V with a market capitalization between $10 million and $500 million. As of December 31, 2015 this included 121 companies.
2 – For share prices greater than $1.00.
3 – See http://www.veracap.com/blog/definitions/ for terms definitions.